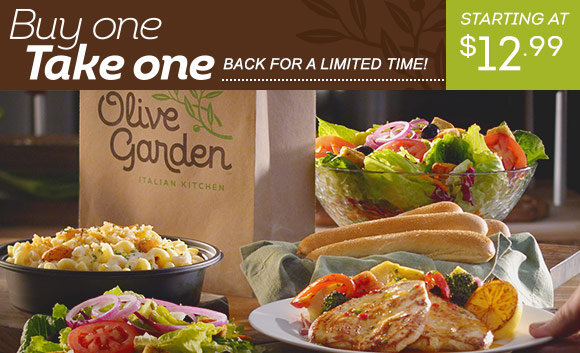 Editor's Note: This limited time offer ended on Sunday, April 12, 2015 but is expected to return later in the year.
Olive Garden has announced that their Buy One, Take One promotion is back for a limited time starting Tuesday, March 3, 2015.
Enjoy unlimited soup or salad and an entree at Olive Garden, then select a full-size entree to take home starting at $12.99.  The special is available at lunch or dinner.
How Buy One, Take One works:
Buy One
Guests can select one of seven featured dishes served with unlimited breadsticks and choice of homemade soup or famous house salad:
New! Penne with Basil Garlic Marinara – Freshly made marinara sauce with roasted garlic, Parmesan cheese and a hint of basil served over penne pasta. $12.99
New! Citrus Chicken Sorrento – Tender, grilled chicken breasts in a citrus honey glaze. Served with lightly seasoned broccoli, artichokes and roasted vegetables. $15.99
Cavatappi with Asiago Garlic Alfredo – Signature homemade Alfredo sauce and Asiago cheese served over cavatappi pasta and topped with roasted garlic cloves. $12.99
Mezzaluna Ravioli with Marinara – Crescent-shaped cheese ravioli topped with marinara sauce. $12.99
Spaghetti with Meat Sauce – Traditional meat sauce seasoned with garlic and herbs over spaghetti. $12.99
Prosciutto Tortellini Alfredo – Signature homemade Alfredo sauce served over cheese- and prosciutto-filled tortellini. $13.99
Baked Parmesan Shrimp – Ziti pasta and succulent shrimp baked in a creamy Parmesan sauce, topped with toasted Parmesan breadcrumbs and fresh tomatoes. $16.99
Take One
With each entrée, guests can take home and enjoy an additional meal around the table by selecting one of the following four free entrées that will be packaged for them ToGo:
New! Penne with Basil Garlic Marinara
Cavatappi with Asiago Garlic Alfredo
Mezzaluna Ravioli with Marinara
Spaghetti with Meat Sauce
For more about Buy One, Take One and to order ToGo online, visit olivegarden.com/specials/buy-one-take-one. Connect with Olive Garden at Facebook.com/OliveGarden, Twitter.com/OliveGarden andInstagram.com/OliveGarden. For more information, and to find your nearest Olive Garden restaurant, visitOliveGarden.com.
"We created this offer with busy families in mind as a way for them to connect over two meals," said Jose Duenas, executive vice president of marketing for Olive Garden. "Whether you're dining with us in our restaurant, or enjoying your second meal at home, Buy One, Take One makes it easy for families to spend quality time together."
Other Olive Garden Specials
Olive Garden specials are usually posted on this Olive Garden website: http://www.olivegarden.com/specials
If you sign up for the Olive Garden e-club, you'll get an Olive Garden coupon for a free appetizer or dessert.  You can sign up for the e-club here.
Olive Garden Menu
Olive Garden serves a wide variety of Italian-American cuisine, including pasta dishes, steaks and salads.  You can find the complete Olive Garden menu at: http://www.olivegarden.com/menu-listing
Olive Garden Recipes
You can find recipes for many Olive Garden specials and regular menu items at: http://www.olivegarden.com/recipes
About Olive Garden (from Wikipedia)
Olive Garden is an American restaurant chain specializing in Italian-American cuisine. It is a subsidiary of Darden Restaurants, Inc., which is headquartered in an unincorporated area in Orange County, Florida, near Orlando. Olive Garden operates more than 800 locations globally.
Olive Garden serves several types of Italian-American cuisine including pasta dishes, steaks, and salads. The company advertises its bread stick product and centers its lunch menu around it. Additionally, the company advertises that its soups are made fresh in each location daily instead of importing them from a commissary or outside vendor.
On July 9, 2014, Olive Garden launched a new logo and restaurant design. This included the addition of online ordering and smaller lunch portions.