Happy Birthday America!  The 4th of July holiday is fast approaching, and unlike last year you've got a lot of ways to celebrate.  We're looking forward to the return of backyard BBQs with friends and family, cooling off at the pool, fireworks displays, and of course, lots of great restaurant deals!  We've compiled the best deals out there to help you celebrate Independence Day!
EatDrinkDeals includes links to restaurant websites where you can confirm the deal and find further information.  EatDrinkDeals does not post deals that cannot be verified from a source such as the restaurant website, social media account, or press release.  Also, note that there are a ton of great takeout 4th of July deals here, but oftentimes you'll need to give advance notice of a day or two, so keep that in mind.
Do you want to have great deals like these emailed directly to you? Click here to sign up for our newsletter!
4th of July Restaurant Deals
Slurpee Day and 7-Eleven's 95th Birthday are both coming up! On July 1, 7Rewards and Speedy Rewards members will have a coupon for a free slurpee added to their accounts. Customers will have 264 hours (11 days) to redeem the treat – through July 11. You can also redeem the offer for free through 7NOW delivery on July 11. For more info on this and other promotions, read our 7-Eleven article here.
Abuelo's
Abuelo's will be offering its American Flag Margarita for $8.95 from open to close on June 30 – July 4 in-store. Their signature drink is made with frozen sangria, frozen La Grandeza, and Blue Curacao Liqueur.
Auntie Anne's
Buy one pretzel item at Auntie Anne's and get a another one free when you use promo code NOPOPCORN at checkout on the app.
This offer doesn't apply to Mini Pretzel Dogs, Pretzel Dogs, Pepperoni Nuggets, Pepperoni Pretzels, Pretzel Buckets, Snack Packs and Catering items.
Also, get a free Original or Cinnamon Sugar Pretzel when you buy one of Auntie Anne's three new Mango & Dragonfruit Sips. Click here for the full story and more Auntie Anne's deals.
Get $15 off an order of $30 or more with a Boston Market coupon valid through July 4.  CLICK HERE for your Boston Market coupon.  For online orders, use promo code 31467.
California Pizza Kitchen
Guests that dine in from July 1 – 4 will receive a BOGO pizza, pasta, or salad offer available for redemption on a future visit from July 5 – 12.
Carrabba's
Carrabbas has Fourth of July specials for under $20. Try their new Pasta a Pour featuring their Linguine Positano sautéed with crushed tomatoes, garlic olive oil, and basil with a glass of Italian wine on the side. Plus, you get a soup or salad and baked bread! The new dish starts at $18.99 and will be available from June 28 – July 11. For more information and to place an order, click here.
Carvel
Get $2 off Carvel's Flying Saucer 6-Pack or Oreo Rounder 6-Pack and $2 off any cake with Carvel coupons valid through July 14.  CLICK HERE for your Carvel coupons.
Checkers & Rally
Buy any sandwich and get a second one of equal or lesser value free from June 29 – July 6.
Del Taco
Del Taco has two great offers in July! From July 1 – 4, get $5 off $20 with any Epic Beyond Burrito or Epic Beyond Burrito Meal purchase.*
For more details and details, visit our Del Taco page.
Domino's Pizza
Domino's has a large three-topping pizza deal for carryout for $7.99 each every day, and mix and match deals at $5.99 each like medium pizzas.
To get the Domino's $7.99 special on a Large 3 Topping Pizza, an 8 piece order of Wings or Boneless Chicken, or a Dip and Twist Combo, you'll need to place your order online.  They won't honor the deal for phone orders anymore.  Welcome to 2022, folks.  But hey, a deal's a deal!  For more info and to place an order, click here for the Domino's website.
For more info on this, and how to access coupons for your local Domino's, read our Domino's Pizza story.
Honey Baked Ham
Honey Baked Ham has ready to serve meals for your 4th of July weekend. You can get select shipped products 40% off when you use code 941981 at checkout. This offer is good through July 7 at 11:59 PM. Click here to see the qualifying items for your location.
You can also get $7 off your purchase of $50 or more (for online order and in-store pickup) from June 27 – July 4 when you use code 727983 at checkout.
Hungry Howie's
Hungry Howie's is offering $0.99 Howie Bread with any online carry-out order of $15 or more when promo code JULY4 is used at checkout. Note that this offer is only valid at participating locations.
Or, get 2 Large 1 Topping Pizzas and 3 Cheeser Howie Bread for $20, $6.99 pizzas and other deals with other Hungry Howie's Promo codes.  Here's our Hungry Howie's roundup with the details.
Jack In The Box
Get 15% off your entire order in the app with a Jack in the Box deal valid through July 4!  Jack in the Box sent this email with the news.
Jimmy John's
Jimmy John's has a $5 off $20+ promo valid through July 5 for online or app orders. Use code 5OFF20 after 5 PM Monday – Friday and all day Saturday and Sunday to get your discount.
Get a flight of Red, White and Blue Margaritas for $12 at Kona Grill July 1 – 4.  Or, score a Tuna and Lobster Poke Bowl for $17.76 to get into the Independence Day spirit.  Kona Grill put the 4th of July deals up here on their website.
Check out our Kona Grill page for info on other deals, like Happy Hour Monday – Friday and Date Night Specials for $39 per person Sunday – Wednesday.
Marco's Pizza
From June 30 – July 3, guests can get 20% off any pizza menu-price online or through the app with code STAR20.
Moe's
Moe's has a Moe Monday deal with a burrito, chips and drink for $6.99.  For info on their Moe Monday $6.49 deal and other promotions, check out our Moe's story.
Morton's The Steakhouse
Enjoy a prix-fixe 3 course menu for $59 per person at Morton's The Steakhouse July 3 through July 8.  Choose a starter salad or Prosciutto Wrapped Mozzarella appetizer, entree selections like Prime Steak Frites or Horseradish Crusted Salmon, and Strawberry Swirl Cheesecake, Double Chocolate Mousse or Key Lime Pie for dessert.  Morton's posted the offer on their website – visit there to view the full menu or make a reservation.
Mountain Mike's Pizza
Get $5 off any 2 Medium Pizzas with a Mountain Mike's promo code valid through July 6.  Click here to start an online order, then use code HOTSUMMER22 for the deal.  Mountain Mike's sent this email with the code.
Nestle Toll House Cafe
Get 25% off Cookie Cakes purchased online using a promo code from Nestle Toll House through July 4.  Click here to start an online order, and use promo code DAD to get the savings.  Nestle posted the code on its socials.
Noodles & Company
Noodles & Company has Classic Week starting July 1. Customers can get a free side with their purchase of a classic entree. Note that this offer is exclusive to Noodles' Rewards Members.
Pei Wei
Get 25% off your order of $20 or more with a Pei Wei coupon valid through July 4.  Show this to your cashier for the deal, or for online orders, use promo code 25OFF20 at checkout.  Click here if you want to start an online order.
Pizza Hut's everyday deal for a large, three-topping Tastemaker Pizza for $10 is still going strong. To get the deal, go to the Pizza Hut Deals page click on "Add to Order" under the Tastemaker Deal.
For more info on this and other Pizza Hut specials, go to our Pizza Hut page.
Red Lobster has Endless Shrimp every Monday for $18.99.  Your shrimp options are Parrot Isle Jumbo Coconut Shrimp, Walt's Favorite Shrimp, Garlic Shrimp Scampi, and Wood-Grilled Shrimp Skewers.  Endless Shrimp is available for dine-in, to-go and delivery.  If you get the deal for to-go, you can get up to four orders of the shrimp entrees.  Red Lobster has the full terms of the deal here, and mentions it front and center on its homepage.
For more info on other weekday deals, and Family Meals, click here for our Red Lobster page.
Red Robin has a Gourmet Meal Deal for $10 through July 31. You can choose from the Banzai, Whiskey River BBQ, or Gourmet Cheeseburger for your meal. You also get bottomless fries, and a drink! For more information, click here.
Rubio's
Get 2 entrees for $15 with a Rubio's coupon valid through July 4.  CLICK HERE for your Rubio's coupon, or for online orders, use promo code JULY4TH for the deal.
Smokey Bones has a buy one, get one free deal on Mondays on BOGO Wings – buy 8, get 8 free or buy 16, get 16 free.  On Friday – Sunday, get a free bag of donuts with purchase of a Family Feast, or two free bags of donuts with purchase of a BBQ Party Pack.  Smokey Bones announced the BOGOs lineup on their website.
For more info on this deal and other specials and savings, click here for our Smokey Bones page.
Sonic
Sonic is offering app users a free Sonic Cheeseburger when they purchase any item through the app from June 27 – July 31. Plus, customers can enjoy Fritos Chili Cheese Jr. Wrap for $1.49 for a limited time starting June 27.
The Fresh Market has a meal deal going on for the Fourth of July, which happens to coincide with their 40th anniversary! For $40, you can get a special meal including:
Fresh Cut New York Strip Steaks (2 ct. 10 oz.)
Asparagus with Diced Red Peppers and Sea Salt Steamer Bag (1 lb.)
Loaded Twice Baked Potatoes (2 ct.)
Shrimp Cocktail Tray (8 oz.)
This meal feeds two and you can order it in store through June 28 or online by July 1 at 2 PM. You can pick it up in-store from July 1-4.
Whataburger
Get a free Patty Melt when you buy a Medium Fry and Drink with an online offer valid through July 7!  You'll need to sign up for a My Whataburger account, if you haven't already.  Click here to sign up. Then, once you're signed in, go to https://whataburger.com/account. You'll see your offer just waiting for you! You can do all of this in the app, too, if you're a mobile inclined type of person.  Click here for the app on iPhone / ios or click here for Google Android.
Whataburger sent this email with the offer.
Wingstop
Wingstop has 70-cent boneless wings on Mondays.  Wingstop usually puts the deal up on the Wingstop Home Page on those days, as shown below: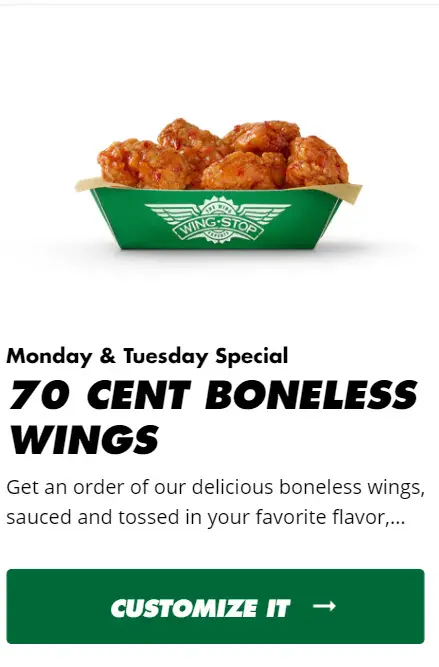 Get $3 off when you order $15 or more online at Wing Zone. Just use code 3OFF at checkout.
Zoe's Kitchen
Get $5 off any Zoe's Kitchen Family Dinner order of $25 or more with code 5OFF25.