Get discounts on pizza, breakfast items and drinks with these 7-Eleven app coupons good through December 31, 2019.
When you open the  7-Eleven app you can find these coupons in the Deals -> Drinks tab.  Unless otherwise noted these deals are good through December 31, 2019.
50% off any size coffee
50% off a Big Gulp or Slurpee drink

Free 20 oz Pepsi Zero when you buy any 20 oz Pepsi (expires 10/2/19)  

$1 medium Slurpee 
These additional coupons are in the Deals -> Combos tab.
$4 Meal Deal: Get 2 Pizza Slices and any 2 Pepsi or Mt. Dew 20 oz drink for $4  

Free 7-Select Cold Pressed Juice when you buy any Premium Bistro Sandwich  

Save $1 on one 2L Pepsi or Mountain Dew drinks and a large pizza 
These additional coupons and more in the Deals -> Snacks tab.
BOGO on all Cap'n Crunch products (expires 8/31/2019)
Two single server Doritos for $2.39 (expires 10/1/19)
To get the 7-Eleven app visit:  https://www.7-eleven.com/app/
You can also find more details on the 7-Eleven website at:  https://www.7-eleven.com/deals
Pumpkin Coffee at 7-Eleven
Pumpkin Spice Latte and Pumpkin-Flavored Coffee is back at 7-Eleven for just $1 since Thursday, August 15, 2019.
"Pumpkin spice is our coffee customers' favorite flavored drink, and we didn't want to make them wait any longer," said a 7-Eleven spokesperson. "With 7-Eleven's special one dollar pricing, pumpkin spice-lovers can drink three – at morning, noon and night – for the same price they'd pay for just one latte at a coffeehouse or restaurant. And, after only six beverage purchases scanned on the 7-Eleven app, you can get a free one. That's a big bang for your beverage buck."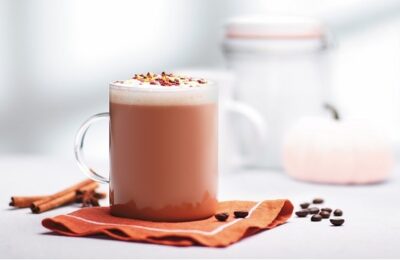 The chain said 7-Eleven pumpkin spice latte blends warm, autumn spices including cinnamon, ginger, anise and clove with creamy pumpkin. To make the seasonal launch even more of a celebration, coffee customers can create a pumpkin spice mocha by adding a pump or two of the retailer's new chocolate sauce to their latte and topping with festive, fall-colored leaf-shaped sprinkles. International Delight pumpkin spice creamer is also available to make any hot beverage more pumpkin-y and spicy. All creamers, sweeteners, flavored syrups and toppings are available on the 7-Eleven hot beverage bar at no extra charge.
The reappearance of hot pumpkin spice beverages each year – and just as suddenly, its disappearance after the holidays, is such a phenomenon that online support groups have popped up to help fans cope with the loss of their favorite drink.
7-Eleven customers can sign up for the 7Rewards loyalty program by (1) downloading the 7‑Eleven mobile app, (2) using the 7Rewards website, (3) messaging the 7‑Eleven Bot on Facebook Messenger or (4) securing a physical 7Rewards loyalty card at a store. Members earn points on most purchases and bonus points on select products, multi-packs and promotional offers.
The 7-Eleven hot beverage bars in select stores offer lots of choices – flavored and exotic coffees, hot tea, cappuccino, lattes and hot chocolate. For no extra charge, customers can conveniently create their perfect cup with sweeteners, plain and flavored creamers, flavored syrups and toppings to suit their tastes.
7-Eleven announced their Pumpkin Coffee rollout in a news release.
About 7-Eleven (from Wikipedia)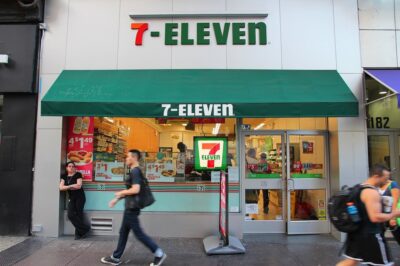 7-Eleven is part of an international chain of convenience stores. 7-Eleven, primarily operating as a franchise, is the world's largest operator, franchiser and licencor of convenience stores, with more than 50,000 outlets, surpassing the previous record-holder McDonald's Corporation in 2007 by approximately 1,000 retail stores.
7-Eleven branded stores, under parent company Seven & I Holdings Co., are located in 16 countries, with its largest markets being Japan (15,000), the United States (8,200), Thailand (6,800), Canada, the Philippines, Hong Kong, Taiwan, Malaysia.