7-Eleven has 10 Bone-In Wings for $5 and more deals when you order with 7-Eleven app.
7-Eleven App Deals
Deals in the 7-Eleven Rewards app include:
10 Mini Tacos for $2.59
Johnsonville Brat and 20 oz drink for $4
$0.99 Bag of Chips with purchase of a Grill Item
Free 20 oz Pepsi with purchase of 5 Bone-In Wings
8 Boneless Wings for $3
10 Bone-In Wings for $5
2 Cookies for $1
You can find the deals by opening the 7Rewards app and clicking on the View Deals tab.
There are almost 10,000 7-Eleven locations in the U.S.  Find one near you at: 7-Eleven Locations
Bring Your Own Cup Slurpee Day
Bring Your Own Cup Day is back at 7-Eleven and Speedway stores. The special this year was on Saturday, April 29! For $1.99, bring your own container to fill up with their famous Slurpee.  You can bring a BIG cup, too.  Think outside the box here.  Maybe a milk jug?  A punch bowl?  There are a ton of possibilities.  The ground rules are as follows:
The cup has to be clean.
The cup has to be watertight and leak proof.
The cup has to fit upright within the 10-inch diameter hole in the in-store display.  Otherwise, it won't fit under the Slurpee drink dispenser.
Also, you'll need to be a 7Rewards member to get in on the fun.  Click here to get signed up for that if you're itching to get a huge Slurpee on April 29.
"We love seeing customers enjoy our products in fun ways – especially when it comes to our beloved, iconic Slurpee drink," said 7‑Eleven Director of Proprietary Beverages, Ben Boulden. "From cowboy boot to fishbowl…the more creative the cup, the better. We can't wait to see what our customers come up with this year."
If you forget to bring your own cup, you can still get a small size slurpee for $1 and join in the fun.
7-Eleven Pizza Deals
Download the 7NOW delivery app and get a free pizza with a 7-Eleven promo code.  Use code PIZZA at checkout.  The 7NOW delivery app can be downloaded from the App Store or Google Play, or by visiting 7Rewards.com.
Pumpkin Spice At 7-Eleven
7-Eleven has brought Pumpkin Spice back to the menu! No, you're not misreading, and you're not going crazy either. This year, the chain is bringing Pumpkin Spice back earlier than ever. Here's the lineup you can get now through October 31:
Pumpkin Spice Latte: Enjoy the OG from the OG, and sip on seasonal spices atop a creamy pumpkin-flavored latte all autumn longPumpkin Spice Latte: Enjoy the OG from the OG, and sip on seasonal spices atop a creamy pumpkin-flavored latte all autumn long.
Pumpkin Coffee: Upgrade your traditional black coffee with a little bit of pumpkin. Pro tip: Try the Pumpkin Somethin' recipe hack by adding two pumpkin spice and two sweet and creamy creamers to any hot or iced coffee.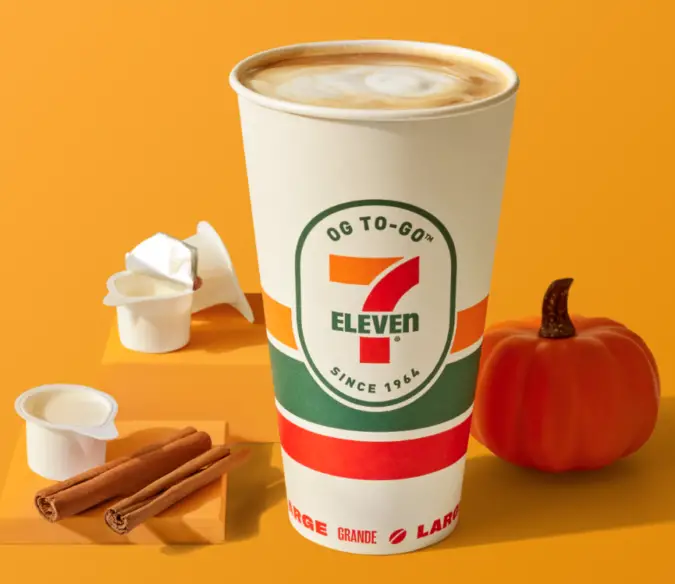 Pair your beverages with the Apple Cider Donut, Apple Snack Pie, or Apple Danish which are available for just a dollar through 7Rewards and Speedy Rewards. Click here for the full Pumpkin Spice press release!
About 7-Eleven
7-Eleven is a convenience store chain that has over 70,000 locations. They've nearly taken over the world. 7-Eleven convenience stores are known for their 24-hour service and wide variety of products, including snacks, drinks, candy, and other convenience items.
7-Eleven's stores are typically located in high-traffic areas, such as gas stations, airports, and urban areas. The chain offers a variety of products, including soft drinks, energy drinks, coffee, tea, and other beverages. Think of it as a little miniature supermarket, and you're on the right track. You'll pay more for the products than at big box stores, but the tradeoff is they're usually just right around the corner. The stores also offer a selection of snacks, such as chips, candy, and pastries, as well as a variety of hot food items, such as pizza, hot dogs, and taquitos.