It's Lobster Lovers weekend at 99 Restaurants July 31 – August 2 – get a free side and dessert with a Colossal Lobster Roll purchase! Choose from a Cup of Seafood Chowder or House Salad, and a Petite Treat Dessert.  99 Restaurants announced Lobster Lovers Weekend on their Facebook page.
Free Kids Meals After Red Sox Wins
Baseball is finally back, and 99 Restaurants is excited about it.  They're big Red Sox fans, and they're offering a free Kids Meal with adult meal purchase the day after a Red Sox win!  99 Restaurants announced the offer on their Facebook page.  Click here to hit up the ESPN website and check how the Red Sox and your favorite team fared.  99 Restaurants also put the deal up on their website.
* Free kids meal is valid the day after the Red Sox win for child age 10 and under. Kids meal must be ordered off of the kids menu. Child must be present to receive free kids meal. Tax and gratuity are not included. One free kids meal for every adult meal or Family Meal Deal purchased. Not valid with any other offers, discounts, or coupons, including Happy Hours. Kids Eat Free available for Online Ordering when you select Pay at Restaurant. To Go orders are subject to up to a 4% packaging charge which is retained by Ninety Nine Restaurants for packaging costs and/or online services. The fee does not represent a tip or service charge for any employee.
99 Restaurants also has Family Meal specials available to feed a group of five starting around $37, and also has $5.99 appetizer deals for Happy Hour, even for to-go!
Family Meals and Make at Home Meals
99 Restaurants has Family Meals available to feed a group of five starting around $37, and also Make at Home Meals for the aspiring chefs out there starting around $62.
Family Meals
All Family Meals are designed to feed five people, and come with two House Salads and shareable sides unless stated otherwise.  Here's your options:
Smothered Tips Family Meal $66.99:  Smothered tips with fresh sauteed onions, peppers and mushrooms.
Lemon Rosemary Turkey Tips $59.79:  Turkey tips marinated with lemon rosemary garlic and flame broiled.
Balsamic Grilled Chicken $37.09:  Grilled lemon rosemary garlic chicken breasts with a balsamic glaze.
Chicken Parmigiana $37.09:  Crispy chicken breasts topped with tomato sauce and melted mozzarella cheese. Served with penne pasta, Rustic Bread and House Salad.
Country Fried Chicken:  Buttermilk-breaded chicken breasts with country gravy. Served with cranberry sauce, warm honey-glazed biscuits, two sides and House salad to share.
Broiled Sirloin Tips $61.79:   Sirloin tips, hand-cut and marinated with the 99 Restaurants secret recipe.
Original Crispy Chicken Tenders Meal $37.09:  Hand breaded chicken tenders served with honey mustard.
Buffalo Chicken Tenders $42.29:  Hand breaded chicken tenders tossed in Buffalo sauce served with bleu cheese dressing.
Garlic Parmesan Chicken Mac and Cheese $37.09:  Cavatappi noodles with smoked gouda and parmesan cheese. Baked and topped with oven-roasted, garlic-parmesan-crusted chicken, served with Rustic Bread and House Salad.
Gold Fever Chicken Tenders $42.29:   Crispy hand breaded classic tossed in a sweet and tangy gold fever sauce. Served with ranch dressing, two sides and House Salad to share.
Make at Home Meals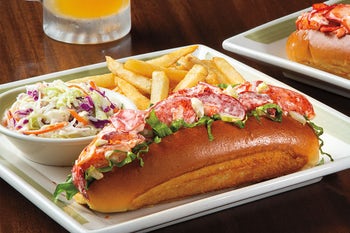 Downeast Lobster Roll and Chowder Combo Kit $144.19:  99 Restaurants' famous Seafood Chowder, two pounds of 100% North Atlantic sweet & tender lobster meat blended with mayo and celery, brioche rolls, coleslaw, potato chips, oyster crackers and two Chocolate Chip Cookie Skillets.
Braised Short Rib Taco Kit $61.79:  Tender braised short ribs, fresh cabbage, fresh pico de gallo, Monterey Jack and cheddar cheeses, and chipotle sauce. Served with 20 tortillas, guacamole, sour cream, steamed rice and two Chocolate Chip Cookie Skillets.
Pork Chops and Chicken Backyard BBQ Kit $72.09:  Five premium uncooked Apple-brined 8 oz. bone-in pork chops and five seasoned 5 oz. chicken breasts, BBQ sauce, coleslaw, Maine Russet mashed potatoes, honey glazed biscuits and two Chocolate Chip Cookie Skillets.
Weekday Happy Hour Specials
99 Restaurants has a weekday Happy Hour Monday – Friday from 2 – 5 pm.  Get full size appetizers for just $5.99 (also available to-go!) and $0.50 Bone-In Wings (minimum order is 6)!  Also, get drink specials like $2.99 Bud Select 16 oz drafts, $5.29 Horseshoe Ale 16 oz. drafts, $4.99 House Cuervo Margaritas, and $5.59 Truly Hard Seltzers.  99 Restaurants announced their revamped Happy Hour on their homepage.   You can see a full sample menu here.
* Excluding XL Wings and Wings & Skins
More Restaurant Daily Deals
Daily deals for all days of the week can be found here:
The Ninety Nine Restaurant & Pub is headquartered in Woburn, MA and is proud to serve more than 20 million guests a year in over 100 restaurants throughout the Northeast. We will continue to prosper and grow and will continue to take care of every guest who walks through our doors, just like we've always done.
We're loved for our hand-breaded Boneless Buffalo Wings, our signature Broiled Sirloin Tips, our famous tall, frosted mugs of beer and more. All are served in a distinctly hearty New England style, enjoyed over good times with great family and friends. Simple, honest, genuine food.