99 Restaurants has new Monday through Thursday specials starting at $10.29. Every Monday – Thursday while they last, choose from these daily specials:
Pastrami Stack $13.39

Balsamic Grilled Pork Chops $16.49

Ranch Crusted Chicken $10.29
The Monday-Thursday daily special was announced on the 99 Restaurants Menu Page. For the complete menu, visit: 99 Restaurants Daily Specials
99 Restaurants also has Family Meal specials available to feed a group of five starting around $37, and also has $5.99 appetizer deals for Happy Hour, even for to-go!
More from EatDrinkDeals
Want to get info on other deals, discounts, coupons and specials from your favorite restaurants? Click here to see the latest and greatest from EatDrinkDeals!
Family Meals and Make at Home Meals
99 Restaurants has Family Meals available to feed a group of five starting around $37, and also Make at Home Meals for the aspiring chefs out there starting around $62.
Family Meals
All 99 Restaurants Family Meals are designed to feed five people, and come with two House Salads and shareable sides unless stated otherwise. Here's your options:
Smothered Tips Family Meal $66.99: Smothered tips with fresh sauteed onions, peppers and mushrooms.
Lemon Rosemary Turkey Tips $59.79: Turkey tips marinated with lemon rosemary garlic and flame broiled.
Balsamic Grilled Chicken $37.09: Grilled lemon rosemary garlic chicken breasts with a balsamic glaze.
Chicken Parmigiana $37.09: Crispy chicken breasts topped with tomato sauce and melted mozzarella cheese. Served with penne pasta, Rustic Bread and House Salad.
Country Fried Chicken: Buttermilk-breaded chicken breasts with country gravy. Served with cranberry sauce, warm honey-glazed biscuits, two sides and House salad to share.
Broiled Sirloin Tips $61.79: Sirloin tips, hand-cut and marinated with the 99 Restaurants secret recipe.
Original Crispy Chicken Tenders Meal $37.09: Hand breaded chicken tenders served with honey mustard.
Buffalo Chicken Tenders $42.29: Hand breaded chicken tenders tossed in Buffalo sauce served with bleu cheese dressing.
Garlic Parmesan Chicken Mac and Cheese $37.09: Cavatappi noodles with smoked gouda and parmesan cheese. Baked and topped with oven-roasted, garlic-parmesan-crusted chicken, served with Rustic Bread and House Salad.
Gold Fever Chicken Tenders $42.29: Crispy hand breaded classic tossed in a sweet and tangy gold fever sauce. Served with ranch dressing, two sides and House Salad to share.
Make at Home Meals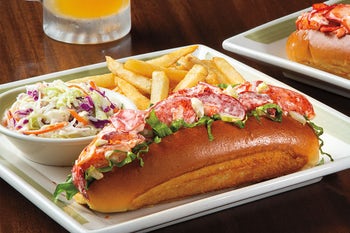 Downeast Lobster Roll and Chowder Combo Kit $144.19: 99 Restaurants' famous Seafood Chowder, two pounds of 100% North Atlantic sweet & tender lobster meat blended with mayo and celery, brioche rolls, coleslaw, potato chips, oyster crackers and two Chocolate Chip Cookie Skillets.
Braised Short Rib Taco Kit $61.79: Tender braised short ribs, fresh cabbage, fresh pico de gallo, Monterey Jack and cheddar cheeses, and chipotle sauce. Served with 20 tortillas, guacamole, sour cream, steamed rice and two Chocolate Chip Cookie Skillets.
Pork Chops and Chicken Backyard BBQ Kit $72.09: Five premium uncooked Apple-brined 8 oz. bone-in pork chops and five seasoned 5 oz. chicken breasts, BBQ sauce, coleslaw, Maine Russet mashed potatoes, honey glazed biscuits and two Chocolate Chip Cookie Skillets.
Weekday Happy Hour Specials
99 Restaurants has a weekday Happy Hour Monday – Friday from 2 – 5 pm and from 8 pm – close. Get full size appetizers for just $5.99 (also available to-go!) and $0.50 Bone-In Wings (minimum order is 6)! Also, get drink specials like $2.99 Bud Select 16 oz drafts, $5.29 Horseshoe Ale 16 oz. drafts, $4.99 House Cuervo Margaritas, and $5.59 Truly Hard Seltzers. 99 Restaurants announced their revamped Happy Hour on their homepage. You can see a full sample menu here.
* Excluding XL Wings and Wings & Skins
More Restaurant Daily Deals
Daily deals for all days of the week can be found here: