Get the Unlimited Pizza Buffet for just $4.99 with a Cicis Pizza coupon on Mondays and Tuesdays.
Show this Cicis coupon posted on their website to your server on your mobile device (printed copy not accepted) to get the Cicis $4.99 buffet special. The offer is valid for dine-in only, and drinks are not included. But $5 for all-you-can-eat pizza is nothing to sneeze at!
Reusable Cup For $4.99 At Cicis
Get a 32 oz. Reusable Cup from Cicis Pizza for $4.99 and get unlimited refills on future visits to the buffet through December 31. You'll have to dine-in and bring the cup with you. If you are frequent Cicis buffet visitor, this is right up your alley. We spotted the offer on the Cicis Deals page.
64 Slice Pizza The Piezilla At Cicis
All hail Piezilla, Cici's new beast of a pizza! Coming in at 28 inches and a whopping 64 slices, this massive pizza can feed 15! You get a choice of one topping and additional toppings are $5 each. The pizza itself is $49.99, but pricing and participation will vary depending on location. If you want to go the half & half topping style or want 3 or more toppings, give your local Cici's a call. They gotta plan ahead for tricky orders of a monstrosity like this.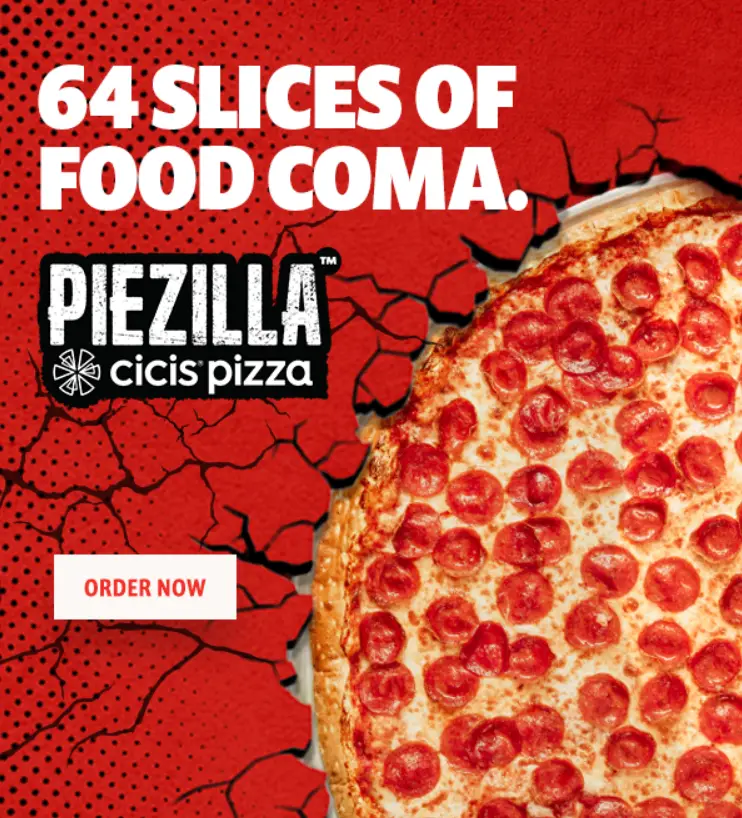 Sign up for texts and get a Cicis Pizza coupon for a free Large Drink with Adult Buffet purchase. Visit the sign up page here to get started.
More Cicis Pizza Specials
Cicis has Giant Pizzas starting at $10.99 and more deals.
The Giant Pizza at Cici's is a 16-inch pizza priced at $10.99 to $12.99, depending on location.  You can find this and more Cicis specials on the Cicis Website.
Other specials include Pepperoni Poppers, Jalapeno Poppers or Buffalo Chicken Poppers for $3.99.
What's On The Cicis Unlimited Pizza Buffet?
The Cici's Pizza buffet starts around $8 for adults, $6 for children and includes 15 different pizzas.  If you're hungry, no doubt it's a great deal.
That means guests will have the opportunity to try more types of delicious pizza. Try Cicis' signature pizzas like Alfredo, Mac & Cheese, Zesty Veggie, and Zesty Ham and Cheddar. Or, stick to traditional favorites like Pepperoni, Supreme and Meat Eater. You can also enjoy specialty pizzas like Flatbreads, Pan Pizzas and Stuffed Crust pizzas on each visit, starting at just $7.99. Each restaurant will also add local flavor to the endless pizza buffet with tailored options that area guests love.
"Cicis is all about offering a wide variety of delicious options and flavor adventures to our guests at an incredible value," said CEO Bill Mitchell. "Our new rotation will give 50 percent more pizza variety, for the same great price, along with our pasta, salads, soups and desserts like our famous cinnamon rolls."  Guests who don't see their favorite on the buffet at any given time can order a custom Personal Pizza with any combination of sauce and toppings. Cicis will deliver it fresh and hot, right to the table, at no extra charge.
Also, see below about how to get a free adult buffet when you enroll in Cicis Rewards!
Cicis Menu
If you want to browse around, visit our Cicis menu page here. Or, visit their website here.
Cicis Rewards Program
Get a Cicis Pizza coupon for a pizza BOGO when you enroll in the MyCicis Rewards program.  CLICK HERE to enroll.  You'll receive a Cicis coupon for a free buffet when you buy another at regular price.  They'll send other amazing deals to you periodically.  Also at Cicis, if you download the Cicis app you can earn a free pizza after 5 visits.
Free Drink When You Sign Up For Cicis Texts
Sign up for texts from Cicis and get a free drink with purchase of an Adult Buffet.  Text CICIS to 70620.  Cicis Pizza sent this email with the offer.
Are There Cici's Pizza Promo Codes Available?
There are sometimes other Cicis Pizza coupons, but they'll only be usable for specific locations or areas.  Local franchisees will also send out printable coupons, too.  Our policy is to only publish the best coupons that are widely available to avoid disappointing our users.  When there are promotional codes available and from verifiable sources, we will post them here, so you only pay the best price for your favorite food!
Where Is A Cicis Near Me?
There are about 400 Cicis Pizza locations in the U.S. in most states, with almost half of those in Texas.  You can find Cicis locations near you at: Cicis Near Me
What Are Cicis Hours?
Most Cicis are open from 11 am – 8 pm every day, but times can vary.   They might stay open until 9 or 10 on weekends depending on the location.  To find the hours, address and more details for your local Cicis, select your location from: Cicis Near Me and click on a particular location for more details, like hours of operation.
Does Cicis Offer Delivery?
Cicis offers delivery when you order directly on its website.  Usually there is a delivery fee of about $5 – $7.  To start a Cicis delivery order visit:  Cicis Delivery
You can also place a delivery order through the Cicis app – click here to download it!
Where Do I Find Cicis Nutritional Information?
Cicis lists food allergen and ingredients information on their website.  To view the ingredients and allergen content, click here for the Cicis Nutrition page.