Cinco de Mayo is coming up on.. wait for it… May 5!  Now that the American reopening is really kicking into high gear, many restaurants are celebrating with various food and drink specials for Cinco de Mayo 2022.  It also is Teacher Appreciation Week and close to National Nurse's Day, and there's some good restaurant deals that we'll post here too.  Here's the EatDrinkDeals roundup for the best deals this year.
Our roundup includes links to restaurant websites where you can confirm the deal and find further information.  EatDrinkDeals does not post deals that cannot be verified from a source such as the restaurant website, social media account, or press release.  Email us at editor@eatdrinkdeals.com if we've missed any!
Oh and… by the way… Mother's Day is coming up right behind on May 8.  Don't get caught empty-handed with no plans!  Check out our Mother's Day Restaurant Deals Guide for meal ideas, or read our Spring Gift Card Deals roundup if you need an easy present for mom.
Do you want to have great deals like these emailed directly to you? Click here to sign up for our newsletter!
EatDrinkDeals Cinco de Mayo Restaurant Deals 2022
Abuelo's
Abuelo's is rockin' out Cinco de Mayo with $5 Grande Mexican draft beers, $8.95 Flag Margaritas, and the El Jefe Margarita with a complimentary Cuervo Margarita Shaker to take home! Abuelo's posted the offer on their Facebook page.
Bar Louie
Throw down at Bar Louie with $3 off Tostada Burgers, $3 sidecars of Sauza Silver Tequila, $4 Pacifico Beers, and $5 Cinco Ritas on Cinco de Mayo, all day long.  Bar Louie has the details up on its website.
Check out our Bar Louie article for info on other deals, like Happy Hours and half price burgers on Tuesdays.
Brixx Pizza
Teachers and Nurses can buy one pizza and get one free at Brixx Pizza now through May 6!  Celebrate Teachers Week and Nurse Appreciation Day the tasty way.  Show a valid work ID for dine-in or carryout orders to get the deal.  Brixx sent this email with the offer.
Chili's
Chili's will be rocking Cinco de Mayo with $5 drinks all day long.  The special includes the top shelf Presidente 'Rita, the Cuervo Blue, the Frosé 'Rita and select draft imports.
Chipotle
Get a $0 Delivery Fee with a Chipotle promo code valid for orders of $10 or more through May 6.  Use coupon code DELIVER for the deal.  Chipotle has the offer up front and center on its website.
Also, National Nurses Day is May 6 and Chipotle wants to celebrate healthcare heroes on that day. The chain recently announced that they will reward 2,000 medical professionals with free Chipotle for a year. Now through May 6, customers can tag and comment their healthcare heroes on Chipotle's Facebook, Instagram, and Twitter pages. During the week of May 9, Chipotle will DM 2,000 lucky winners!
Chronic Tacos
Get a two taco plate for just $5.55 with a drink purchase at Chronic Tacos on Cinco de Mayo, except fish, shrimp, steak or Beyond Beef tacos.  Chronic Tacos posted the info here on their website.
Chuy's
Chuy's goes big on Cinco de Mayo.  Get Happy Hour deals all day, with special prices on Beers, Original Texas 'Tinis and House 'Ritas.  Also, get a $1 Tequila Floater in your margarita to kick it up a notch, and $5 Queso Appetizers to fill you up.  Chuy's posted the details on their website.
Culver's
It's not a Cinco de Mayo thing, but it's a good deal, so here you go.  Get $1 scoops of frozen custard at Culver's on May 5 while supporting FFA and other agricultural organizations!  That $1 will go towards raising funds as part of Scoops of Thanks Day.  To learn more about the day and the organizations that Culver's supports, click here for the Culver's website.
Del Taco
Del Taco has a BOGO offer for Cinco de Mayo. Del Yeah! Rewards members can get a free Epic Burrito with their purchase of one when they order through the app or website. Del Taco is also offering free delivery on app and online orders all day!
El Pollo Loco
Get 2 Premium Tacos for just $5 at El Pollo Loco on Cinco de Mayo.  They sent this press release with the deal.
Glory Days Grill
Cinco de Mayo specials at Glory Days Grill include $6.99 Macho Nachos and $5 24/7 Margaritas at most locations (Northern VA, MD, NC and WV).  Glory Day posted the details on social media.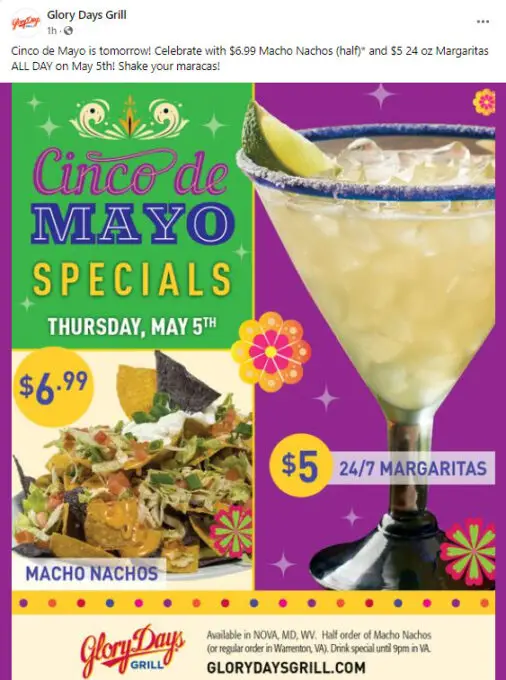 Greene Turtle
Enjoy $5 drink specials like Coronas, Modelo beers and the Classic Margarita, and get 2 Tacos for $5 at The Greene Turtle.  Here's the details in an email.
Learn about Happy Hour and other deals here in our Greene Turtle article.
Hungry Howie's
Get an order of Howie Bread for only $0.99 with a Hungry Howie's promo code valid for online orders of $15 or more through May 8!  Use promo code CINCO at checkout for the deal.  Yeah, it's not tacos and margaritas, but it's a good deal!  Click here to start your order and the coupon code should automatically be applied.  Choose from the Original Howie Bread, 3 Cheeser, Bacon Stuffed or other varieties.
Visit our Hungry Howie's page for other promo codes you can use to save some cash that are valid all the time.
Islands Restaurants
Get $2 off house margaritas at Islands, not just on Cinco de Mayo, but all month long!  Here's the news posted on their social media.
Jersey Mike's
Get $1 off a Regular Sub with a Jersey Mike's coupon code valid through May 5.  Again, not really Cinco de Mayo themed, but easy money.  CLICK HERE for your Jersey Mike's coupon and show it to your cashier when you order.
Kona Grill
Get $5 Margaritas all day long at Kona Grill on Cinco de Mayo.  Check out their website here for the details.
Go to our Kona Grill page to learn about other deals, like Happy Hour and date night specials.
Miller's Ale House
Get $3 House Margaritas and $9 Margarita Pitchers at Miller's Ale House on Cinco de Mayo. This offer is not valid in Georgia. Miller's Ale House posted the deal on their website, and on Facebook.
Visit our Miller's Ale House page here for info on other deals, like their daily dinner specials.
Moe's Southwest Grill
At Moe's, you can get 5 times the points on Cinco de Mayo if you're a Rewards member.  You'll get that much closer to your $10 Reward when you dine there Thursday!  Moe's has the news up on their website.
Check out our Moe's story with info on other deals, like $6.99 Moe Monday and Kids Eat Free Sundays.
On The Border
Get $5 Grande House Margaritas at On The Border on Cinco de Mayo.  They posted the news on social media.
Rubio's Coastal Grill
Rubio's has a catering deal for Cinco de Mayo. Get $15 off your order of $75 or more when you use code LSM519 at checkout. Rubio's posted the offer on their Facebook.
Rubio's also has Family Taco Kits to feed 4 to 5 people for $29, Daily Lunch Specials, and other specials on Tuesdays and Fridays.  Click here to visit our Rubio's page to learn more.
Ruby Tuesday
Enjoy $5 Tacodillas and drink specials like $2 Mini-Margaritas at Ruby Tuesday on Cinco de Mayo.  They've got all the specials listed here on their website.
7-Eleven
7-Eleven recently debuted their new Mini Breakfast Empanadas – a perfect way to kick off the Cinco de Mayo festivities. 7Rewards members can get three of these and any size coffee for $4 through May 24!  Go to the 7Rewards page to get started and download the app.
Taco Bell
Order on the Taco Bell app and get 15% off a Party Pack for your Cinco de Mayo celebration.  Taco Bell posted the deal on its website.
Our Taco Bell page has info on other deals and more perks from their Rewards program, too.
Taco Bueno
Get a FREE Margarita Chicken Taco at Taco Bueno on Cinco de Mayo.  Show this social media post to get the free grub.  You're welcome.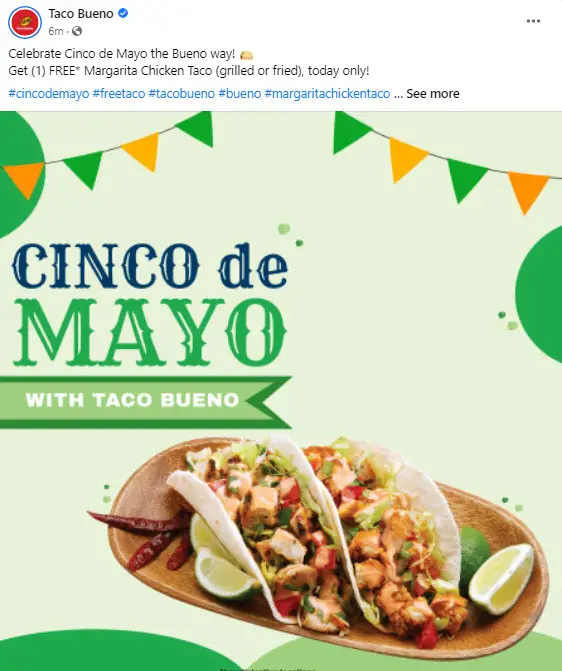 Taco John's
Enjoy Cinco de Mayo at Taco John's with a 5 day celebration – get 5 Beef Softshell Tacos for only $5.55 from May 1 – 5 if you are signed up for the loyalty program!  Taco John's posted the deal on their website.
Tijuana Flats
Tijuana Flats is having a $5 Menu Fiesta from May 5-7 – a three day party!  Get a margarita, 2 Mexican Draft Beers, the Tijuana Trio appetizer, Chips and Queso, or Chips and Guac, all for $5 apiece.  Tijuana Flats has the deal on their Home Page.
Go to our Tijuana Flats story here for info on other deals, like $7.99 deals on Tuesdays.
Waba Grill
Text JOIN to 96227 for the Waba Grill Text Club and get a free Half-ocado on Cinco de Mayo.  Waba Grill posted the news online.