Cinco de Mayo is coming up on.. wait for it… May 5!  This year it hits on a Friday, so let the fiesta begin. Many restaurants are celebrating with various food and drink specials for Cinco de Mayo 2023.  It also is Teacher Appreciation Week and close to National Nurse's Day, and there's some good restaurant deals that we'll post here too.  Here's the EatDrinkDeals roundup for the best deals this year.
Oh and… by the way… Mother's Day is coming up right behind on May 14.  Don't get caught empty-handed with no plans! Check our Spring Gift Card Deals roundup if you need an easy present for mom.
Do you want to have great deals like these emailed directly to you? Click here to sign up for our newsletter!
EatDrinkDeals Cinco de Mayo Restaurant Deals 2023
7-Eleven is offering 7Rewards members 10 mini tacos for only $2, now through May 5. So head in on Cinco de Mayo, or get the fiesta started early. You can get this at Speedway and Stripes locations as well. The mini tacos have a spicy beef filling made from shredded beef, green chiles, jalapeño peppers, cilantro and spices. You can join 7Rewards here.
Abuelo's
Abuelo's has some drink specials rockin' all day long on Cinco de Mayo, with a Grande Mexican Beer (22 oz) for $5 or a Flag (Red, White & Green) Margarita for $5.95.
Bar Louie
Throw down at Bar Louie with $7 Dos Sauza Margaritas during happy hour and the brand-new Rock & Rita made with Teremana Reposado, Grand Marnier, orange, agave, lime, and a salted rim. You can get these drinks with 50% off bar bites like Trio Dips and Chips, Chicken Quesadillas, and more.
Check out our Bar Louie article for info on other deals, like Happy Hours and half price burgers on Tuesdays.
Beef 'O' Brady's
Get a free side of queso when you order Chips and Salsa at Beef 'O' Brady's on Cinco de Mayo. Show this coupon to your server, or use promo code CINCO23 for online orders.
BJ's Restaurant
BJ's will debut its CureVeza Mexican-Style Lager on May 4 to build awareness for the National Multiple Sclerosis Society. They will donate 25 cents per pint brewed to support the organization's research for a cure. The medium-bodied CureVeza is inspired by Mexican-style lagers. Also, BJ's is offering a Margarita Flight with four distinct margarita flavors and May 5 Happy Hour deals, where legally available. These include $6 Brewhouse Margaritas and a discount on the CureVeza. Head in to celebrate and raise some money to fight MS!
Visit our BJ's Restaurant page to learn about all their specials, like 1/2 off pizzas on Mondays.
Buffalo Wild Wings
Buffalo Wild Wings will have a special Happy Hour and deals for Cinco de Mayo. Guests can get $5 Strawberry Margaritas and $3 Chips and Salsa from 3-6 pm and $4 Hatch Chile Queso and $4 Chips and Guac from 9 pm – close.
Chipotle will offer a $0 delivery fee special from May 1 – May 5 so you can get your Cinco on at home.
Also, Chipotle has long championed the medical professionals, and nurses in particular, as community heroes that keep us happy and healthy. They've got giveaways every year for Nurses Week, and this year they're giving away $1 million in free food to 2,000 healthcare workers!
Now through May 12, healthcare workers can sign up here and get a chance for a Burrito Care Package, which includes 50 free entree codes they can give out to their co-workers. Chipotle will start dishing out the care packages on May 19.
Starting at 3 pm, head to Chevys Fresh Mex for $4 tacos and specials on margaritas, beers and shots, plus live music on the patio of their restaurants. Get all the details here on their website.
Chuy's
Chuy's goes big on Cinco de Mayo.  Get Happy Hour deals all day, with special prices on Beers, Original Texas 'Tinis and House 'Ritas.  Also, get a $1 Tequila Floater in your margarita to kick it up a notch, and $5 Queso Appetizers to fill you up.  Chuy's posted the details on their website.
Del Taco will offer a free burrito with any $10 purchase from May 5-7 to celebrate Cinco de Mayo. Del Yeah! Rewards members can get a free burrito with their $10 purchase when they order through the app or website. Del Taco is also offering free delivery on app and online orders all day!
Dog Haus
Dog Haus has a special sausage of the month in honor of Cinco de Mayo. The Pork Al Pastor sausage features features chiles, garlic, Mexican oregano, and pineapple. You can get it from May 1-31!
El Pollo Loco has a free Crunchy Birria Taco with the purchase of any Shredded Beef Birria entrée on Cinco de Mayo for Loco Rewards members. You can sign up for Loco Rewards here.
Like its sister restaurant Chevys, El Torito has specials on tacos and drinks starting at 3 pm, plus live music. Visit the El Torito website for more details.
Get $3 Home Run Ritas at Glory Days Grill on Cinco de Mayo. Upgrade to a Patron margarita for $6. They sent this email with the details.
Greene Turtle
Enjoy $5 drink specials like Coronas, Modelo beers and $1 Margaritas at The Greene Turtle.  Here's the details in an email.
Learn about Happy Hour and other deals here in our Greene Turtle article.
Happy Joe's Pizza and Ice Cream
Happy Joe's has a World Famous Taco Joe pizza that features a refried bean sauce, taco-seasoned beef and sausage, lettuce, tomatoes, and taco chips. A medium costs roughly $21.49 and a large is about $7 more.
Miller's Ale House
Get $2.99 House Margaritas all day on Cinco de Mayo at Miller's Ale House!
Visit our Miller's Ale House page here for info on other deals, like their daily dinner specials.
Moe's Southwest Grill
At Moe's, you can get 2 times the points on Cinco de Mayo if you're a Rewards member.  You'll get that much closer to your $10 Reward when you dine there Friday! Plus, the first 50 guests that visit Moe's on Cinco de Mayo will get free t-shirts!
Check out our Moe's story with info on other deals, like $8.99 Moe Monday.
O'Charley's
O'Charley's is celebrating Cinco de Mayo with $2 Corona Bottles, $3 Chips & Queso, $5 Margo'Ritas and $7 Chicken Tender Nachos all day long. They sent this email with the news.
Check our O'Charley's page for other offers, like Kids Eat Free and Free Pie Wednesdays.
Get $6 Margaritas at On The Border on Cinco de Mayo.  They posted the news on social media.
Red Lobster
Red Lobster will offer a Cinco de Mayo Margarita for just $5* on May 5, made with Sauza Gold Tequila, Triple Sec, sour mix, and margarita mix. Pair it with the new Lobster and Shrimp Tacos and have a blast.
*Available starting 5/5 at participating locations in the U.S. excluding NY Times Square, HI and PR. Price indicated excludes applicable taxes and gratuities. Available for Dine-in only; To Go and delivery excluded.
Go to our Red Lobster page to learn about other offers, like their Endless Shrimp special on Mondays.
Rubio's
If you've got a big fiesta going at home, you can get $20 off a $100 or more order from Rubio's on Cinco de Mayo. You need to be a Rewards member (sign up here) for the discount. Rubio's posted the details online.
Shari's
Get the Trio Dip & Chips for just $5 on Cinco de Mayo at Shari's, with Chips, Salsa, Queso and Guac. They posted the special on their social media.
Now through May 7, buy a Steak Grilled Cheese Burrito in the Taco Bell app and get 10% off a future order through the end of May.
Check our Taco Bell page here for news on other promotions, like their Value Menu.
Get 5 Party Burritos or Party Tacos for only $5 from Taco Bueno. Show this offer to your cashier for the deal, which is valid through May 7.
Taco Cabana has a super spicy Ghost Pepper Double Crunch Pizza available from May 4-7, along with a new Triple Crunch Pizza for the bigger appetites. Plus, they will offer a Cinco de Mayo Bundle of any Double Crunch Pizza (except the Ghost Pepper one) and any Margarita for $6.99.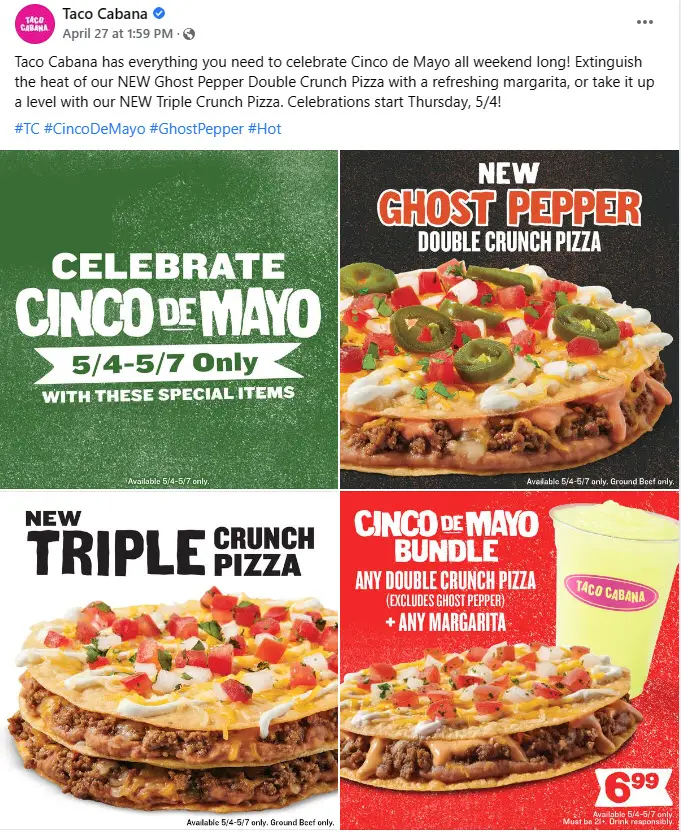 Taco John's
Enjoy Cinco de Mayo at Taco John's with a free beef Meat and Potato burrito with any purchase. Note that you must be a Bigger Bolder Rewards member to redeem the offer. Click here to sign up so you can get your free burrito on the 5th!
Tijuana Flats is having a $5 Menu Fiesta on May 5!  Get the Tijuana Trio, Dueling Queso, Chips & Guac, Chips & Queso, and Margaritas all for $5 apiece. You can also get 2 for $5 Beers and Mexican Cokes. Plus, Tijuana Flats is also debuting a new limited-edition hot sauce on May 5 entitled "Smack the Reaper's Ass." Made from the notoriously spicy Carolina Reaper, you definitely don't want to try this sauce if you have a low spice tolerance. You can snag a bottle to take home for $5 or try it at Tijuana Flat's Hot Sauce Bar. Select locations will be open from 10:30 am – 12 am on Cinco de Mayo with late-night contests and activities. You will also get double points on all purchases made between 8 pm and 12 am. Click here to sign up for Tijuana Flats' Rewards.
Go to our Tijuana Flats story here for info on other deals, like $7.99 deals on Tuesdays.
Twin Peaks
Twin Peaks will be hosting a red lingerie costume party and will have special discounts for Cinco de Mayo. The costume party will be May 4-5 and you can get these specials from April 29 – May 5:
$5 Michelada
$5 House Margarita
$5.50 Mexican Candy
$6.50 Corazón Tequila Sunrise
$6.50 Milagro Silver Paloma
$6.50 Herradura Reposado Ranch Water
$7.50 Margarita "On The Rock"
$8.50 Watermelon Margarita
$8.50 Don Julio Blackberry Margarita
$8.50 Patron Silver Margarita
$8.50 Casamigos Spicy Margarita
$9.50 Dobel Diamante Margarita
$12.50 Casamigos Añejo Old Fashioned
$16 Import Buckets – Corona, Dos Equis or Modelo
$20.50 Cincoro Hall of Fame Margarita
Uncle Julio's
On Cinco de Mayo, and all May long, get a Queso Pass for every dine-in visit to Uncle Julio's that will get you a free cup of queso on a returning visit through June 30. That'll keep you coming back! Uncle Julio's has the details on its Fiesta Del Mayo page.