Here's a roundup of restaurant chains that feature daily deal specials on Saturdays.   Get brunch specials, kids eat free deals and more.
Bonefish Grill has a Saturday and Sunday brunch with special dishes like Oscar Omelet, Wagyu Beef + Egg Burger, and Bang Bang Shrimp Eggs Benedict. Brunch is served starting at 11 am on Saturdays and Sundays.  For the menu and more details see: Bonefish Brunch.
Boston Market has a Prime Rib dinner for about $15 on Wednesdays through Sundays.  The special is good after 5 pm on Wednesdays through Saturday, and good after 12 pm on Sundays.    Price varies by location, but a typical price is $14.99 for a Prime Rib dinner that includes two sides and cornbread. You can find the announcement of the limited time special on Facebook and the Boston Market Home Page.
Brio has a Saturday and Sunday brunch with special dishes like Sicilian Omelet, Shrimp and Polenta, and Berries & Cream French Toast. For the menu and more details see: Brio Brunch.
Cafe Rio Mexican Grill has a daily deals menu with tacos, enchiladas, tostadas and more starting at $5.99.  On Saturdays get Shrimp Tacos for $7.89.   For more details see the Cafe Rio Daily Specials Website.  Price and participation may vary by location.
Cheesecake Factory has a brunch special on Saturdays and Sundays from 10 am till 2 pm.  The menu features signature dishes such as Eggs Benedict, Bruléed French Toast made with extra thick slices of rustic French bread, Green Chilaquiles with Carnitas and Eggs, and Fried Chicken and Waffles. The restaurant's entire menu is also be available.  See Cheesecake Factory Brunch Menu for more details.
Chevy's Fresh Mex has brunch specials on Saturdays and Sundays.  get Bloody Marys and Mimosas for $5 each, or get bottomless, mix and match Bloody Marys and Mimosas for $12.  Also get 8 new brunch items including Huevos Rancheros ($10.99) , Steak a la Diabla & Eggs ($15.99), and Shrimp and Crab Omelette ($13.99). Get a Kids Brunch for $7.99.   Chevy's brunch specials are on Saturdays from 11 am to 3 pm and Sundays from 10 am to pm.  For the complete brunch menu see:  https://chevys.com/weekend-brunch/*Bottomless Mimosas + Marys not available at Arlington location. Offer not available at: NJ, MO, MN, SD, IL, Miami, Annapolis, Brandywine, and Hanover locations.
At K&W Cafeteria get 2 complete meals for just $17.99 every Monday and Saturday.  The special includes an entree, 2 vegetable sides, bread, beverage, and dessert.  The chain announced the weekly special on the K&W Specials Page.
Luby's has an all you can eat breakfast on Saturdays and Sundays, 8 – 11 am. You can find the deal announcement on the Luby's Home Page.
Maggiano's Little Italy has brunch on Saturdays and Sundays.   Brunch is offered 10:30 or 11 a.m. – depending on the market – to 3 p.m. at all most restaurants. Choose from a 12 dish menu featuring breakfast classics and Eggs Benedict dishes featuring crab cakes, chicken Francese, Meatballs and more.  For details or to reserve, see Maggiano's Brunch.
Marie Callender's has a kids eat free deal on Saturdays.  More details at:  Marie Callender's Weekday Specials.  Marie Callender's also has additional specials at lunch and dinner, plus a Happy Hour menu with half-priced appetizers and other deals every day.
O'Charley's has a $13.99 Prime Rib dinner deal, good every Friday, Saturday and Sunday.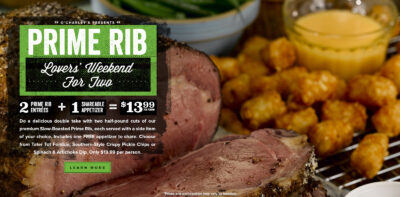 The special for two is priced at $13.99 per person and is good all day on the weekend.   Comes with 8 oz Slow Roasted Prime Rib, a side item of your choice, and an appetizer to share for $13.99 per person. More details on the O'Charley's website and the O'Charley's Facebook page.
O'Charleys also has a kids eat free deal good every day. Get one kids menu entree free with each purchase of an adult entrée.
Quiznos has a $5 Toasty deal of the day. On Saturdays and Sundays get a Honey Bacon Club sub for $5.  Good for a limited time at participating locations. You can find the menu and more details at:  Quiznos Deal of the Day.
More Restaurant Daily Deals
For more daily and weekly restaurant specials like these, see:  Restaurant Daily Deals
Also, if you're an AARP member, you can get every day discounts at Denny's, McCormick & Schmick's, Outback and more places.  You can find all the details in our story, AARP Dining Discounts.
Note: Specials can vary by location and most are for a limited time only so check with your local restaurant to see if they have the deal you want. Some deals are not good on holidays.