Which restaurants have the best breakfast, lunch and dinner specials on Sunday?  Our list includes all-day happy hour deals, brunch specials, kids eat free deals and more.
Applebee's Specials
Applebee's has a 2 for $24 menu (2 for $22 in some locations) featuring Steak, Ribs and more entrees that lets two people dine for one low price.  Get one appetizer to share and your choice of two entrees.  Some entrees have an upcharge.  The 2 for $24 menu varies by location.  To see the complete 2 for $24 menu at your location visit the Applebee's 2 for $24 menu page here.  You may need to click "Order" on the 2 for $24 Menu Icon and select your location first.
For other deals at your neighborhood grill and bar, click here to visit the EatDrinkDeals Applebee's page.
Bar Louie Specials
Bar Louie has a brunch menu on Saturdays and Sundays from open – 3 PM.  Enjoy it just a little more with Mimosa specials!  To see the deals at your local Louie's, select your location at the Bar Louie website then click View Details and view Weekly Specials.  Some spots offer something a little different, like $10 "Almost Bottomless" Mimosas, if you REALLY want to get your weekend going.
For more details on this and other daily specials, click here to visit our EatDrinkDeals Bar Louie story.
Bertucci's Specials
On Sundays at Bertucci's, enjoy Family Night with a meal of pizza, pasta and salad to feed 4 for $40, with up to two free Kids Meals.  Bertucci's has the deal up on its Fall Specials page.
Read our Bertucci's story here to learn about their Happy Hour deals and other offers.
Big Whiskey's Specials
Enjoy brunch specials and Bottomless Mimosas and Bloody Marys for just $15 at Big Whiskey's on Saturdays and Sundays from 10 AM – 2 PM.  Big Whiskey's put the brunch deal up online – click here and then pick your location for the details.
For info on other deals like their weekday Happy Hour, click here for the EatDrinkDeals Big Whiskey's story.
BJ's Restaurant Specials
BJ's Restaurant has Prime Rib on Fridays through Sundays for $29.95.  That gets you a 15 oz serving of Prime Rib, two sides, choice of soup or salad, and a Pizookie for dessert.  You can get the deal for dine-in, takeout or delivery orders. Prices may vary by location. For more details see the BJ's Restaurant menu page here.
BJ's also has this takeout and delivery special good every day: 50% off any large deep dish or tavern-cut pizza. The half off special is good every Tuesday through Sunday with coupon code HALFOFF.  The special is good every Monday with no coupon code needed.  Good only for takeout and delivery (not dine-in) pizzas. For more details visit: BJ's Pizza Coupon
For other deals, like half off pizzas and $3 Pizookies on Tuesdays, click here for the EatDrinkDeals BJ's Restaurant page.
Bonefish Grill Specials
Bonefish Grill has an everyday Happy Hour with $6 cocktails and discounts on beer and wine.  Happy Hour begins at 4 pm daily; end times vary by location but 6:30 pm is a typical end time.  Specials include $1 off Draft Beers, $5 House Wines, $6 select cocktails, and $7 spirits.  The happy hour menu is available only in the bar area, while drink specials may be available throughout the restaurant. For more information, visit   https://www.bonefishgrill.com/bar-menu/happy-hour.
BRAVO! Italian Kitchen and BRIO Italian Restaurant Specials
BRAVO! has daily meal deals for takeout throughout the week. On Sundays, the specialty dish is a classic, lasagna. These deals typically feed two people for $32 or 4-5 people for $55.
Sister restaurant of BRAVO!, BRIO also has daily meal deals. On Sundays, the specialty dish is lasagna. These deals also typically feed two people for $32 or 4-5 people for $60.
Burger King Specials
You can find Burger King coupons in the BK app every day.  The burger chain usually has discounts and BOGOs on Whoppers and more. For info on this and other great Burger King specials, go to our EatDrinkDeals Burger King Coupons story.
Chart House Specials
Chart House has a traditional Sunday Brunch at most locations.  The Chart House Brunch menu features Avocado Toast, Not So Traditional Chicken & Waffles, Prime Rib Hash & Eggs, Mimosas and more.  For details, visit: Chart House Brunch
Cheesecake Factory Specials
The Cheesecake Factory serves brunch until 2 pm on Saturdays and Sundays. Brunch items include waffles, French Toast, eggs benedict, fried chicken and waffles and a Monte Cristo. For the menu visit: Cheesecake Factory Brunch.
Chevys Fresh Mex Specials
Chevys Fresh Mex has brunch specials at select locations on Saturdays and Sundays for dine-in or to enjoy at home!  The Chevys weekend brunch menu includes bottomless Bloody Marys and Mimosas for $12, omelettes and more.  For details visit: Chevys Fresh Mex Brunch Menu
Chili's Specials
Chili's has a 3 for Me lineup starting at $10.99.  Guests can order a drink, appetizer, and entree, with options to Spike, Sweeten or Dip with more upgrades for $2.49 apiece.  Options include the Big Mouth Crispy Chicken Sandwich, Old-Timer with Cheese, and more.
For more info on this and other Chili's deals, like $9 LunchBreak Combos and $6 Margaritas, click here for our Chili's page.
Claim Jumper Specials
Claim Jumper has a Brunch Buffet at most locations on Sundays.  Typical prices are $24.99 for adults, $11.99 for children.   Also get sparkling wine and Mimosas for $4 and Bloody Marys, Margaritas and Screwdrivers for $6.   The buffet is available from 10 am to 2 pm on Sundays.  For the complete menu and pricing information visit:  Claim Jumper Sunday Brunch Menu.
Cracker Barrel Specials
Cracker Barrel has Daily Dinner Deals every Wednesday through Sunday.  Every dinner comes with buttermilk biscuits or corn muffins; some also come with one or two country sides.  All Daily Dinner Deals are priced at $11.99 (typical price, your price may vary).  Here are the typical deals:
Wednesdays – Broccoli Cheddar Chicken
Thursdays – Turkey N' Dressing
Fridays  – Fish Fry
Saturday – Country Fried Pork Chops
Sunday, Pot Roast Supper
Dinner Deals are available from 10:30 am to 8:00 pm.  View more details at: Cracker Barrel Daily Specials
D'Angelo Grilled Sandwiches Specials
D'Angelo often has coupons good on Friday – Sunday like 15% off your order, or 2 Large Sandwiches for $16.99.  To see if one's available today, visit our D'Angelo Grilled Sandwiches page here.
Dickey's Specials
Dickey's BBQ has a Kids Eat Free deal on Sundays.  Get one Free Kid's Meal per paid adult meal of equal or greater value.  Valid for dine-in only. More details can be found on the Dickey's promotions website.
Interested in other great deals at Dickey's BBQ?  Read our Dickey's article here!
Now available for delivery and carryout orders for a limited time. Use code KEFOLO at online checkout. One Kids Meal per check with a minimum $12 purchase. Available at participating Dickey's locations only. Kids 12 and under. Not valid with any other coupons, offers, discounts or promotions.
Domino's Pizza Specials
Domino's has a large three-topping pizza deal for carryout for $7.99 each every day, mix and match deals at $5.99 each like medium pizzas, and local coupons to help you save on pizza night.
To get the Domino's $7.99 special on a Large 3 Topping Pizza, an 8 piece order of Wings or Boneless Chicken, or a Dip and Twist Combo, you'll need to place your order online.  Click here for the Domino's website. From there, you can also find local Domino's coupons by clicking View Your Local Domino's.
Learn about other Domino's deals in our story, Domino's Pizza Deals.
Freebirds World Burrito Specials
Kids (aka Lil' Monsters) eat free on Sundays at Freebirds World Burrito.  Freebirds posted the info on their website.
For info on other deals like their Family Meals, click here to go to the EatDrinkDeals Freebirds World Burrito article.
Fleming's Prime Steakhouse Specials
Get a 3 course feast with Filet Mignon and Lobster Tail for $75 at Fleming's on Surf and Turf Sunday.  Choose from a Fleming's Salad or Caesar Salad, the surf and turf main course and end with New York Cheesecake or Chocolate Gooey Butter Cake for dessert.  Fleming's put the deal up on their website.
Granite City Food and Brewery Specials
Enjoy the famed Lawless Brunch at Granite City Food and Brewery.  From 9 am – 2pm, for $20.99 (Kids $6.99), get all you can eat of brunch favorites like pastries, hashbrowns, bacon, plus Creation Stations to design your own Omelets and Donuts, a Prime Rib Carving Station, and rotating Chef's Specials.  Top it off with Infinite Mimosas for $9.99 or deluxe Bloody Marys and make it a truly Lazy Sunday.  For more info on the Lawless Brunch for a Granite City Food and Brewery near you, click here.  To get a peek at a sample menu, click here.
For more info on other weekday deals, like $5 Burger Mondays, click here for the EatDrinkDeals Granite City Food and Brewery page.
IHOP Specials
There's Happy Hour, and then there's IHOPPY Hour.  From 3 pm – 10 pm every day (and later in some locations), get $6 entrees and $4 Snacks and Sides!  The IHOPPY Menu includes Chicken and Pancakes, BLT Sandwiches and more for $6, and Mozzarella Sticks, Pancake Sundaes and other Sides for $4.  For the full menu, visit the IHOPPY Hour page here.
For other new, like how to save 20% on your first online order, visit our IHOP page.
Kona Grill Specials
Kona Grill has a Date Night menu for $39 per person Sunday – Wednesday nights.  Choose a Starter to share, get two Entrees, and share a Dessert.  Options on the menu include Lobster Toast, a 12 oz Ribeye, an Assorted Sushi Board, and other tasty choices.  For the full menu, click here for the Kona Grill Date Night page.  They also have a Weekend Brunch at select locations with mimosas and drink specials, special dishes like Macadamia Nut French Toast, Croque Madame and Avocado Toast, and more.  Click here for the Kona Grill Brunch page to see if your location is open, and what's in store for you.
For info on other specials like their Happy Hour deals, click here for the EatDrinkDeals Kona Grill page.
Little Caesars Specials
Get a free Large Classic Pepperoni Pizza with an online order of $20 or more with a Little Caesars promo code valid on Mondays, Thursdays, and Sundays in September.  Click here to start an online order, and use promo code CLASSICPLAY6 for the free pizza.  Add a Large Classic Pepperoni, and if you've got at least $20 worth of other items in your cart, the price of it will drop to $0 once you apply the code.  Little Caesars sent this email with the promo code.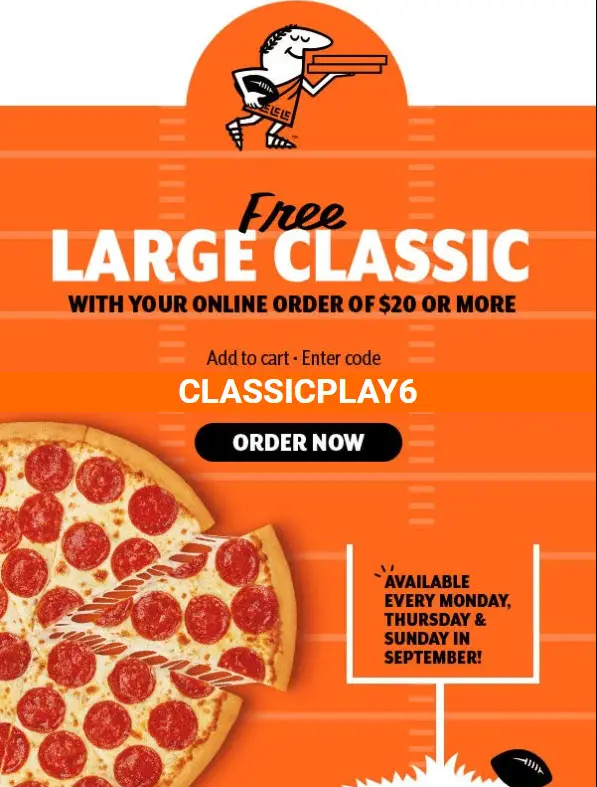 Read our Little Caesars story here to learn about other Hot-N-Ready deals, and how you can win a trip to Super Bowl LVII when you order for NFL gamedays.
Macaroni Grill Specials
Macaroni Grill often runs coupons like 25% off or $10 off a $30 purchase valid Friday through Sunday.  Click here to visit our EatDrinkDeals Macaroni Grill page to see if there's one available.
McDonald's Specials
You can find McDonald's coupons in the McDonald's app every day.  The fast food chain – still No. 1 in the world – usually has discounts and BOGOs on breakfast sandwiches, Big Macs, Fries and more. For info on this and other great McDonald's specials, go to our EatDrinkDeals McDonald's Coupons story.
Moe's Specials
Moe's has a Kids Eat Free deal on Sundays with purchase of an adult entree.  Get one free kid's meal with the purchase of an adult entrée of $6 or more. Kids must be 12 and under. Cannot be combined with any other offer. Valid in-store only at participating Moe's locations.  Moe's posted the details of their Kids Eat Free deal on their website.
For info on their Moe Monday $6.49 deal and other promotions, check out our Moe's story.
99 Restaurants Specials
On the Border Specials
On the Border has a three-course Fiesta Trio for $14.79 on Sundays. The restaurant posted the deal on their Daily Specials page.
On the Border also has a Happy Hour and other specials available on most days.  Check out our story for more information.
Papa Gino's Pizza Specials
Papa Gino's often has online coupons like 20% off pizzas, or 15% off your entire order when you place it online.  To see if there's a deal valid today, visit our Papa Gino's page here.
Quiznos Specials
Quiznos has a different 8 inch sub available for about $8 every day of the week.  The Sunday selection is the Honey Bacon Club.  Quiznos posted the Toasty Deal of the Day schedule on their website.
For more specials and deals to get toasty, click here for our EatDrinkDeals Quiznos story.
* Not valid with any other coupons or offers or deliveries.
Ruby Tuesday Specials
On most Sundays at Ruby Tuesday get a $10.99 6 oz. Sirloin and Baked Potato entree.  Read more at:  Ruby Tuesday Daily Specials Menu. For more Ruby Tuesday specials see our article, Ruby Tuesday Deals.
Smokey Bones Specials
Smokey Bones has weekend specials at most locations. Weekend specials usually include 2 free bags of Donuts with purchase of a BBQ Pack, or 1 free bag with purchase of a Family Feast.   Smokey Bones announced the deals on the Smokey Bones Specials Page and on Facebook.  You can also find Smokey Bones Happy Hour specials every day with $3 beers, $4 boneless wings and $6 cheeseburgers and more deals.  More details at:  Smokey Bones Happy Hour Specials
Sonic Drive-In Specials
Get 1/2 off drinks and slushes during the Sonic Afternoon Happy Hour special from 2 – 4 pm.  The half-price happy hour special is good on soft drinks, iced teas, regular or frozen lemonades and limeades, Ocean Water and Slushes.  You can also get these deals all the time by ordering with the app.  For more details visit the Sonic Deals page.
Visit our Sonic page to learn about what else they have going on, like occasional $0.50 corn dogs and other deals.
Torchy's Tacos Specials
Torchy's Tacos has drink deals all day Saturday and Sunday.  Get Sangrias, Bloody Marys, Mimosas and Tequila Sunrises for just $3.50 apiece.  Torchy's has their Happy Hour menu posted online here.
Wendy's Specials
Wendy's has coupons in the Wendy's app every day.  The burger chain usually has $2 off a premium combo, free large fries with $10 purchase and more deals. For info on this and other great Wendy's specials, go to our EatDrinkDeals Wendy's Coupons story.
More Restaurant Daily Deals
Daily deals for all days of the week can be found here:
For more daily and weekly restaurant specials like these, see:  Restaurant Daily Deals
If you're an AARP member, you can get every day discounts at Denny's, McCormick & Schmick's, Outback and more places.  You can find all the details in our story, AARP Dining Discounts.
Also, many restaurant chains such as Bob Evans, Outback Steakhouse, Zoe's Kitchen and more offer discounts to the active military and veterans.  Here's the EatDrinkDeals roundup, Restaurant Military and Veterans Discounts.
Do you want to have great deals like these emailed directly to you? Click here to sign up for our newsletter!
Note: Specials can vary by location and most are for a limited time only so check with your local restaurant to see if they have the deal you want. Some deals are not good on holidays.