Get $2 off a Combo Meal and more deals with these Dairy Queen app coupons through May 28.
Once you have the DQ app, click on Deals & Rewards – View All to see these DQ coupons:
$2 off Combo Meal
Free Soft Drink with 6 pc Chicken Strip Basket
Buy one Blizzard, get another for $0.99
Free Mini Blizzard with Signature Stackburger Combo
$1 off an online order of $5 or more
Looking for the app?  Download it here for the iPhone, or here for Android.
App coupons vary by location; your deals may differ.
In other deals, Dairy Queen has a 2 for $5 menu featuring burgers, fries and sundaes and a $7 Meal Deal with a sandwich, fries, drink and dessert.
Dairy Queen 2 for $5 Menu
Pick from any two of these items for $5 on the DQ 2 for $ Menu:  Cheeseburger, regular fries, any size soft drink, pretzel sticks with queso, any size Misty Slush, Chili Dog, and a small sundae. DQ has the 2 for $5 Menu here:  https://www.dairyqueen.com/us-en/Menu/Food/
You can also get 2 Double Cheeseburgers for $7.
Dairy Queen $7 Meal Deal
Dairy Queen has a $7 Meal Deal good all day every day.  
Choose from a Cheeseburger or 3 piece Chicken Stream Meal Deal.  Each meal comes with crispy fries, a 21 oz drink and a sundae for dessert.  See the full details for your location here on the Dairy Queen website.
Blizzard Fan Club and Blizzard of the Month
If you haven't joined yet, DQ will give you a BOGO when you join their Blizzard fan club, plus special coupons on your birthday and anniversary. For more details and to sign up, go to the DQ website at https://www.dairyqueen.com/us-en/Blizzard-Fan-Club/
The Blizzard of the Month for May is a multifeature with 5 limited time items, including two all new ones! The newcomers are Peanut Butter Puppy Chow (no, it's not real dog food) and the OREO Brookie. Returning are the S'mores, Cotton Candy and Choco Dipped Strawberry Blizzards. Summer is coming! Dairy Queen posted about it on Facebook.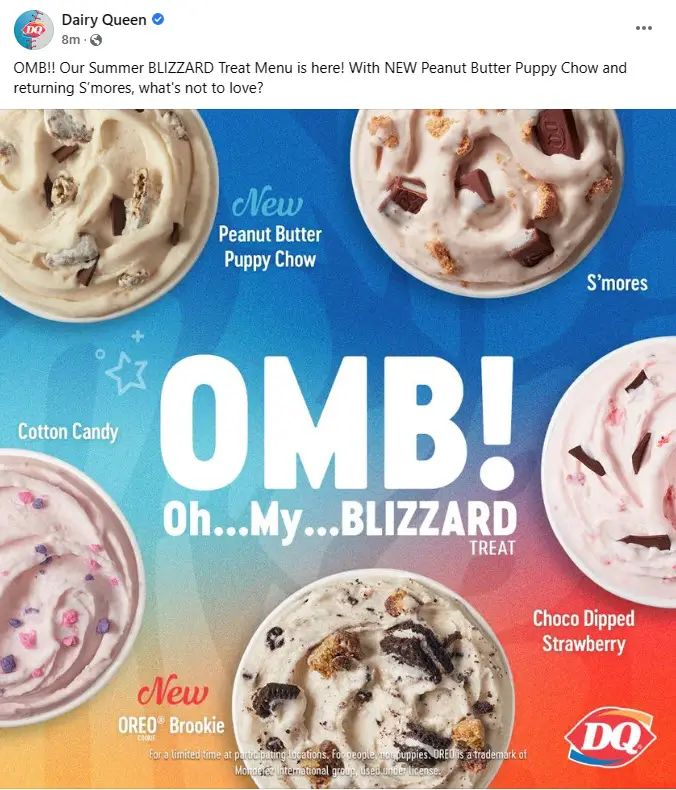 Dairy Queen Menu
The Dairy Queen menu offers burgers, French fries, chicken strips and sodas, like most fast food places.  Dairy Queen also has a large lineup of ice creams and frozen treats that separate it from the competition.  You've got signature items like the Blizzard, which is a milkshake with toppings like M&Ms, Reese's or about a hundred different other things mixed in, Hot Fudge Sundaes, and Soft Serve Cones.  They've even got a selection of Ice Cream Cakes to help you celebrate special occasions.  Click here for the Dairy Queen Food Menu.  Click here for the Dairy Queen Treats Menu.  And Click here for the Dairy Queen Ice Cream Cakes selection.
Dairy Queen Near Me
Dairy Queen has approximately 6,500 locations in the U.S.  They're just about everywhere.  You can find the Dairy Queen location near you at: Dairy Queen Near Me
Dairy Queen Hours
Most Dairy Queens open around 11 am every day (they don't serve breakfast) and close around 9 – 10 pm.  If you get a late night ice cream craving, you may need to wait until the morning or seek your target elsewhere.  To find the hours, address and more details for your Dairy Queen, select your location from: Dairy Queen Near Me
Dairy Queen Nutrition
Dairy Queen lists food allergen and nutritional information in their online and app menus.  To view the nutritional content of any menu item, click here for the Dairy Queen Nutrition page.
When you start an online or order, you can make modifications to the menu ingredients online; when ordering at the restaurant, simply ask the crew member to hold a given ingredient.