Domino's has a large three-topping pizza deal for carryout for $7.99 each every day, mix and match deals at $5.99 each like medium pizzas, and local coupons to help you save on pizza night!
To get the Domino's $7.99 special on a Large 3 Topping Pizza, a 10 piece order of Wings or Boneless Chicken, or a Dip and Twist Combo, ask for it on the phone, or just place your order online.  For more info and to place an order, click here for the Domino's website.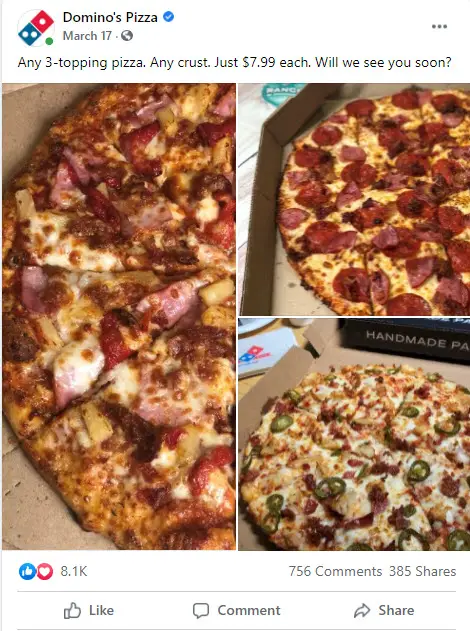 More from EatDrinkDeals
Want to get info on other deals, discounts, coupons and specials from your favorite restaurants?  Click here to see the latest and greatest from EatDrinkDeals!
Domino's Mix and Match for $5.99 Each Deal
In other Domino's pizza deals, mix and match two or more items from a select menu and get each item for $5.99 each.  Choose from medium 2-topping pizzas, 8-piece chicken (boneless or wings), Specialty Chicken, Stuffed Cheesy Breads, pastas and Oven Baked Sandwiches.  There's a two-item minimum, and Handmade Pan Pizzas and bread bowls may be extra.  But other than that, this is a great way to get a variety of items to please everyone without breaking the bank!
More Domino's Pizza Coupons
Also at Domino's you can often find national and local deals on the Domino's Pizza coupons page.  Here are some common deals you'll find, but note these can vary by location:
$4.99 16 Piece Parmesan Bread Bites and 2 Liter
$21.99 2 Large 2 Topping Pizzas and 2 Liter
$8.99 Medium 2 Topping Pan Pizzas
$12.99 Extra Large 1 Topping Brooklyn Style Pizza
$10.99 each for 2 or more Large 2 Topping Pizzas
$19.99 for 2 Medium 1 Topping Pizzas, 16 piece Parmesan Bread Bites, 8 piece Cinnamon Twists and 2 liter of Coke
$9.99 Large Pizza with up to 5 Toppings (Carryout only)
$29.99 for 2 Large 2 Topping Pizzas, 10 piece Chicken and 2 liter of Coke
Use the Pie Pass to Bypass the Line!
Do you like waiting in line?  If so, stop reading.  For everyone else, know that if you order carryout and pay for your pizza online or via the Domino's app that you are eligible for the line skipping Pie Pass!  When you're about to walk into your local Domino's, check in on the Domino's Tracker or order confirmation page.  Then, when you walk in, refer to the digital menu board and your name will come up lickety-split so you can head home with your precious feast.
More Pizza Coupons
For more deals like this including coupons and promo codes from Pizza Hut, Papa John's and Chuck E. Cheese, see the
EatDrinkDeals Pizza Coupons page.
Pie Rewards and Domino's App
Domino's rewards program is called Pie Rewards.  For every order of at least $10, you get 10 points.  For every 60 points you earn, you get a free medium 2 topping pizza.  In our review, we rated the Domino's app and Pie Rewards program a 9/10, finding it to be one of the best pizza apps around.  Click here if you want to see more info or join Pie Rewards.
Domino's Menu
Domino's Pizza has a lot of pizza on its menu.  Shocking, we know.  However, they do have a lot of other items, like chicken wings (or boneless wings), Stuffed Cheesy Breads, Pastas and Oven Baked Sandwiches.  To satisfy your sweet tooth, you can get a Marbled Cookie Brownie, Chocolate Lava Crunch Cake, or Cinnamon Bread Twists for dessert.  Click here for the full Domino's menu on its website.
Domino's Near Me
There are over 13,000 Domino's locations.  You're bound to have one close to you, probably even within delivery range if you don't have the motivation to get out of the house.  Where's a Domino's near you?  Click here to find a Domino's location near you using the Domino's store locator. 
Domino's Hours
Most Domino's open around 10 am, for those who sleep late and still want to eat pizza for breakfast.  Or maybe for people that get up really early and want pizza.  Regardless, they're open to serve people who want pizza.  They cater to the late night crowd, too.  Most Domino's locations stay open after midnight.  A typical set of store hours is 10 am – 12:30 am.  To find the hours for your Domino's, click here to use the Domino's store locator. 
Most Domino's locations are focused on carryout and delivery orders.  Usually there's a little bit of room to wait around for your pizza, but if you want a place to sit you'll need to go elsewhere.
Domino's Delivery
The delivery craze has really hit the restaurant scene in the past few years, but Domino's knows delivery inside and out.  They've been doing it for decades.  You won't get the "arrives in 30 minutes or it's free" guarantee anymore, but you'll still get a reliable and accurate delivery on your order almost every time.  Delivery fees vary, but most of the time it's around $3-$4 per order.  To start a delivery order from Domino's, click here for the Domino's website and make sure to select "Delivery" when you enter your address.
You can also place a delivery order through the Domino's App.  Click here for the Domino's App for iPhone and click here for the Domino's App for Android.
Domino's Nutritional Information
Domino's has a robust nutritional and food allergen section on its website to help folks adhere to their dietary needs.  To view the calorie counter, nutritional or allergen content, and ingredient information, including info on Gluten Free Crust, click here for the Domino's Nutrition page.