Domino's has large three-topping carryout pizzas for $7.99 each, all day, every day.
To get the Domino's special, ask for it on the phone, or just place your order online.  For more info and to place an order, see the Domino's website.
In other deals, mix and match two or more items from a select menu and get each item for $5.99 each.
Choose from medium 2-topping pizzas, 8-piece chicken (boneless or wings), Specialty Chicken, Stuffed Cheesy Breads, pastas and Oven Baked Sandwiches.  Two-item minimum.  Handmade Pan Pizzas and bread bowls may be extra.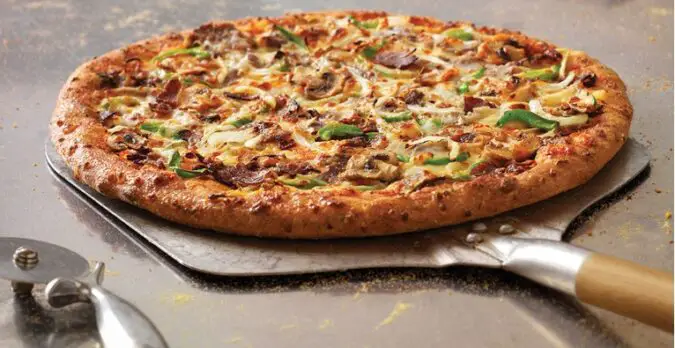 More Domino's Coupons
Also at Domino's you can often find national and local deals on the Domino's coupons page.
Domino's Websites
Order – dominos.com
AnyWare Ordering – anyware.dominos.com
Company Info – biz.dominos.com
Twitter – twitter.com/dominos
Facebook – facebook.com/dominos
Instagram – instagram.com/dominos
YouTube – youtube.com/dominos
About Domino's Pizza
Founded in 1960, Domino's Pizza is the recognized world leader in pizza delivery, with a significant business in carryout pizza. It ranks among the world's top public restaurant brands with a global enterprise of more than 13,200 stores in over 80 markets.
Domino's had global retail sales of over $9.9 billion in 2015, with more than $4.8 billion in the U.S. and nearly $5.1 billion internationally. In the third quarter of 2016, Domino's had global retail sales of nearly $2.5 billion, with over $1.2 billion in the U.S. and nearly $1.3 billion internationally. Its system is comprised of independent franchise owners who accounted for over 97% of Domino's stores as of the third quarter of 2016.
Emphasis on technology innovation helped Domino's reach an estimated $4.7 billion annually in global digital sales at the end of 2015, and has produced several innovative ordering platforms including Facebook Messenger, Samsung Smart TV®, Apple Watch, Amazon Echo, Twitter and text message using a pizza emoji. In late 2015, Domino's announced the design and launch of the DXP®, a purpose-built pizza delivery vehicle, as well as Piece of the Pie Rewards™, its first digital customer loyalty program.
More Pizza Coupons
For more deals like this including coupons and promo codes from Pizza Hut, Papa John's and Chuck E. Cheese, see the EatDrinkDeals Pizza Coupons page.