Fleming's Prime Steakhouse has a new happy hour every night with food and drink specials starting at $6.
During the Prime Happy Hour, 5-7 pm nightly in the Fleming's Bar, Fleming's has a selection of six wines, seven cocktails and nine appetizers. Here are the current (as of July, 2018) appetizer choices; prices range from $6 to $8 (deals may vary by location):
Crispy Castelvetrano Olives $6
Candied Bacon $6

Housemade Burrata with Prosciutto $9

Beef Carpaccio $12
Filet Mignon Sandwich $18
Prime Burger $10
Mushroom Farro Burger $10

Mushroom and Red Pepper Flatbread $9

California Burger $12
Also during the 5-6-7 Happy Hour there are six wines by the glass specially priced for $9 to $15, and seven cocktails priced at $9 to $11.
For more details, visit the Fleming's bar menu website,  select Download Menus, then select Bar Menu.
About Fleming's Prime Steakhouse (from Wikipedia and company website)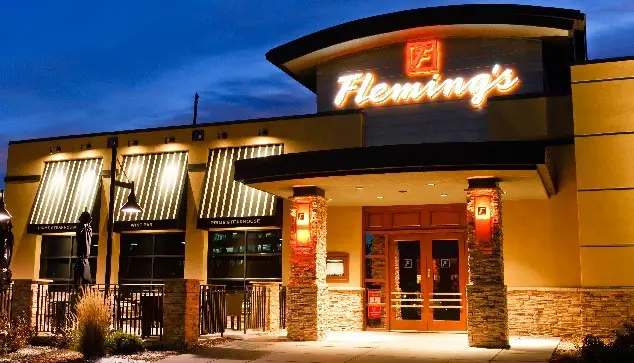 Fleming's Steakhouse and Wine Bar is a restaurant chain owned by OSI Restaurant Partners headquartered in Tampa, Florida. It is a formal attire restaurant and serves mainly steaks and seafood. Founded in 1998 by Paul Fleming and Bill Allen. Paul Fleming was previously a founder of P. F. Chang's China Bistro. Fleming's first location was in Newport Beach, California and has grown to 64 locations.
Fleming's offers the finest USDA Prime beef, available both wet- and dry-aged and broiled at 1,600 degrees or iron-crusted. You can elevate your selection even more with indulgent Steak Companions, including truffle-poached lobster, diablo shrimp and king crab topped with caviar. Each dish is crafted from scratch by Fleming's culinary team and served by their skillful staff.