Your team is playing today and you've got a group together to watch it with.  Want to find a good watering hole so you can enjoy it on a budget?  Or, if you're staying home, get some good takeout or delivery deals on game day eats?  We've compiled a guide to the best game day deals around.  Most of these revolve around college and/or pro football games played on the weekends, but we'll make sure you've got a few options for the Monday and Thursday night games, too.
Want to get info on all the deals, discounts, coupons and specials from your favorite restaurants?  Click here to see the latest and greatest from EatDrinkDeals!
Do you want to have great deals like these emailed directly to you? Click here to sign up for our newsletter!
Game Day Deals for College and NFL Season 2021
BJ's Restaurant and Brewery
Get select BJ's Handcrafted Beer for only $4 and $6 appetizers along with happy hour specials during all pro football games at BJ's Restaurant and Brewery! The chain posted about this on their Facebook:
You're also not going to want to miss BJ's Brewhouse Homegating Pack. For $64.95, you can get two shareable appetizers of your choice, family-size chips and dip, one large deep dish pizza, and your choice of BJ's Handcrafted Signature Beer Growler (64 oz.) or a non-alcoholic beverage (64 oz.).
BJ's Restaurant and Brewhouse also has a coupon code for 50% off large pizzas, daily deals and other ways to save.  Click here for the EatDrinkDeals BJ's Restaurant page to read more about 'em.
Buffalo Wild Wings
What better place to enjoy football than Buffalo Wild Wings? You can choose from multiple wing bundles this football season. The Tailgate Bundle is $39.99 and comes with 30 wings, Everything Pretzel Knots, and Large Tots. You can also snag the Family XL Bundle for $39.99 which comes with 20 Traditional and 20 Boneless wings with fries. For more details and availability, enter your location and view specific promotions here.
You can get a buy one, get one free deal on traditional wings on Tuesdays, and other drink specials during Happy Hour, too.  Click here for our EatDrinkDeals Buffalo Wild Wings article to learn more.
Domino's Pizza
Domino's has large three-topping pizza and 10 piece wings deals for carryout for $7.99 each every day, mix and match deals at $5.99 each like medium pizzas, and local coupons to help you save on pizza night!
To get the Domino's $7.99 special on a Large 3 Topping or a 10 piece order of Wings, ask for it on the phone, or just place your order online.  For more info and to place an order, click here for the Domino's website.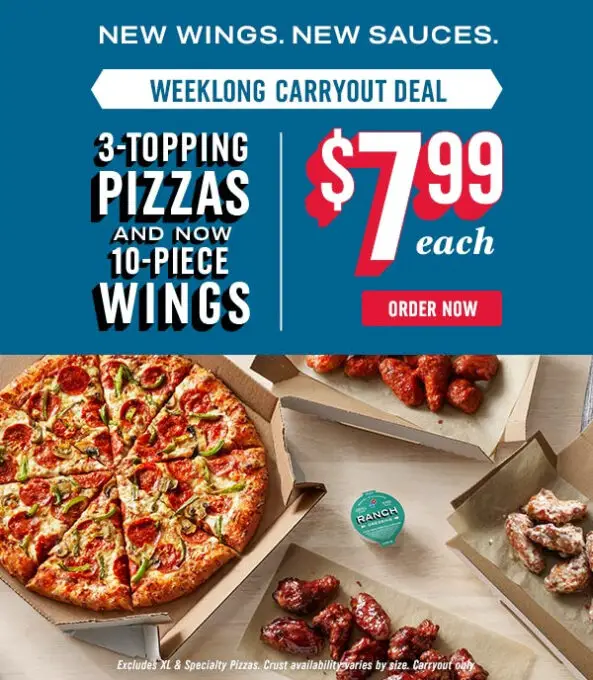 For more Domino's deals and coupons, click here for the EatDrinkDeals Domino's Pizza article.
Glory Days Grill
Glory Days Grill has Sunday Game Day drink deals for the football fans, and other weekday specials for the Monday and Thursday games.  On Sundays, get $2.99 Draft Pints of Miller Lite, Coors Light, Bud Light and Yuengling Lager, a Bucket of Buds (5) for $16, or Corona/Modelo Buckets (4) for $16.  You can also get $5 Crushes until 9PM, which are sold in three flavors: Orange, Grapefruit, and Strawberry-Lemon. Drinks aren't all though, half-orders of Chili Nachos are specially priced at $5.99. Check out the full poster here! On Mondays and Thursdays, you can get deals on Burgers and other food, too.  Click here for the EatDrinkDeals Glory Days Grill article to learn more about it.
The Greene Turtle
Stop by The Greene Turtle to get the essentials for football season. You can get buckets of beer for $15 and signature food samplers for $13. Items may vary depending on where you live so be sure to give them a call or find your location by searching here.
Islands Restaurants
Islands has Happy Hour all day every Sunday for the duration of football season. They have also expanded their Happy Hour to Monday from 3 PM-Close. For more information, check out our Islands article!
Ninety Nine Restaurants
99 Restaurants have Football Frenzy deals on Sundays during NFL season.  The following specials are available for Dine-In:
59 cent Boneless Wings
$5.99 Full Size Appetizers- Boneless Buffalo Wings, Boneless Gold Fever Wings, Chicken Bacon Ranch Flatbread, Crispy Cauliflower, Mozzarella Moons, and Outrageous Potato Skins
All day drink specials- Bud Light Black Cherry Hard Seltzer, Bud Light Aluminum Bottles, $2.99 Bud Select 16 oz. Draft, and $4.99 House Cuervo Margarita.
Their To-Go Specials are:
$6.99 Bone-In Wings by the Dozen
$25.99 Boneless Wings and Skins Combo- 24 Boneless Wings with Outrageous Potato Skins
$34.99 Cheeseburgers and Chicken Tenders- Three Certified Angus Beef Cheese Burgers, Original Crispy Chicken Tenders, Honey Mustard sauce, and one side. For $39.99 you can also add either their signature Buffalo or Gold Fever sauce.
For more details on Football Frenzy, click here.
99 Restaurants also has Happy Hour deals and Steak Specials during the week.  Click here for the EatDrinkDeals Ninety Nine Restaurants page to learn more.
Old Chicago
Old Chicago launched its Gridiron Mini Tour on August 25th. Drink from their list of fourteen brews and score an exclusive long-sleeve Gridiron t-shirt. This promotion is ongoing until October 3 and drink availability will vary by location. The chain posted about this on their Facebook as well:
For more deals, like 50% off a 2nd pizza when you buy one at regular price, click here for the EatDrinkDeals Old Chicago page.
Pizza Hut
With Pizza Hut's new $10 Tastemaker special, choose your favorite 3 toppings on a large Pizza Hut pizza and get it any way you want it: delivery, carryout, online, or over the phone. Additional charges apply for extra toppings, extra cheese, Original Pan and Stuffed crust.
The special was announced on the Pizza Hut Deals Page.
Click here for the EatDrinkDeals Pizza Hut page for info on other deals, like the $12.99 Double It Box or 25% off a pizza with an online coupon code.
Primanti Bros.
Primanti Bros. has been offering a BOGO pizza deal on 14 and 18 inch pizza (including toppings) on Thursdays since the beginning of football season. Keep an eye out on their social media channels for when to use code FREEPIZZA on online orders. They also provide a link to a coupon valid for one day that you can redeem in-store. Here is an example from their Facebook on September 16:
You can also save more and get access to exclusive deals during football season when you sign-up for Primanti Bros. FanFare Rewards.
For other deals available, click here for the EatDrinkDeals Primanti Bros. page.
Wingstop
Wingstop has 70-cent boneless wings on Mondays if you want a good deal for Monday Night Football.  You can get this deal every Tuesday, too.  The restaurant announced the special on the Wingstop website.
For info on other spicy deals from the wing chain, click here for the EatDrinkDeals Wingstop page.
Yard House
Every Monday Night Football game in 2021 from kickoff to the final play, get 1/2 price appetizers at Yard House. Be sure to enter your location on their website to view the latest offers and promotions they are having this season!
Click here for the EatDrinkDeals Yard House page to learn about other specials, like their "normal" Happy Hour weekday afternoons / evenings and more.