Hwy 55 Burgers, Shakes & Fries has a half-price burger combos for app users on Tuesday, September 18, 2018.
From 5 pm to close on Tuesday, September 18 – National Cheeseburger Day – get 50% off all Hwy 55 burger combos.  To get the half-price special, show a member of the Hwy 55 waitstaff that you have downloaded the My Hwy 55 app or are a member of the Hwy55 punchcard program.   Limit of one redemption per app user. Offer cannot be combined with any other offer and is good for dine-in orders only.
The My Hwy 55 app is available in the Google Play and App Store. New users also get a coupon for a free milkshake when they enroll.
The Cheeseburger Day special was announced on Facebook.
;
Hwy 55 features these burgers:
John Boy and Billy BBQ Bacon Burger – served with your choice of American, provolone or pepper jack cheese, mustard, chili, bacon, a crispy onion ring, and tangy John Boy and Billy's Grillin' Sauce
Carolina Classic Cheeseburger – topped with mustard, onions, chili, slaw and your choice of American, provolone or pepper jack cheese
All-American Cheeseburger – topped with mayo, lettuce, tomato, pickles and your choice of American, provolone or pepper jack cheese
Pimento Cheeseburger – topped with bacon and a generous portion of made-from-scratch pimento cheese
Build-Your-Own-Burger – pick any 4 toppings and your choice of American, provolone or pepper jack cheese
About Hwy 55 (from company website)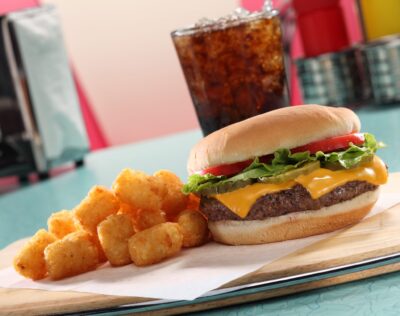 Hwy 55, the official restaurant of National Hamburger Day and National Cheeseburger Day, is a retro-themed diner that features fresh, never-frozen hand-pattied burgers, house-made frozen custard, and other classic favorites in a unique open-kitchen setting. Founded in Goldsboro, North Carolina in 1991, Hwy 55 reflects founder Kenney Moore's commitment to authentic hospitality, incredible service and the world's best burgers. As the Hwy 55 has grown, the industry has taken notice, with the brand winning BurgerBusiness.com's "Best Burger" in 2012.
"I had a vision in mind for a very simple concept for something I felt was missing: great burgers, shakes and fries, super-friendly service and hometown value, all at the same fun place," said Moore, who documented his journey in the book Behind the Drive, which details his journey from growing up modestly to now running one of America's best and fastest-growing burger companies. "Hwy 55 is a dream come true and we owe it all to our fans so we are looking forward to celebrating National Hamburger Day with them and give them an incredible deal on the burgers they know and love."
Once a well-kept secret in tiny but vibrant Mount Olive, North Carolina, Hwy 55 now operates 137 restaurants and has sold the rights to more than 1,000 franchise locations around the world. Hwy 55 has also signed franchise area agreements for Texas, West Virginia, Louisiana, Kentucky and southern Indiana and Virginia in the past year. The brand plans to open approximately 25 more locations in 2018.