National Margarita Day is on February 22, 2020 (on Saturday this year!), and many chain restaurants plan to offer Margarita specials starting at about $2.  We've got all the deals to help you celebrate in style.  Please drink responsibly, don't drink and drive, and share the savings by tipping your server generously!
EatDrinkDeals includes links to restaurant websites where you can confirm the deal and find further information.  We won't post deals that cannot be verified from a source such as the restaurant website, social media account, or press release.
Email us at editor@eatdrinkdeals.com if we've missed any Margarita Day Deals!
Do you want to have great deals like these emailed directly to you? Click here to sign up for our newsletter!
Margarita Day Deals, in Alphabetical Order
Abuelo's
Abuelo's will offer $2 off its popular El Jefe Margarita. Additionally, for each Cerveza Rita, El Jefe, Platinum Hand Shaken and Skinny Margarita sold, Abuelo's will donate $2 to No Kid Hungry, a non-profit dedicated to providing nutritious meals to over 200,000 children in America.  Margaritas + contributing to a good cause = win!  The chain announced the special on the Abuelo's Home Page.
Bahama Breeze
Bahama Breeze has $2.22 Margaritas (Margarita Day is on 2/22, how clever) on Margarita Day.  Get classic Margaritas for $2.22.  Bahama Breeze announced the annual promo on their Margarita Day page.
Read our EatDrinkDeals Bahama Breeze article for info on other specials, like Happy Hour and Empanada Tuesdays.
Black Angus
Get a Blood Orange or Gold Strike Margarita for $6 all day at Black Angus.  They put the offer up on their Facebook page.  Not valid in AK (sorry!)
Read our EatDrinkDeals Black Angus page for other specials and coupons, like $15 off their famous Campfire Feast for 2.
Chili's
Chili's has their Hearts on Fire specialty margarita for just $5 on Margarita Day, and every other day in February actually.  This marg is made with is packing Maker's Mark bourbon, Fireball cinnamon whisky, Lunazul tequila, grenadine and sour mix.  Check out our Chili's $5 Margarita story for more details.
Go to our EatDrinkDeals Chili's page for info on other specials, like their 3 course for $10 and 2 dine for $25 deals.
Chuy's
Chuy's is all about some margaritas all year long, so you know they are celebrating big for Margarita Day!  For just $2 more, make any regular House or Frozen Rita a Grande, and keep the commemorative cup.  Or, get a Floater for $1 more – an extra pour of tequila or orange liqueur.  They'll also have Taco Fries on the menu, just for Margarita Day.   Taco Fries are seasoned fries with queso, taco meat, jalapeños and more.  Here's the announcement on the Chuy's Facebook Page.
Want to know more about Happy Hour and the FREE Fully Loaded Nacho Car on weekdays?  Read our EatDrinkDeals Chuy's article here.
Duffy's Sports Grill
Get $3 Tequila MI CAMPO Margaritas all day long at Duffy's Sports Grill.  Duffy's announced the event on Facebook.
Visit our EatDrinkDeals Duffy's page for info on Happy Hour and other daily specials.
Fuzzy's Taco Shop
Get $3 frozen or on the rocks margaritas all day at Fuzzy's Taco Shop.  They posted the deal on Facebook.
Hurricane Grill & Wings
Get House Margaritas for just $3 at Hurricane Grill & Wings on February 22.  Here's the email announcement.
* Dine-in only.  Available at participating locations.  Offer valid on 2/22/20 only.
Max & Erma's
Max & Erma's has $2 Margaritas and $1 chips and salsa on Margarita Day.  The chain announced the deal on the Max & Erma's Facebook page.
Visit our EatDrinkDeals Max & Erma's page to learn about other deals, like Kids Eat Free Tuesdays and $6 Cheeseburger and Fries Thursdays.
Miller's Ale House
Miller's Ale House's has $2.22 House Margaritas on Margarita Day until 8 pm – except for GA and MA locations (sorry guys!).  Upgrade to Patron Tequila for $2 more.  Miller's announced the deal on their Facebook page and on their website.
For more info on daily specials and other deals, go to the EatDrinkDeals Miller's Ale House page.
O'Charley's
It's not specific to Margarita Day, but you can get House Margaritas at O'Charley's for $4 all day, every day.  Not bad.  O'Charley's announced the deal on Facebook.
Want info on more O'Charley's deals, like Kids Eat Free?  Read our EatDrinkDeals O'Charley's article here.
Olive Garden
Olive Garden has a $5 Watermelon Margarita every day.  Plus for an added charge you can get an Italian Margarita, Frozen Blackberry-Pineapple, Frozen Strawberry-Mango, and Passionfruit Moscato Margarita. Olive Garden announced their Margarita Day specials on their website.
Want to know more about their $11.99 Never Ending Stuffed Pasta deal?  Click here!
If you're looking for Olive Garden coupons to save on your trips to the OG, go to our EatDrinkDeals Olive Garden Deals page.
On the Border
On The Border Mexican Grill & Cantina is already celebrating Margarita Day with a grand finale on February 22.  From February 1-22, On The Border is offering its 1800 Grande 'Rita made with premium 1800 Silver Tequila on the rocks for just $5. Then, on National Margarita Day, Feb. 22, guests can enjoy $2 'Ritas (on the rocks or frozen) in addition to 99-cent Meltdowns (liqueur or extra tequila hooray!).
Here's the official announcement from the On the Border website.
To get info on more On the Border promotions and deals, like Endless Tacos and more, go to our EatDrinkDeals On the Border story.
Taco Cabana
Get $2 margaritas all day long at Taco Cabana on February 22.  You can get Lime or Strawberry flavors (or both?!)
For info on other specials like Happy Hour and their new Bowls, visit our EatDrinkDeals Taco Cabana page.
99 Restaurants
99 Restaurants is celebrating Margarita Day with 4.99 House Cuervo Margaritas.  The chain announced the Margarita Day special on its website.  Here's the full menu of specials available.
Go to the EatDrinkDeals 99 Restaurants article for info on other deals, like their $9.99 daily specials and Happy Hour.
About Margaritas  (from Wikipedia)
A margarita is a cocktail consisting of triple sec, tequila and lime or lemon juice, often served with salt or sugar on the rim of the glass. The drink is served shaken with ice (on the rocks), blended with ice (frozen margarita), or without ice (straight up). Although it has become acceptable to serve a margarita in a wide variety of glass types, ranging from cocktail and wine glasses to pint glasses and even large schooners, the drink is traditionally served in the eponymous margarita glass, a stepped-diameter variant of a cocktail glass or champagne coupe.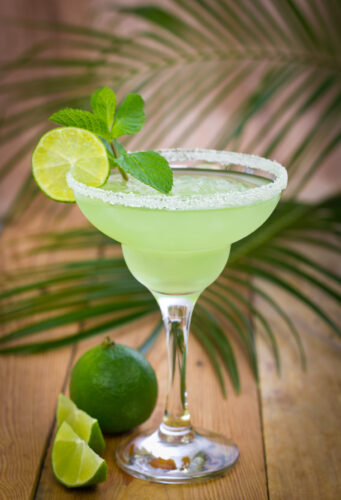 The IBA (IBA Official list of Cocktails) standard is 7:4:3, that is, 50% tequila, 29% Cointreau, 21% fresh lime juice.
The "Original Margarita" recipe as given by Cointreau on their website has less of their own sweet liquor: 1 part white tequila, 1/2 part Cointreau, and 1/2 part fresh squeezed lime juice.
Besides Cointreau, other orange-flavored liqueurs that might be used include Grand Marnier, Gran Gala, other brands of triple sec, or blue curaçao (yielding the blue margarita). When sweeter fruit juices or freshly puréed fruits are added to the margarita, the orange-flavored liqueur is often reduced or eliminated entirely. In addition to orange-flavored liqueurs, secondary liqueurs may occasionally be added to a cocktail, including melon-flavored or black raspberry-flavored. Other flavors include pineapple and watermelon.
Freshly squeezed lime juice is the key ingredient. The most common lime in the United States is the thick-skinned Persian lime. However, margaritas in Mexico are generally made with Mexican limes (Key limes). These are small, thin-skinned limes and have more tart and an often bitter flavor compared to Persian limes.
Frozen margarita
In addition to being shaken and served "up" like other cocktails, margaritas can also be served as a blended ice slush similar to other tropical-inspired mixed drinks like the hurricane or piña colada. This variant is known as a frozen margarita. The ingredients can be poured over crushed ice in a kitchen blender, or for larger establishments that serve many of these, a large quantity of a "house recipe" of frozen margarita can be kept in a machine designed specifically for the purpose (but also commonly used to serve non-alcoholic slush drinks); a cylinder leading to a pour spout is kept below freezing temperature, but an impeller within the cylinder constantly churns the mix so it can't freeze solid, and so it dispenses as a thick half-frozen slush. The first frozen margarita machine was invented on May 11, 1971 by Dallas restaurateur Mariano Martinez. The machine was originally a soft-serve ice cream machine and now sits in the Smithsonian National Museum of History.
For an official Margarita Recipe visit the International Bartenders Association.