McAlister's Deli has $4 club sandwiches for its app users on Saturday, November 3, 2018.
The $4 special includes the club sandwich – a fan favorite sandwich stacked thirteen layers high with smoked turkey, Black Forest Ham, bacon, sharp cheddar, Swiss cheese, lettuce, tomatoes, McAlister's Honey Mustard and mayo on sliced wheat bread.   The special also includes a drink. The $4 one-day price is less than half the regular price price.
The chain announced the special, in celebration of National Sandwich Day on November 3, on Facebook (see Facebook post below).
*The $4 McAlister's Club offer is valid for dine-in, app orders, call-in and online orders. Download the McAlister's Deli app to redeem a $4 McAlister's Club + Bonus FREE Beverage Reward (available through the app only). No cash value.*
You can download the app at: Apple Store or Google Play.
For more information, visit McAlistersDeli.com and connect with McAlister's on Facebook.com/TeaFreaks and Twitter and Instagram at @McAlistersDeli.
About McAlister's Deli (from Wikipedia)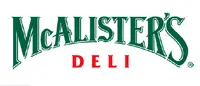 McAlister's Deli is a chain of fast casual restaurants founded in 1989 in Oxford, Mississippi. The chain recently opened its 400th location in Cedar Hill, TX.