Get $25 off a catering order with this McAlister's Deli promo code good today through June 25, 2019.
Enter promo code TRYMCA and get $25 off your first catering order totaling $150 or more.  Must order online and enter the promo code to get the $25 discount.  Good only on your first catering order.
For more details or to start your order visit the McAlister's Deli Catering Special Announcement.
McAlisters Free Tea in July
McAlister's Deli has their next annual Free Tea Day on July 18, 2019.
On Free Tea Day, every McAlister's Deli guest gets a free 32-ounce glass of iced tea.  One per guest. No coupon is required and no purchase is necessary.  More details on Free Tea Day will be posted on the McAlister's home page at: http://www.mcalistersdeli.com/.
About McAlister's Deli (from Wikipedia)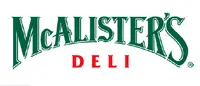 McAlister's Deli is a chain of fast casual restaurants founded in 1989 in Oxford, Mississippi. There are currently over 350 locations in 26 states, ranging from Virginia in the East to Florida in the South to Arizona in West to Michigan in the North. The menu includes deli sandwiches, "Texas-size" spuds (baked potatoes), soups, salads, and desserts, as well as catering items such as sandwich trays and boxed lunches. The chain is also known for its McAlister's Famous Sweet Tea, which is available by the glass or by the gallon.
The original restaurant was started in a renovated gas station, and many of the elements of that original look are present in many McAlister's Delis built today, such as a garage door, and nostalgic black-and-white tile.