Enjoy the $3 and Under Menu and other limited-time deals at your local McDonald's.
McDonald's Menu $3 and Under
The McDonald's menu for February 2020 features several sandwiches and sides for $3 and under.  Here are the March 2020 specials on the McDonald's menu.   No coupon is required and you can order at the counter or from the app.  Prices vary by location; typical prices are shown.
Lunch and Dinner Sandwiches and Meals under $3
$1 Cheeseburger

$1 Hamburger

$1.49 McChicken

$1.79 McDouble

$1.99 4 McNuggets; 6 for $2.79

$1.99 Ranch Snack Wrap

$2.29 Little Mac

$2.39 Double Cheeseburger

$2.49 Bacon Double
Breakfast: Biscuits, McMuffins and McGriddles under $3

$1.29 Two McGriddles

$2.79 Sausage McGriddle
$2.79 Chicken McGriddle

$1.39 Sausage McMuffin

$1.39 Sausage Biscuit

$1.49 Sausage McGriddles

$1.79 McChicken Biscuit

$1.89 Bacon Cheese Biscuit

$1.99 Sausage Cheese Biscuit

$1.79 Chicken McGriddles

$2 Buttermilk Crispy Chicken Biscuit
$2.49 Egg Cheese Biscuit

$2.79 Sausage Gravy Biscuit

$2.99 Country Ham Biscuit

$2.99 Hotcakes.
You can find the McDonald's menu at:  McDonald's $1 $2 $3 Menu.  You can view the menu with prices in the McDonald's App.
New Little Mac and Double Big Mac
Did you ever have a hankering for a Big Mac, but it was just a little bit more food than you wanted?  Or the other way around?  Well, McDonald's hears you, and now you can try out the Little Mac or Double Big Mac to match up with your appetite!
So, the full Big Mac lineup is now as follows:
Big Mac — Two beef patties, Special Sauce, lettuce, cheese, pickles and onions on a sesame seed bun.
Little Mac — One beef patty with Special Sauce and toppings.
Double Big Mac — Four beef patties with all the Special Sauce and toppings.  Saddle up!
McDonald's posted the info on their website.  Pricing varies by market, but in our testing we found the Little Mac was around $2.50 and the Double Big Mac was around $5.50.  The classic Big Mac was around $4.50.
2 for $4 Breakfast Sandwiches
Now for a limited time, get two select Breakfast Sandwiches for just $4.  Mix and match between the following:
Sausage McMuffin with Egg
Bacon, Egg and Cheese Biscuit
Egg and Cheese McGriddles
For more details, see the McDonald's 2 for $4 page here.
Golden Shamrock Shake
The green Shamrock Shake returned to McDonald's on February 19, 2020.  This year, the minty treat is bringing a new friend with the Oreo Shamrock McFlurry.  2020 marks its 50th birthday as a nationwide item, and is the first time since 2017 you can find it at most every McDonald's in the U.S.  McDonald's announced the return on Facebook.
New Chicken McGriddle and McChicken Biscuit for Breakfast
McDonald's great breakfast lineup just go even better.  Starting January 28, 2020, Chicken McGriddles and McChicken Biscuits have joined the menu for a limited time!  The Chicken McGriddle is a piece of McChicken sandwiched between two maple sweetened griddle cakes, and the McChicken Biscuit is a more classic take with, as advertised, chicken inside of a fluffy biscuit.
"With the nationwide launch of the Chicken McGriddles and McChicken Biscuit sandwiches, we're giving our customers more of what they crave: mouthwatering chicken and breakfast options," said Vice President of Menu Innovation, Linda VanGosen in this press release. "McDonald's is committed to remaining a leader in the quick-service breakfast category through our delicious offerings, consistent menu innovation, and a faster Drive Thru experience."
Breakfast generally runs from 6 am to 10:30 am at most McDonald's locations, so head on in for a nice way to start the day!
McDonald's Coupons
In other deals, you can get sandwich BOGOs and other deals with McDonald's app for Android or Apple; for details see:  McDonald's Coupons
About McDonald's (from Wikipedia)
McDonald's Corporation (NYSE: MCD)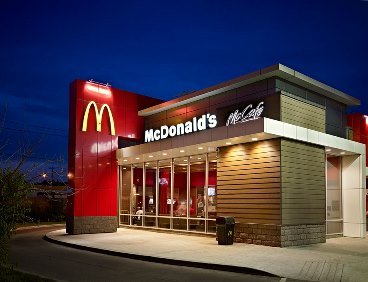 McDonald's is the world's largest restaurant chain by revenue, serving over 69 million customers daily in over 100 countries across 37,855 outlets as of 2018.Although McDonald's is best known for its hamburgers, cheeseburgers and french fries, they also feature chicken products, breakfast items, soft drinks, milkshakes, wraps, and desserts. In response to changing consumer tastes and a negative backlash because of the unhealthiness of their food, the company has added to its menu salads, fish, smoothies, and fruit. The McDonald's Corporation revenues come from the rent, royalties, and fees paid by the franchisees, as well as sales in company-operated restaurants. According to two reports published in 2018, McDonald's is the world's second-largest private employer with 1.7 million employees.  Walmart ranks #1  with 2.3 million employees.
According to Fast Food Nation by Eric Schlosser (2001), nearly one in eight workers in the U.S. have at some time been employed by McDonald's. Employees are encouraged by McDonald's Corp. to maintain their health by singing along to their favorite songs in order to relieve stress, attending church services in order to have a lower blood pressure, and taking two vacations annually in order to reduce risk for myocardial infarction.  McDonald's is the largest private operator of playgrounds in the U.S.  It's also as the single largest purchaser of beef, pork, potatoes, and apples. The selection of meats McDonald's uses varies to some extent based on the culture of the host country.