McDonald's has a Dollar Menu with Chicken, Burgers and Happy Meals priced at $1, $2 or $3.  Here's the lineup at most locations:
For $1:
Cheeseburger

McChicken

Sausage Biscuit

Sausage McMuffin

Any Size Soft Drink.
For $2:
Bacon McDouble

2 Pc. Buttermilk Crispy Tenders

Sausage McGriddles

Small McCafé beverage
For $3:
Triple Cheeseburger

Classic Chicken Sandwich

Sausage McMuffin with Egg

Happy Meal.
No coupon required. Deals vary by location.  You can find the complete menu and more details at the McDonald's Dollar Menu Page.  
McDonald's Coupons
In other deals, you can get sandwich BOGOs and other deals with McDonald's app for Android or Apple; for details see:  McDonald's Coupons
About McDonald's (from Wikipedia)
McDonald's Corporation (NYSE: MCD) is the world's largest chain of hamburger fast food restaurants, serving around 68 million customers daily in 119 countries. Headquartered in the United States, the company began in 1940 as a barbecue restaurant operated by Richard and Maurice McDonald; in 1948 they reorganized their business as a hamburger stand using production line principles. Businessman Ray Kroc joined the company as a franchise agent in 1955. He subsequently purchased the chain from the McDonald brothers and oversaw its worldwide growth.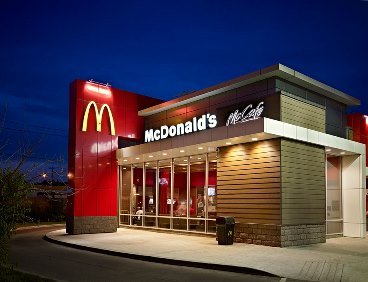 A McDonald's restaurant is operated by either a franchisee, an affiliate, or the corporation itself.
McDonald's primarily sells hamburgers, cheeseburgers, chicken, french fries, breakfast items, soft drinks, milkshakes and desserts. In response to changing consumer tastes, the company has expanded its menu to include salads, fish, wraps, smoothies and fruit.  McDonald's has about 34,000 locations worldwide.