The McDonald's menu for November 2019 features several sandwiches and sides for $3 and under.  Here are the November specials on the McDonald's menu.   No coupon is required and you can order at the counter or from the app.
Lunch and Dinner Sandwiches and Meals under $3
$1 Cheeseburger

$1 Hamburger

$1.39 McChicken

$1.79 McDouble

$1.99 Ranch Snack Wrap

$1.99 4 McNuggets; 6 for $2.79

$2.49 Bacon McDouble
Breakfast: Biscuits, McMuffins and McGriddles under $3
$1.39 Sausage Biscuit

$1.39 Sausage McMuffin

$1.49 Sausage McGriddles

$1.69 McChicken Biscuit

$1.69 Bacon Biscuit

$2.99 Country Ham Biscuit

$2.99 Hotcakes only

$3 Sausage McMuffin with Egg
Prices vary by location.  You can find the McDonald's menu at:  McDonald's Menu.
McDonald's McRib 2 for $5
The McDonald's menu makes room for the return of the McRib for a limited time on Monday, October 7, 2019, the chain announced.
The fan favorite is set to return for a limited time in most U.S. restaurants starting Monday, Oct. 7. To find your nearest participating McDonald's, use the McRib Finder to track one down.
The McRib is a seasoned boneless pork sandwich with tangy barbecue sauce, pickles and onions on a hoagie bun.  Prices vary by location, but you can usually get the McRib about $4 or as part of a combo with fries and a drink for about $7.
Some McDonald's have this special:  2 McRib sandwiches for $5.  If  you have the McDonald's app you can find out if your local McDonald's has the deal by starting an order for 2 McRibs and then going to checkout.  The price should drop to $5 if your location has the 2 for $5 special.
The McRib's spot on McDonald's menu dates back to 1981. The iconic sandwich last appeared in participating restaurants in November 2018.
"We're always listening to our customers and we know the McRib has some of the most loyal fans," said Chef Chad Schafer, Senior Director of Culinary Innovation & Commercialization at McDonald's USA. "This year we're excited to give every McRib fan new ways to show their love for the sandwich with our saucy McRib GIFS so they can celebrate the season no matter where they live."
McDonald's announced the McRib return on the McDonalds's News Page.
McDonald's Coupons
In other deals, you can get sandwich BOGOs and other deals with McDonald's app for Android or Apple; for details see:  McDonald's Coupons
About McDonald's (from Wikipedia)
McDonald's Corporation (NYSE: MCD)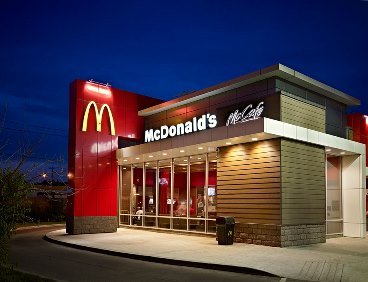 McDonald's is the world's largest restaurant chain by revenue, serving over 69 million customers daily in over 100 countries across 37,855 outlets as of 2018.Although McDonald's is best known for its hamburgers, cheeseburgers and french fries, they also feature chicken products, breakfast items, soft drinks, milkshakes, wraps, and desserts. In response to changing consumer tastes and a negative backlash because of the unhealthiness of their food, the company has added to its menu salads, fish, smoothies, and fruit. The McDonald's Corporation revenues come from the rent, royalties, and fees paid by the franchisees, as well as sales in company-operated restaurants. According to two reports published in 2018, McDonald's is the world's second-largest private employer with 1.7 million employees.  Walmart ranks #1  with 2.3 million employees.
According to Fast Food Nation by Eric Schlosser (2001), nearly one in eight workers in the U.S. have at some time been employed by McDonald's. Employees are encouraged by McDonald's Corp. to maintain their health by singing along to their favorite songs in order to relieve stress, attending church services in order to have a lower blood pressure, and taking two vacations annually in order to reduce risk for myocardial infarction.  McDonald's is the largest private operator of playgrounds in the U.S.  It's also as the single largest purchaser of beef, pork, potatoes, and apples. The selection of meats McDonald's uses varies to some extent based on the culture of the host country.