Morton's The Steakhouse has announced their annual Valentine's Dinner Special will be February 9-16, 2019.
Get an 8 oz Filet topped with Maine Lobster & Bearnaise Sauce for $59.  For more details or to make a reservation, visit the Morton's Valentines Page.

Bar Bites Menu at Morton's
Morton's also has an affordable Bar Bites menu starting at $7 that includes items such as Oysters on the Half Shell, Jumbo Shrimp Cocktail, Mini Prime Cheeseburgers and Filet Mignon Trio.  More details on the Morton's Bar Bites website.
About Morton's (from Wikipedia)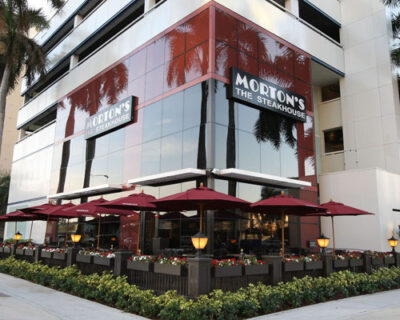 Morton's The Steakhouse is a chain of more than 70 steak restaurants with locations in the United States and in cities in the USA and abroad. The chain is a wholly owned subsidiary of Landry's, Inc. that was founded in Chicago in 1978. The Morton's menu features steak and signature seafood dishes such as Baked Stuffed Jumbo Shrimp and Whole Baked Maine Lobsters.