Outback Steakhouse has drink specials starting at $5.  Here are the current (as of August, 2018) drink specials at Outback.  Prices may vary by location; shown are typical prices.
Get Margaritas starting at $5; for details on these and other cocktails below see:  Outback Cocktail Menu
Get Sangria starting at $6.25
Get Martinis starting at $5
Get Rum Punch and Hard Lemonade starting at $5
Get select glasses of wine starting at under $6; for the menu see:  Outback Wine List.
Get draft beer starting at $2.50; for the menu see: Outback Beer Selections.
For the complete bar menu see:  Outback Bar Menu
Other Outback Specials
Outback Steakhouse offers 10% off to AARP members every day.  Discount is good for your entire check (some restrictions apply).
Visit Outback any day of the week for lunch or dinner and save 10% off your entire dining bill (excluding alcohol, applicable taxes and gratuity). To receive your 10% discount, just show your valid AARP membership card any day of the week at any Outback restaurant location.
AARP discount is not good with Outback coupons or other offers. More details at the AARP Discount site.  Find other restaurant discounts in our story,  AARP Dining Discounts
Additional Outback Specials
Outback usually posts its coupons and other specials (such as the free Bloomin' Onion) on their Offers Page.
About Outback Steakhouse (from Wikipedia)
Outback Steakhouse is an American casual dining restaurant chain based in Tampa, Florida with over 1200 locations in 22 countries throughout North and South America, Europe, Asia, and Australia.
Outback Menu
All meat is heavily seasoned; there is a 17 spice blend for the steaks themselves. Outback bills its food as "full flavor".  It fries its food in beef tallow, and uses real butter and heavy cream in many dishes. Burgers are ground from beef tenderloin. Menus are highly regionalized. Crawfish appear in some dishes in Southern American locations, as do sweet potatoes. Eastern locations often feature Maine Lobster tails, while western locations frequently serve Alaskan King Crab legs and cakes.
Outback's bar selections are highly regionalized. Outback serves Foster's Lager; an Australian brand of beer exported around the world. Other Australian beers often served include: Toohey's New, Boag's, and Coopers Premium Lager, Sparkling Ale, and Pale Ale. Wine selections vary, but often include Australian wineries Yellow Tail, Lindeman's, and Rosemount.
Although a number of menu items are grilled, steaks are prepared on a griddle using butter as a heat transfer medium. Because they are cooked solely by conduction, their surfaces are cooked much more rapidly than their centers, and Outback follows a standard meat temperature (rarity) scale.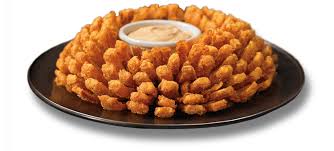 The Bloomin' Onion is a signature Outback item. It is a one pound onion cut to 'bloom' open, breaded, deep-fried and served with mayonnaise-horseradish sauce. Other restaurants offer items similar to the Bloomin' Onion, as in Chili's Awesome Blossom (discontinued) and Lone Star Steakhouse & Saloon's Texas Rose.