Outback Steakhouse recently added new specials, including a $13.99 steak dinner combo on Wednesdays and a $24.99 lobster and steak dinner on Tuesdays.
Walkabout Wednesday at Outback
Walkabout Wednesday is back at Outback! For $13.99, get a 6 oz. Sirloin Steak, fries and a 16 oz. Draft Beer. You can swap out the steak for chicken and swap the beer for a soda. In some locations, you'll have to go with soda instead of beer – check with your local restaurant for details.
Just mention the deal to your server and show them the deal on the Outback Walkabout Wednesday web page. The offer isn't valid in some states.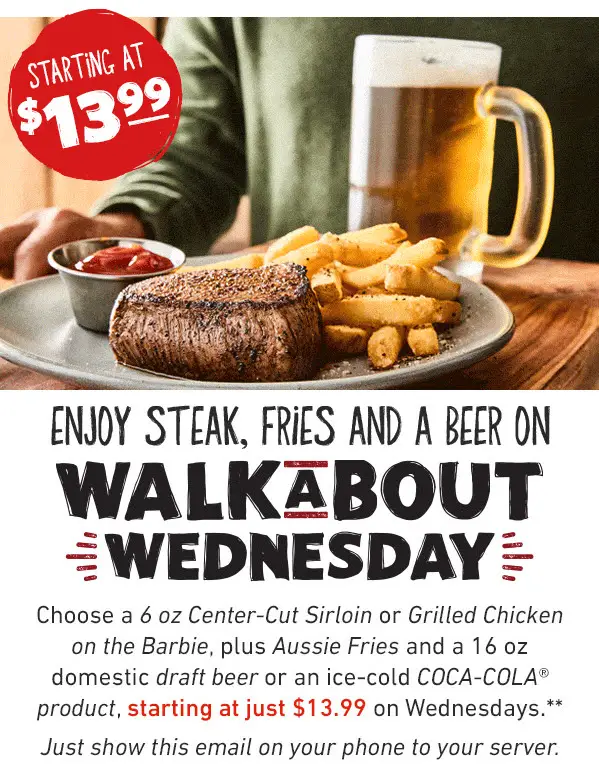 *Available for dine-in on Wednesdays only. Limited time offer. Prices and participation may vary. Beer offer void where prohibited by law. Offer not valid at restaurant locations in the states of AK, AZ, CA, CO, ID, MN, MS, MT, NM, NV, OR, SD, TN, UT, WA & WY, plus all airport locations. Beer offer not available at restaurant locations in AR, HI, PA & UT. Beer is a non-craft domestic draft only. 
Tuesday Tails Steak and Lobster for $24.99
Get a Center-Cut Sirloin with a Steamed Lobster Tail for $24.99 at Outback with their Tuesday Tails special. Prices higher in some locations. Outback has the offer up on its website.
Ask us in the comments what Tuesday Tails is? You're going to want to know. 😉 pic.twitter.com/w8KIKFOmR9

— Outback Steakhouse (@Outback) May 2, 2023
More Outback Steakhouse Specials
Outback Steakhouse has additional new specials on their Great Barrier Eats menu, including:
Loaded Bloomin' Onion: A signature Bloomin' Onion topped with new Aussie Cheese Fries. $14.49
Sirloin & Lobster Mac & Cheese: A center-cut sirloin paired with premium steakhouse mac & cheese topped with lobster. Served with choice of steakhouse potato. Starting at $18.99
Tasmanian Shrimp & Lobster Pasta: Grilled shrimp and lobster served over fettuccine tossed in Fresno Chile Alfredo sauce. Starting at $22.99
Prime Rib & Shrimp Combo: A slow-roasted 12 oz. Prime Rib paired with your choice of grilled or coconut shrimp. Served with choice of steakhouse potato and a side. $31.49
For more details visit:  Outback Specials
🚨NEW Tasmanian Shrimp & Lobster Pasta pic.twitter.com/OkVMvv8c6E

— Outback Steakhouse (@Outback) April 29, 2023
$50 Off Outback Steakhouse Catering
Get $50 off an order of $250 or more of catering with an Outback promo code valid through December 31. Visit the Outback catering page here and use promo code STEAKYEAH at checkout. Note that the code isn't valid in all locations.
*Excludes taxes and gratuity. Valid at participating Outback Steakhouse locations in the US. NOT VALID IN CA, CO, ID, TN, MS, MT, NV, SD, UT, WA, NM, AK, AZ, WY. Excludes third-party delivery. Not valid for AARP Membership Discount. NOT VALID IN CONJUNCTION WITH ANY OTHER OFFER, DISCOUNT OR COUPON including Dine Rewards Redemptions. Coupon must be surrendered upon redemption. Prices, product participation and restaurant hours may vary by location.
Outback Steak 'N Mate Combos
Outback has new Steak Combos available where you can pair a 6 oz. Center-Cut Sirloin and two sides up with the following:
Grilled or Coconut Shrimp – $21.99
1/2 Rack of Ribs – $28.49
Grilled Chicken – $22.49
To view the full menu and prices for your Outback, visit:  Outback Menu
Outback Bloomin' Bundles To Feed 4 or 6
Outback Steakhouse has new Bloomin' Bundles available for takeout to feed 4 or 6 people.  Each bundle comes with a family sized Caesar or House salad, 2 or 3 family sized sides, and 2 or 3 Honey Wheat Breads.
The entree options are Grilled Chicken ($55), Center Cut Sirloin ($60), Sirloin and Shrimp ($70), or Sirloin and Chicken ($75).  Pricing varies by location; prices shown are for the 4-person bundle.
For more details visit:  Outback Bloomin' Bundles
Outback Coupon For A Free Bloomin' Onion
Join Dine Rewards from Outback and get a coupon for a free Bloomin' Onion on your next visit.  You'll also earn points with your future trips to the Aussie steakhouse and earn more rewards as you go. Enroll here on the Outback Steakhouse website.
$50 Off $250 Catering Order From Outback
Planning a party? Get $50 off your first catering order of $250 or more from Outback. Start your order here and use promo code STEAKYEAH to get $50 off. Outback sent this message with the code.
Nashville Hot Wings
Nashville Hot Wings are a new item at Outback.  They're fried then coated with a Nashville-style dry rub and served with house-made Blue Cheese dressing.  Get a pound for $15.49.  For more details visit:  Outback Specials
$7 Cocktails at Outback
Outback has a set of $7 cocktails to go along with the expanded menu.  Get these for $7 any time:
Sauza Gold Coast 'Rita – house margarita with Sauza Gold Tequila, frozen or on the rocks
Ruby Mango Lemonade – Deep Eddy Ruby Red Vodka, Country Style Lemonade, mango and club soda
Strawberry Kiwi 'Rita – Lunazul Blanco Tequila, strawberries, kiwi and citrus
Blackberry Martini – Finlandia Raspberry Vodka, pineapple and cranberry juices, and blackberry flavoring
Aussie Rum Punch – Bacardi Superior Rum, Malibu Coconut Rum, fresh lime, mango and cranberry juice
Boozy Cherry Limeade – Bacardi Lime Rum, black cherry and Sprite
The Wallaby Darned – La Marca Prosecco, SVEDKA Vodka, DeKuyper Peachtree Schnapps, and peaches
Outback posted about its $7 Cocktails deal on the Outback Offers Page.
Is Bloomin' Monday Coming Back To Outback?
Prior to the COVID pandemic in 2020, one of Outback's biggest promotions was Bloomin' Monday.  Anytime Outback's sponsored driver, Kevin Harvick, won a NASCAR race, you could get a free Bloomin' Onion on the following Monday.
Outback suspended Bloomin' Monday in 2020.  Currently, Outback says they have no plans to bring Bloomin' Monday back.  Bummer!  The Bloomin' Onion is available at its regular price of $9.99.
Is There An AARP Discount at Outback Steakhouse?
Outback Steakhouse offers 10% off to AARP members every day.  Discount is good for your entire check (some restrictions apply).
Visit Outback any day of the week for lunch or dinner and save 10% off your entire dining bill (excluding alcohol, applicable taxes and gratuity). To receive your 10% discount, just show your valid AARP membership card any day of the week at any Outback restaurant location.
AARP discount is not good with Outback coupons or other offers. More details at the AARP Discount site.
Find other restaurant discounts in our story,  AARP Dining Discounts
Does Outback Have A Military Discount Or Heroes Discount?
Outback Steakhouse has 10% off for servicemen and women, police officers, firefighters, first responders, nurses, doctors, medical staff and teachers all day, every day.  The discount is good on your entire check, minus alcohol. Good for servicemen and women, police officers, firefighters, and first responders with an ID (see ID requirements below).  Show ID to your server.  Not valid with AARP Discount, Bloomin' Monday, Walkabout Wednesday or in conjunction with any other offer, discount or coupon.
Outback announced the discount and other initiatives to honor the military on The Outback Heroes Discount page.
*THE 10% OFF HEROES DISCOUNT is open to nurses, doctors, medical staff, servicemen and women, police officers and firefighters, with corresponding medical, state or federal service ID, plus Military Personnel and their immediate family members who have one of the following forms of identification:
U.S. Uniformed Services Identification Card
U.S. Uniform Services Retired Identification Card
Current Leave and Earnings Statement (LES)
Veterans Organization Card (i.e. American Legion and VFW)
DD214 Certificate
Veteran Identification Card (VIC), or 
Photograph in U.S. Uniform or wearing U.S. Uniform.
Servicemen and women, and Military Personnel and their families with any of the foregoing forms of identification will receive 10% off their entire guest check excluding alcohol and applicable taxes. Discount not available via online ordering – please call to order, present ID and pay at the restaurant. Cannot be used in conjunction any Dine Rewards redemption, AARP® Membership Discount or catering order.
For other great military discounts, visit our EatDrinkDeals Military Discounts article.
Outback Menu
Visit our Outback Steakhouse menu page here to see what they've got and how much things cost. Or, visit their website here.
Outback is all about steaks and grilled meats, with an assortment of seafood options to go with it. Burgers are ground from beef tenderloin. Menus are highly regionalized. Crawfish appear in some dishes in Southern American locations, as do sweet potatoes. Eastern locations often feature Maine Lobster tails, while western locations frequently serve Alaskan King Crab legs and cakes.
Outback has a full bar with Australian beer brands like Foster's, Toohey's New, Boag's, and Coopers Premium Lager, Sparkling Ale, and Pale Ale.  Australian wineries like Yellow Tail, Lindeman's, and Rosemount are featured, too.
The Bloomin' Onion is Outback's signature Outback item. Outback starts with a one pound onion, cuts it to 'bloom' open, then breads, deep-fries and serves with mayonnaise-horseradish sauce.
Is There An Outback Steakhouse Near Me?
Outback has over 1,300 locations worldwide.  Most of those are in the United States.  You can find Outback locations near you at: Outback Near Me
How Do I Find Outback's Hours?
Most Outback Steakhouse restaurants open around 11 AM, then close around 9-10 PM on weekdays, and 11 PM or later on weekends.  To find the hours, address and more details, select your location from: Outback Near Me
Does Outback Deliver?
Outback offers delivery through its third-party delivery partners, such as Uber Eats and DoorDash.  Usually there is a delivery fee of $4 – $5, not counting a tip (please be kind and tip your delivery folks!)  To start an Outback delivery order, visit:  Outback Delivery and select a location to see if it's available.
Where Is Outback Steakhouse's Nutritional Info?
Outback lists the nutritional information for its menu on their website.  To view the nutritional content of any menu item, click here for the Outback Nutitional Info page.
Outback gift cards are a popular item for online shopping.  Looking for one?  Visit the Outback Steakhouse official website here and add one to your shopping cart.  Sometimes, there are Outback coupons that give you an extra discount on a gift card purchase.  The special offer usually comes around during the springtime and holiday season, like Black Friday and Cyber Monday.  Gift cards have no cash value, but don't have an expiration date generally.