Get free drinks for two months when you join Panera Bread's Unlimited Sips Club! Panera also has a bargain with their Value Duets and new items like Salads and Toasted Baguettes.
Panera Unlimited Sip Club
Panera Bread has an Unlimited Sip Club that gives members unlimited coffee, tea, soda and new Charged Lemonades for free every day.
The Panera Sip Club is $11.99 a month, but right now you can get a free subscription for two full months for a limited time! The regular rate of $11.99 a month kicks in after that.  There's an option for an annual membership for $119.99, which brings it down to $10 a month. You'll need to provide a credit card or other form of payment when you sign up.
Go to the Panera Sip Club page for more details.
Here are the drinks that you get for free when you enroll in Panera's Sip Club:
Drip Hot Coffee (Colombian Light Roast & Dark Roast, Decaf, Hazelnut)
Iced Coffee (Colombian Dark Roast)
Hot Tea (British Breakfast, Earl Greyer, Mango Ceylon, Ginger Peach, Honey Ginseng Green, and Orange Ginger Mint Herb)
Iced Tea & Lemonade (Black Iced Tea, Sweet Tea, Passion Papaya Green Tea, Agave Lemonade)
Fountain Soda (Pepsi, Diet Pepsi, Mountain Dew, Sierra Mist, bubly Lime, Brisk Raspberry Tea, Dr Pepper, and Canada Dry Ginger Ale)
Charged Lemonades (Fuji Apple Cranberry, Mango Citrus Yuzu, and Strawberry Lemon Mint)
You can get a free drink order every two hours, plus unlimited refills.  Notable drinks that are not included are:
Cold Brew Iced Coffee
Espresso and Cappuccino beverages
Once you have subscribed, order your drink online, with the app, or at your local Panera and provide your Panera Rewards number to get your free drink.
Black Forest Ham & Gouda Melt
Introducing Panera's brand-new Black Forest Ham & Gouda Melt! Made on a toasted baguette, this melt features Panera's new country mustard, arugula, and smoked gouda. MyPanera members have exclusive early access to the melt through June 21 and it will be available to all customers starting June 22. The Black Forest Ham & Gouda Melt starts at $9.49, but, as always, pricing and participation will vary depending on location. Click here to read the full press release about the new melt!
Value Duets for $6.99
Get a half sandwich, a cup of soup and a side for about $7 with Panera's Value Duets.  Value Duets are priced at $6.99 at most locations.  At some stores the Value Duets are available only when you order online or with the Panera app. Choose from
Napa Almond Chicken Sandwich with Chicken and Wild Rice Soup
Grilled Cheese and Tomato Soup
Smokehouse BBQ Chicken and Tomato Soup
Tuna Sandwich and Tomato Soup
Greek Salad and Tomato Soup
Caesar Salad and Chicken Noodle Soup.
Click here to view the Value Duets and to start an online order. 
Southwest Caesar Salad And Strawberry Salad Returns
Panera has a new Southwest Caesar Salad coming to the menu, plus the return of the highly popular Strawberry Poppyseed Salad. Both salads will hit the menu on April 5. Pricing varies by location, but the salads are typically $12 – $14.
The Southwest Caesar Salad with chicken starts with a base of romaine lettuce tossed in Caesar dressing. Throw in some chipotle aioli and crunchy blue corn tortilla strips, grilled chicken breast, fresh avocado, grated parmesan cheese, and cilantro to top things off.
The Strawberry Poppyseed Salad has romaine lettuce, grilled chicken, and a generous helping of fruit including fresh strawberries, mandarin oranges, pineapple and blueberries. Panera's own poppyseed dressing tops things off, along with some roasted pecan pieces. The Strawberry Poppyseed Salad can only be had in spring when fresh strawberries are available, so hurry in.
New Toasted Baguettes At Panera
Panera has rolled out some new Toasted Baguettes to keep you warm during the winter months. The Toasted Baguettes are $9.99 in most markets, but may be $10.99 in some spots. You can also get them as an option on the You Pick Two menu. The three types are:
Green Goddess Caprese Melt – Tomatoes, fresh mozzarella, grated parmesan cheese, sweet Peppadew peppers, fresh basil and arugula, topped with Green Goddess dressing and garlic aioli
Pepperoni Mozzarella Melt – Thick sliced Pepperoni, fresh mozzarella, shredded Fontina and mozzarella cheeses, and a tomato bell pepper sauce
Smoky Buffalo Chicken Melt – Smoked chicken, American cheese, red onions, and spicy Buffalo sauce
Panera has some new Chef's Chicken Sandwiches hitting the menu.  Choose from the following types:
The Signature Take Chicken Sandwich – a breaded chicken breast served with emerald greens, parmesan crisps, and garlic aioli served on a brioche roll.
The Spicy Take Chicken Sandwich – a breaded chicken breast served with spicy pickle chips, buffalo sauce, and garlic aioli served on a brioche roll.
The Chef's Chicken Sandwiches cost about $12, depending on your location.
Panera Bagels $7.49 for a Baker's Dozen Tuesdays
On Tuesdays, get a Baker's Dozen (thirteen total) bagels for just $7.49 at participating Panera locations.  That's half price!  Most of them will honor the deal.  You can check with your local spot by going to the Panera menu website here, and on Tuesdays you should see this option: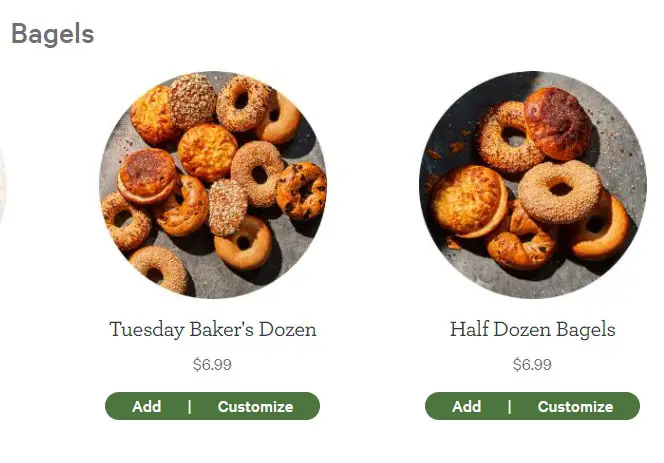 Panera Coupons
Visit our Panera Coupons and Promo Codes page here to save with the latest codes. They'll often have something like $3 off an entree, or 20% off your order going on.
Flatbread Pizzas
Panera has added some Flatbread Pizzas to their menu in a move we've all been waiting for.  I mean, it's right up their bready alley.  There's five options available:
Cheese Flatbread Pizza: A simple flatbread pizza topped with tomato sauce and shredded fontina and mozzarella cheeses.
Margherita Flatbread Pizza: A Cheese Flatbread topped with red grape tomatoes and fresh basil for a more distinctive flavor.
Pepperoni Flatbread Pizza (new!):  Topped with fresh mozzarella, traditional pepperoni and market tomato bell pepper sauce.
Four Cheese Flatbread (new!):  Topped with a creamy white garlic sauce and parmesan, mozzarella, fontina and feta cheeses.
Chipotle Chicken & Bacon Flatbread Pizza: This one's a different flavor with a garlic cream sauce, red grape tomatoes, chicken breast, bacon, and shredded fontina and mozzarella cheeses. Then, it's topped off with chipotle aioli and fresh cilantro.
The Cheese Flatbread costs about $9, and the Margherita and Chipotle Chicken & Bacon varieties are about $10 each based on our testing of various markets.  Prices vary by location.  Panera posted the new Flatbreads on Youtube.
Panera Bread You Pick Two Menu
Can't decide what you want? Double up with the You Pick Two Menu from Panera and tantalize your taste buds twice as much! You'll pick from soups, salads, half-sized sandwiches, and other options. Pick from the following:
Cup of Soup
Mac 'n Cheese
Half Salad
Half Sandwich
Toasted Baguettes
Flatbread Pizza (whole size)
Chef's Chicken Sandwich (whole size)
Bread Bowl (whole size)
You'll get a choice of side, too. Choose from chips, an apple, or a hunk of that tasty Panera Bread bread.
Family Feast Value Meals Starting at $24
Panera has rolled out new Family Meals to feed 2 adults and 2 kids starting at $24.
With the Flatbread Pizza Family Feast, get two flatbread pizzas for $24, 3 flatbreads for $31, or 4 for $49.
With the Family Feast starting at $31 get 2 Half Sandwiches, 2 kids sandwiches, 1 whole Salad, 1 Family Size Mac and Cheese, and a Whole Baguette.  There are plenty of new options available too, including Family Meals with Soups.
With the Chicken Sandwiches Family Feast get 4 whole Chef's Chicken Sandwiches, 1 group soup and 1 whole French baguette. $45 at most locations.
To view the full Family Feast lineup, click here for the Panera website.
At Home Recipes
If you make your own Panera style dishes at home, you can find dozens of Panera recipes on the chain's website.  Panera has posted recipes for Pizza Mac & Cheese, BBQ Chicken Ranch Flatbread Pizza,  Turkey Caprese Sandwich,  Grown-up Grilled Cheese and many more dishes.
Find the recipes at:
You'll also see complete nutrition info for each Panera recipe.
MyPanera Rewards And App
The Panera Bread app has lots of great features.  In our review, we rated it an 8/10. The Rewards aren't stellar, but there are other built in conveniences like Order From My Table that will help you get a seat during the lunch rush hour.  Even if you're not into mobile apps, fans should consider enrolling in MyPanera Rewards official website.  You'll earn Rewards Dollars on your regular purchases towards free food, be notified of special deals coming your way, and you'll earn a free pastry right away!  That's the best way to get a lower price on your favorite items.
If Panera is running a promotional code on some tasty food, the app makes it easy to run that through for your savings.
What's On The Panera Menu?
Panera Bread is a bakery and deli-type restaurant with a wide array of sandwiches, soups, salads, and baked goods.  Their bagels are particularly popular, and the new Flatbread Pizza has caught on, too.  Panera's coffee holds up pretty well to the premium competition from other fast casual restaurants.  Like Starbucks, it's a spot where people will set up to get some remote work done, or lounge around with family and friends in a leisurely atmosphere.  They've leaned into this trend with the Unlimited Sip Club, where you can get all the coffee, hot tea and sometimes other free drinks for a flat monthly fee.  For the full lineup, visit our Panera Bread Menu page.  Panera gift cards are a pretty solid choice when you aren't sure what to get for a loved one.
If you're looking for a meal for a business function, Panera Catering is a great option.  They've got a lot of different items to choose from, it travels well, and it generally keeps everyone happy and more likely to pay attention at the meetings.
What's The Closest Panera Near Me?
There are over 2,000 Panera Bread locations in the United States and Canada.  Where's a Panera near you?  Click here to find your local Panera using the Panera store locator. 
What Are Panera's Hours?
Most Paneras open early around 6 AM on the weekdays, maybe 7 AM on the weekends.  They'll close around 8-9 pm.  No late-night munchies here.  To find the hours for your nearest Panera Bread, click here to use the Panera store locator. 
How Do I Order Panera Delivery?
Panera has a strong delivery business that was built off its catering strengths.  In recent years, they've made a bigger push for delivery or smaller orders, too.  To start an online delivery order, click here and select "Delivery" on the type of order want.  The fee is usually $4-$5, but you can score free delivery occasionally.
You can also place a delivery order through the Panera Mobile App.  Click here to download the it for iPhone or Android devices.
Where Can I Find Panera Nutritional Information?
Panera has a full set of nutritional and food allergen information on its website to help you find the healthier option for you.  To view the calorie counter, nutritional or allergen content, and ingredient information, click here for the Panera Nutrition page.
Does Panera Sell Gift Cards?
Panera gift cards are a popular item for the bread lovers of the world.  Looking for one?  Visit the Panera official website here and add one to your shopping cart.  Sometimes, there are Panera coupons that give you an extra discount on a gift card purchase, like 20% off.  The special offer usually comes around during the springtime and holiday season, like Black Friday and Cyber Monday, but we see it in the summertime too.  When a deal pops up, we'll post it here!