Get 25% off your order up to a $5 total discount with a Panera promo code valid online and in the app through December 31!  Click here to start an online order on the Panera website and click Order Online at the top. Grab the items you want, and at checkout, use promo code FALL25FD.  Note that not all Panera locations will accept these codes. In our testing, it worked about 3/4 of the time. Your max discount would be $5 on an order of $20 or more. Here's how it looks at checkout after you've put input the code correctly:
Panera's Unlimited Coffee And Tea Subscription – Try It For Free
Panera Bread has an $8.99 monthly subscription for unlimited coffee and tea, and you can sign up now through December 31 and get it FOR FREE!  The $8.99 a month fee gets you unlimited coffees and teas, including light, dark, hazelnut, decaf or iced.  Get as caffeinated as you want!  You'll need to provide a credit card or other form of payment when you sign up, but if you don't feel like it's worth it, you can cancel anytime before 12/31 and you won't owe a cent.  CLICK HERE for more details or to enroll in the Panera coffee subscription.
You'll need to have a Panera Rewards account to sign up and have the Panera app to use the deal after you subscribe.  If you open up your app, you'll probably see something like this enticing you to join:
Once you have subscribed, you use the coffee deal like a reward.  Order your free coffee online, with the app, or at your local Panera and scan your Panera Rewards number to get your cup of joe.  Panera Bread announced the new coffee subscription on their website.
*$8.99/month plus tax. Must be 18 years or older and a MyPanera to subscribe. Offer limited to hot coffee, tea and iced coffee plus unlimited refills. Excludes cold brew iced coffee and espresso and cappuccino beverages. Subscription program registration and redemption available at participating U.S. bakery cafes. Excludes third party delivery and catering orders. One subscription per person. Visit here for complete Terms and Conditions.
Panera Bagels $6.99 for a Baker's Dozen Tuesdays
On Tuesdays, get a Baker's Dozen (thirteen total) bagels for just $6.99 at participating Panera locations.  That's half price!  Most of them will honor the deal.  You can check with your local spot by going to the Panera menu website here, and on Tuesdays you should see this option: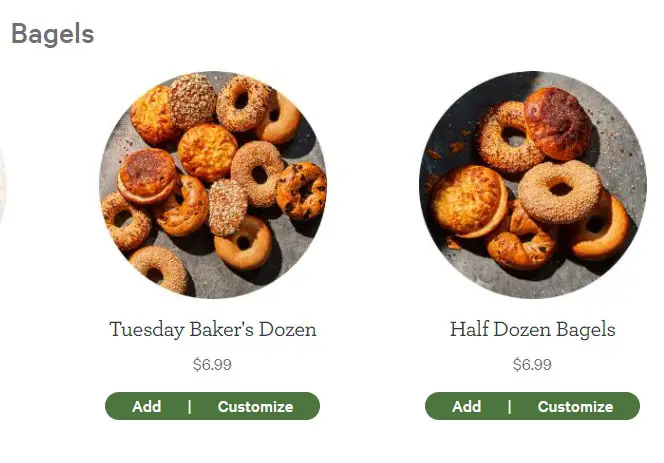 More from EatDrinkDeals
Want to get info on other deals, discounts, coupons and specials from your favorite restaurants?  Click here to see the latest and greatest from EatDrinkDeals!
Panera Flatbread Pizzas
Panera has added some Flatbread Pizzas to their menu in a move we've all been waiting for.  I mean, it's right up their bready alley.  There's five options available:
Cheese Flatbread Pizza: A simple flatbread pizza topped with tomato sauce and shredded fontina and mozzarella cheeses.
Margherita Flatbread Pizza: A Cheese Flatbread topped with red grape tomatoes and fresh basil for a more distinctive flavor.
Pepperoni Flatbread Pizza (new!):  Topped with fresh mozzarella, traditional pepperoni and market tomato bell pepper sauce.
Four Cheese Flatbread (new!):  Topped with a creamy white garlic sauce and parmesan, mozzarella, fontina and feta cheeses.
Chipotle Chicken & Bacon Flatbread Pizza: This one's a different flavor with a garlic cream sauce, red grape tomatoes, chicken breast, bacon, and shredded fontina and mozzarella cheeses. Then, it's topped off with chipotle aioli and fresh cilantro.
The Cheese Flatbread costs about $8, and the Margherita and Chipotle Chicken & Bacon varieties are about $9 each based on our testing of various markets.  Prices can vary a bit and be up to $9 / $10 in some areas.  Panera posted the new Flatbreads on Facebook.
Panera Value Duets for $5.99
Panera Bread has rolled out new Value Duets for just $5.99 when you order online.  Choose from Grilled Cheese and Tomato Soup, Tuna Sandwich and Ten Vegetable Soup, Greek Salad and Tomato Soup, or Caesar Salad and Chicken Noodle Soup.  The $5.99 deal is only available for online orders.  Click here to start an online order.  You can click here for the Panera Bread homepage to see the announcement about the Duets.
Family Meals Starting at $29
Panera has rolled out new Family Meals to feed 2 adults and 2 kids for $29.  You'll get 2 Half Sandwiches, 1 whole Salad, 1 Family Size Mac and Cheese, 2 Kids Sandwiches and a Whole Baguette.  There are plenty of new options available too, including Family Meals with Soups.  To view the full lineup, click here for the Panera website.  Panera announced the Family Meals on its Facebook page.
The Panera Bread App
The Panera Bread app has lots of great features.  In our review, we rated it an 8/10. The Rewards aren't stellar, but there are other built in conveniences like Order From My Table that will help you get a seat during the lunch rush hour.
More Restaurant Daily Deals
Daily deals for all days of the week can be found here:
For more daily and weekly restaurant specials like these, see:  Restaurant Daily Deals
If you're an AARP member, you can get every day discounts at Denny's, McCormick & Schmick's, Outback and more places.  You can find all the details in our story, AARP Dining Discounts.
Also, many restaurant chains such as Bob Evans, Outback Steakhouse, Zoe's Kitchen and more offer discounts to the active military and veterans.  Here's the EatDrinkDeals roundup, Restaurant Military and Veterans Discounts.