Do you like to play games?  Do you like free food?  Then the Penn Station Halloween Hangman Game is for you!
Go to the Penn Station Halloween Hangman Game and correctly guess the Halloween themed phrase.  If you do, you'll win coupons for free food!  We played today and got a Buy 1, Get 1 free 8″ sub coupon valid through November 10, 2019.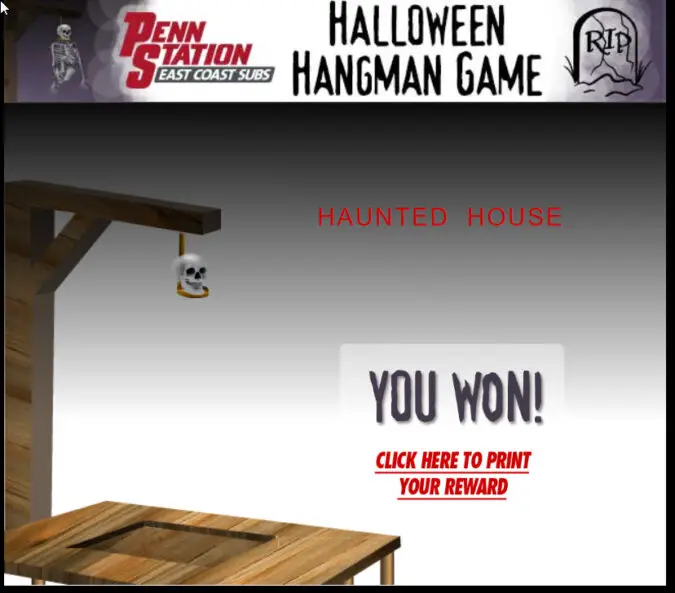 You can play every day.  Make yourself useful at work and earn free food instead of surfing Facebook!
Looking for other great Halloween deals?  Check out our 2019 Halloween Restaurant Deals story!
About Penn Station (from Wikipedia)
Penn Station is a chain of East Coast sub restaurants found throughout the South and Midwest United States. The first restaurant was opened in 1985 by Jeff Osterfeld in Cincinnati, Ohio. Currently, Penn Station has more than 300 locations in 15 states.
Penn Station serves 14 types of subs, ranging from its trademark Philly Cheesesteak sub to the "create it yourself" Dagwood. All sandwiches are made to order in front of the customer. Sandwiches are offered in 5 sizes: a kid's size is 4 inches long, a lite is 6 inches long, small is 8 inches, a medium is 10 inches, and a large is 12 inches.