Wayback Burgers has new menu items available for the fall, headlined by the Sweet Bourbon Bacon Burger. We have included typical pricing, but note that prices can vary by location:
Sweet Bourbon Bacon Burger $9.99 – a sweet and savory burger with two beef patties, cheddar cheese, bourbon sauce and candied bacon.
Apple Pie Milkshake $6.99 – hand-dipped vanilla milkshake with apple pie filling, topped ith whipped cream and Nilla wafer cookies.
Funnel Cake Sticks $5.99 – Get your fall fair fried dough fix! Crunchy sticks deep fried and topped with sweet, powdered sugar, with a chocolate sauce for dipping.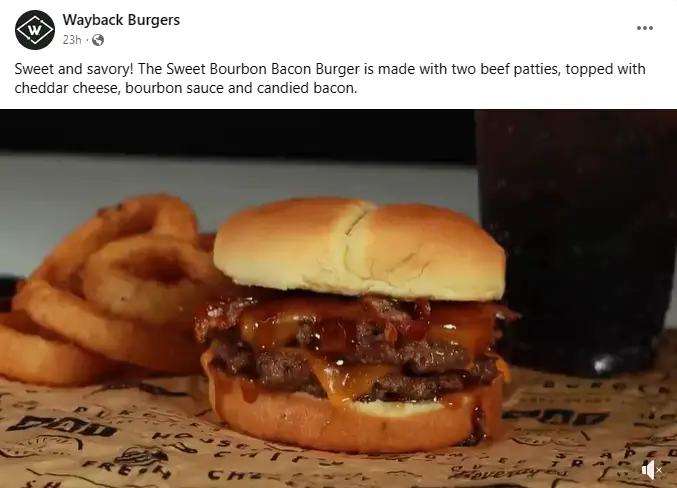 New X Burger At Wayback
Starting August 1, Wayback fans can get the "X Burger." This beast features 10 slices of American Cheese, 10 layers of patties, lettuce, and tomato between two buns. Plus, guests named "Elon" can snag the X Burger for free for the entire month of August! Wayback announced the burger and promotion on their Facebook page.
Free Burger
Download the Wayback Burgers loyalty program app and get a free burger after your first purchase.
Get a free Classic Burger after your first purchase using the Wayback app.
For more information or to download the app see:  Wayback Loyalty App
Royal Silencer Burger
Those blasted royals can't seem to help themselves.  Always sniping at each other.  Wayback Burgers' has cheekily launched The Royal Silencer designed to silence the urge to spill family gossip, presumably because you're too busy eating. The Royal Silencer even has a spare patty for the world's most notable "spare" – Prince Harry himself
The Royal Silencer is made with three beef patties, American cheese, lettuce, tomato, pickles, onions, ketchup and mustard and costs $9.99.
Previous Offers
Celebrate summer with a Vanilla Shake from Wayback Burgers on Saturday, June 24! Wayback posted the good news on their socials. Just mention the offer to your cashier when you order.
About Wayback Burgers
Wayback Burgers is an American fast casual restaurant chain based in Cheshire, Connecticut. They serve typical hamburger restaurant foods such as hamburgers, hot dogs, chicken sandwiches, milkshakes, and salads. The food is a little pricier than your typical fast food joint, but expect a step up in taste as a result.