Wingstop has an All-In Bundle with 16 Boneless Wings, 6 Tenders, Large Fries and 3 Dips for $19.99, plus 60-cent boneless wings deals on Mondays and Tuesdays!
All-In Bundle Special for $19.99
Wingstop has introduced a new All-In Bundle with 16 Boneless Wings, 6 Tenders, Large Fries and 3 Dips for $19.99. You can feed a small group with this one – or if you're taking it down solo you'll have some leftovers! Wingstop announced the new deal on its Facebook page.
To start an order and get your hands on a bundle, click here to start an order on the Wingstop website.
More from EatDrinkDeals
Want to get info on other deals, discounts, coupons and specials from your favorite restaurants? Click here to see the latest and greatest from EatDrinkDeals!
Wingstop Coupons
Wingstop generally doesn't offer coupons, instead relying on menu promotions like their $0.60 boneless wings on Monday and Tuesday. However, if we come across any Wingstop coupons, we'll post them here! In the meantime, you can get a coupon for a free order of fries if you sign up for the Wingstop Club. Read below for more information on how to sign up.
$0.60 Boneless Wings Special Mon-Tues
Wingstop has 60-cent boneless wings on Mondays and Tuesdays. The restaurant announced the special on the Wingstop website and on their Facebook page.
Want more daily deals at your other favorite restaurants? Find our other daily deals roundups for all days of the week here:
Wingstop Coupon Club
Get a Wingstop coupon for a free fries when you subscribe to the Wingstop Club. You get a coupon for a free seasoned fries with purchase of any wings.
For more information or to subscribe see: http://www.wingstop.com/the-club/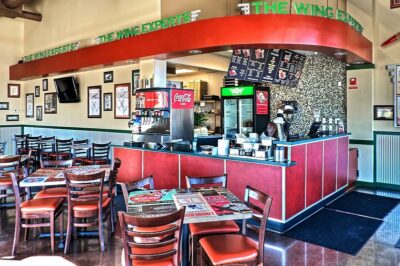 About Wingstop (from Wikipedia)
Wingstop Restaurants, Inc. is a chain of nostalgic, aviation-themed restaurants specializing in chicken wings. Wingstop decorates locations with a 1930s and 1940s "pre-jet" aviation theme. The restaurant chain was founded in 1994 in Garland, Texas. Wingstop started franchising in 1998. Since then, Wingstop has grown into a chain with more than 1,000 restaurants either open or in development. The chain is headquartered in Dallas, Texas.