Wingstop has declared Thursdays "Thigh Thursdays" – they aren't just about wings anymore!  Order online or in the app on Thursdays and add a regular Thigh Bites to any order for just $4.49, or enjoy a Thigh Bites Meal for 2 for $13.99, which includes regular boneless Thigh Bites with up to two flavors, large fries or veggie sticks, two dips and two 20-ounce drinks.  Click here if you want to start an online order.  Wingstop made the Thigh Thursdays announcement in this news release.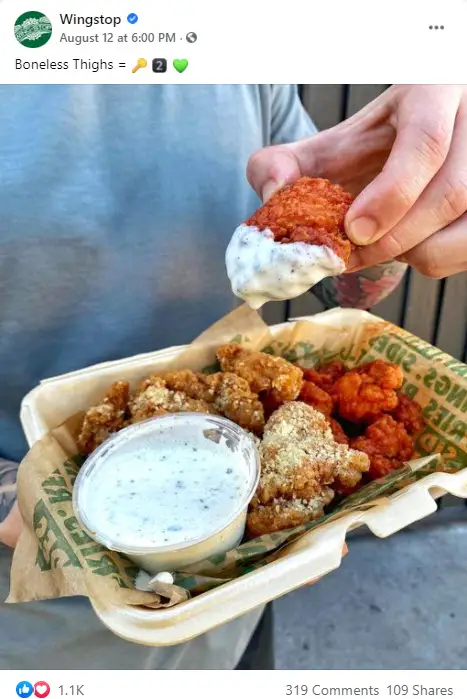 Wingstop also has an All In Bundle with 25 Boneless Wings (up to 3 flavors) and 3 Dips for $19.99, plus 60-cent boneless wings deals on Mondays and Tuesdays!
$0.70 Boneless Wings Special Mon-Tues
Wingstop has 70-cent boneless wings on Mondays and Tuesdays.  Wingstop usually puts the deal up on its website on those days like this: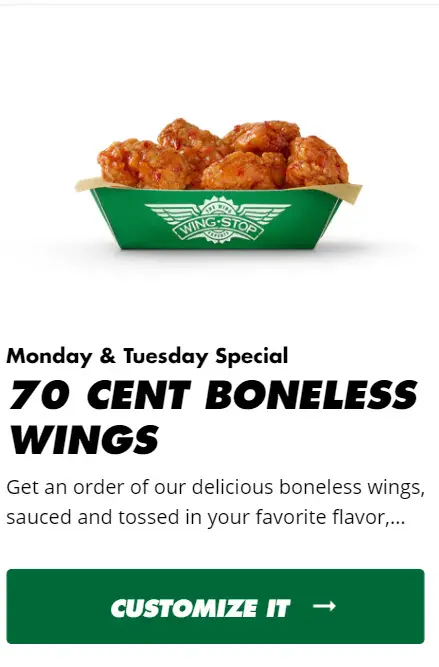 All In Bundle for $19.99 and More Deals
Wingstop has an All In Bundle with 16 Boneless Wings and 6 Crispy Tenders with up to 4 flavors, large fries, and 3 Dips for $19.99, among other bundles in its lineup.  Wingstop announced the new deal on its website.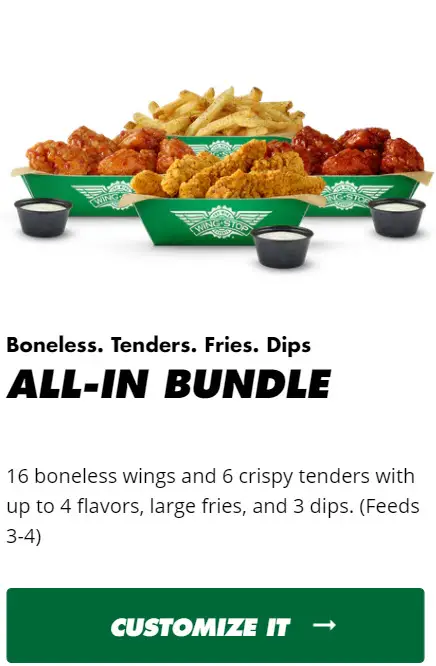 To start an order and get your hands on a bundle, click here to start an order on the Wingstop website.  The bundle offers change from time to time, but there's usually something there that will help you feed a small group of folks.  Want some fries with that?  Try the All-In Bundle with 16 Boneless Wings, 6 Tenders, Large Fries and 3 Dips for $19.99 instead!
Wingstop Coupons
Wingstop generally doesn't offer coupons, instead relying on menu promotions like their $0.60 boneless wings on Monday and Tuesday.   However, if we come across any Wingstop coupons, we'll post them here!  In the meantime, you can get a coupon for a free order of fries if you sign up for the Wingstop Club.  Read below for more information on how to sign up.
More from EatDrinkDeals
Want to get info on other deals, discounts, coupons and specials from your favorite restaurants?  Click here to see the latest and greatest from EatDrinkDeals!
Want more daily deals at your other favorite restaurants? Find our other daily deals roundups for all days of the week here:
Wingstop Coupon Club
Get a Wingstop coupon for a free fries when you subscribe to the Wingstop Club.  You get a coupon for a free seasoned fries with purchase of any wings.
For more information or to subscribe see: http://www.wingstop.com/the-club/