Wingstop has 70-cent boneless wings on Mondays and Tuesdays.  Wingstop usually puts the deal up on the Wingstop Home Page on those days, as shown below: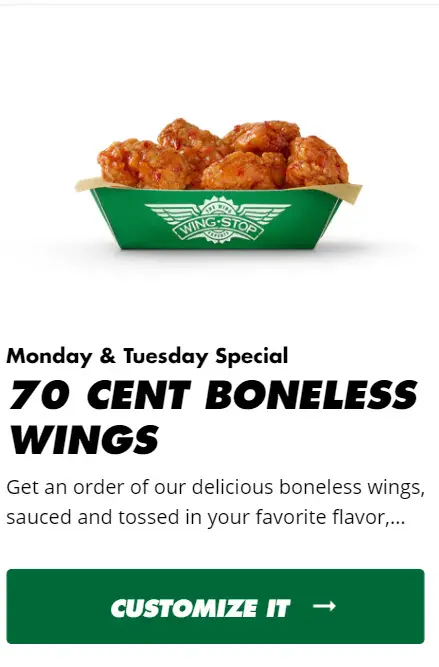 Boneless Meal Deal for $15.99 and More Deals
Wingstop has an Boneless Meal Deal starting at $15.99 with 20 Boneless Wings and a Large Fry with up to 4 flavors, large fries, and 2 Dips for $15.99, among other bundles in its lineup.  Wingstop announced the new deal on its website.
Wingstop also has a 10 piece Wing Combo with Bone-In or Boneless Wings (up to 2 flavors), regular fries or veggies sticks, and 1 dip for $12 – $14.  The price depends on your choice of wingey.
To start an order and get your hands on a bundle, click here to start an order on the Wingstop website.  The bundle offers change from time to time, but there's usually something there that will help you feed a small group of folks.
Wingstop Calculator
If you're unsure how many wings to order, you can use the Wingstop Wing Calculator.  Select how many people are to be served, and how hungry they are, and Wingstop will make a recommendation.  If you've got a big special occasion coming up, use the Wing Calculator and don't run out of food!  Get enough Group Packs to feed the whole crew.
Wingstop Club
Subscribe to the Wingstop Club with your email address for perks like Faster Checkouts, Flavor Events, and a free birthday gift.  You'll also be sent info about special deals and exclusive offers for big savings.  For more information or to subscribe see: Create Account – Wings Restaurant | Wingstop
Wingstop Coupons
Wingstop is the world's No. 1 chain for wings, with more than 1,500 locations.  Wingstop generally doesn't offer coupons, instead relying on menu promotions like their boneless wing specials on Monday and Tuesday.   However, if we come across any Wingstop promo codes, we'll post them here!  In the meantime, check out the Wingstop deals like their bundles and Boneless Wing special Mondays and Tuesdays.
Wingstop Menu
Wingstop is best known for Buffalo-style chicken wings along with 14-15 flavors.  Some flavors are always around, like Original Hot, Lemon Pepper or Garlic Parmesan.  You'll also see limited time flavors pop up, too.  They've also got a complement of other items such as crispy tenders and thighs on the entrees.  Side menu items include french fries, vegetable sticks, and other goodies.  It's set up as a fast-food restaurant, with limited seating in most locations.
If you're looking to try it out, go on Mondays or Tuesdays and get Boneless Wings for just $0.70 apiece.  That's an amazing discount.  Especially with the price of wings these days, that's a low price that will fit any tight budget!  Try a really hot flavor with the blue cheese dip to cool things down.
More Wingstop Coupons and Promo Codes
Sometimes we'll come across other Wingstop promo codes and printable coupons, but unfortunately they are often only available for specific locations or areas. You may see a Wingstop coupon code with a long string of letters and numbers like "568A" that won't always work when placing your order.
At EatDrinkDeals, our policy is to only publish Wingstop coupon codes that are widely available to avoid frustrating our users. No one likes to think they've got free wings coming only to be disappointed!  When Wingstop coupons or promo codes are nationally available and from verifiable sources, we will post them here, so you only pay the best price for your favorite food!
Wingstop Near Me and Hours
There are Wingstop locations all over the map.  The restaurant chain has over 1,500 locations and is expanding rapidly.  Most are in the United States, but Wingstop does have locations in other countries like Australia, the United Kingdom, and more.  Looking for one near you?  Click here to find your nearest Wingstop – you need to start an order to find the closest one. Most locations open around 10:30 or 11, and usually close around 10 pm during the week, or around 11 pm or midnight on weekends.  Some stay open later.
Wingstop Delivery
Want some wings to fly straight to your doorstep?  A delivery order is available for $5 – $6 via Uber Eats and other third party services.  Sometimes, we'll find a free delivery deal or promotional code.  We'll be sure to post them here when we do.  For delivery online orders, click here.  You can order delivery in the mobile app, too.
Wingstop Nutritional Information
Wingstop has a full listing of calorie and nutritional information available online. To view the calories and nutritional information, click here for the official website of Wingstop Nutritional Info.
More from EatDrinkDeals
Inflation stinks!  Want to get make your money go further with the best deals, discount codes, coupons and specials from your favorite restaurants?  Click here to see the latest and greatest from EatDrinkDeals!
More Restaurant Daily Deals
Want more daily deals at your other favorite restaurants? Find our other daily deals roundups for all days of the week here: