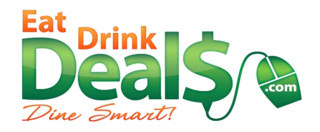 Welcome to EatDrinkDeals!
Here's a quick primer with all the info you need to start saving money and enjoying great deals at your favorite restaurants.
About EatDrinkDeals
EatDrinkDeals staff members are professionals who search out the best restaurant deals of the day. We find and post links to printable and mobile restaurant coupons, pizza coupons and fast food specials. Every restaurant deal is checked and verified before it is published. You can connect the with EatDrinkDeals staff on Facebook. For more info and to get in touch, visit our About Us page.
How to Navigate Our Website
Browsing current coupons is quick and easy. When you visit eatdrinkdeals.com on your phone or PC, you'll see our full homepage, which features the most recent coupons and deals right on the front page. We update the site every day with the latest deals, so make sure to bookmark this page!
Search
At the top right of the page is a search bar. You can search for specific restaurants, such as "Outback" or "Chilis"; for types of coupons, such as "buy one get one" or "free dessert"; or for holidays and events, such as "Father's Day" or "Free Cone Day". The search is not case sensitive.
Categories
Below the logo is a row of post categories. Click on the name of a category, such as "Pizza Coupons" or "Happy Hour" to see all our current deals that fall under that category.
Coupon Posts
The two-column space in the center of the page is where you'll find stories about the top restaurant deals of the day. The thumbnail photo and summary for each post make it easy to find coupons and specials from your favorite restaurant chains. For details on the deals and to print your coupons, click the post title or "Read the full story".
Tag Cloud
Click on any of the links in the tag cloud, such as "pizza" or "Starbucks", to see all the current posts relating to those topics.
Sign Up for Our Newsletter
Sign up for the EatDrinkDeals newsletter and get the latest restaurant deals, news and coupons delivered straight to your email inbox every week!
CLICK HERE to subscribe. You can unsubscribe any time you like.
To see current and past issues of our newsletter, you can browse our newsletter archive.
Check out this post for more details about our newsletter.
Mobile View
When you access eatdrinkdeals.com from a smartphone, tablet or other mobile device, you'll see the mobile view of our website. Swipe down the page to see the latest deals; click on a post to see more details. To search, scroll to the bottom.
Accessing Coupons
When you click on individual post, you'll be taken to an article with all the details about the specific coupon or deal, including availability, terms and how to access the coupon or redeem the deal.
To Print Coupons
Click on the highlighted link in the body of the post.
From your browser, select File –> Print, or right-click on the coupon image and select Print to bring up the print dialog.
If you need assistance, just drop us a comment at editor@eatdrinkdeals.com.
Disclaimer
All our news articles are researched and written by EatDrinkDeals staff members and are not sponsored by any of the entities named in the article, nor by any advertiser.