Several sub chains are celebrating National Cheesesteak Day with sub specials March 23-25, 2018.
At Lenny's Grill and Subs, get $2 off any size Philly Cheesesteak Sandwich on Friday through Sunday, March 23-25, 2018. The sub chain announced the National Cheesesteak Day special on the Lenny's Facebook page.  Lenny's Grill and Subs has about 150 locations across the Southeast.
At Philly's Best Cheesesteaks, get cheesesteak subs for $5.99 on Saturday, March 24, 2018. Choose from regular or chicken. The sub chain announced the special on the Philly's Best Home Page.   Philly's Best Cheesesteaks has over 20 locations throughout Southern California.
Hwy 55  has a 25% off coupon good on Saturday, March 24, 2018.  CLICK HERE for your Hwy 55 coupon.  The chain has four Cheesesteaks to choose from: All-American, Chicken, Jalapeño Jack, and their newest addition, The Moose, a huge portion of premium sliced tender chicken topped with crumbled bacon, ranch dressing, provolone and American cheese.
About Philly Cheesesteak (from Wikipedia)
A cheesesteak, also known as a Philadelphia cheesesteak, Philly cheesesteak, cheesesteak sandwich, cheese steak, or steak and cheese, is a sandwich made from thinly sliced pieces of beefsteak and melted cheese in a long hoagie roll. A popular regional fast food, it has its roots in Philadelphia, Pennsylvania.
The cheesesteak was developed in the early 20th century "by combining frizzled beef, onions, and cheese in a small loaf of bread", according to a 1987 exhibition catalog published by the Library Company of Philadelphia and the Historical Society of Pennsylvania.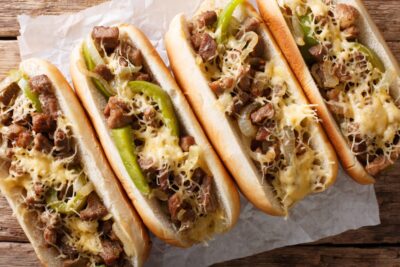 Philadelphians Pat and Harry Olivieri are often credited with inventing the sandwich by serving chopped steak on an Italian roll in the early 1930s.  The exact story behind its creation is debated, but in some accounts, Pat and Harry Olivieri originally owned a hot dog stand, and on one occasion, decided to make a new sandwich using chopped beef and grilled onions. While Pat was eating the sandwich, a cab driver stopped by and was interested in it, so he requested one for himself. After eating it, the cab driver suggested that Olivieri quit making hot dogs and instead focus on the new sandwich.  They began selling this variation of steak sandwiches at their hot dog stand near South Philadelphia's Italian Market. They became so popular that Pat opened up his own restaurant which still operates today as Pat's King of Steaks.  The sandwich was originally prepared without cheese; Olivieri said provolone cheese was first added by Joe "Cocky Joe" Lorenza, a manager at the Ridge Avenue location.
Cheesesteaks have become popular at restaurants and food carts throughout the city with many locations being independently owned, family-run businesses. Variations of cheesesteaks are now common in several fast food chains. Versions of the sandwich can also be found at high-end restaurants. Many establishments outside of Philadelphia refer to the sandwich as a "Philly cheesesteak."