Get a free pretzel and other deals as Auntie Anne's, Wetzel's Pretzels and more chains celebrate National Pretzel Day on Wednesday, April 26!  Here are the deals, in alphabetical order.
Do you want to have great deals like these emailed directly to you? Click here to sign up for our newsletter!
Auntie Anne's
Pretzel Perks Members can get a free Original or Cinnamon Sugar pretzel for free at Auntie Anne's all day long on April 26.  Here's the link to get signed up in advance.  The deal will be pre-loaded for members in the rewards section of the app.  Auntie Anne's sent this message with the offer.
Ben's Soft Pretzels
Ben's Soft Pretzels has a free jumbo soft pretzel when you donate at least $1 to the Tunnel to Towers Foundation, which honors first responders who lost their lives during 9/11. The chain announced the annual giveaway on social media.
Philly Pretzel Factory has a free pretzel with no coupon and no purchase required for the 15th year! The chain announced the annual giveaway on Facebook and in this press release.
Wetzel's Pretzels
Get a free pretzel from Wetzel's Pretzels on April 26 in honor of National Pretzel Day! The offer is valid after 3 pm. Wetzel's Pretzels posted the news online.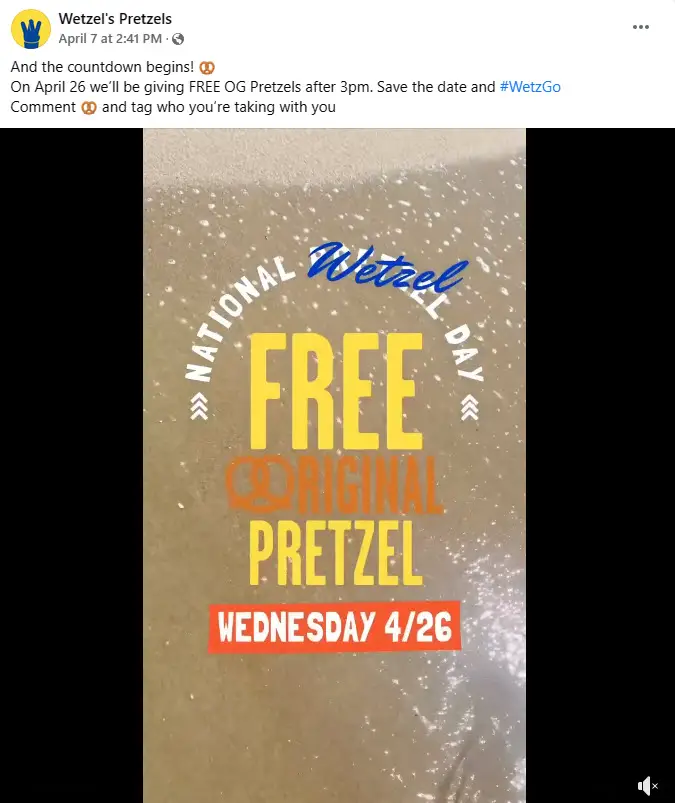 About National Pretzel Day
National Pretzel Day is celebrated on April 26th every year in the United States. The day is dedicated to celebrating one of America's favorite snacks, the pretzel. Salty or sweet, it's always a winner. While its origins are unclear, many consider National Pretzel Day to have started in the late 1980s when a Pennsylvania congressman named Robert S. Walker introduced a resolution to Congress.
On National Pretzel Day, many pretzel shops and bakeries offer special deals and promotions on pretzels. Some restaurants and bars also offer pretzel-themed dishes and drinks, such as pretzel burgers, pretzel buns, and pretzel-flavored beers.
Overall, National Pretzel Day is a fun and tasty way to celebrate one of America's most beloved snacks and to enjoy the many different varieties of pretzels that are available.