Get $0.05 dogs, free dogs and more deals as Wienerschnitzel, Dog Haus and more restaurants celebrate National Hot Dog Day on Wednesday, July 20, 2022.  Here's our roundup of Hot Dog Day Deals.
Our roundup includes links to restaurant websites where you can confirm the deal and find further information.  EatDrinkDeals does not post deals that cannot be verified from a source such as the restaurant website, social media account, or press release.
Do you want to have great deals like these emailed directly to you? Click here to sign up for our newsletter!
Buffalo Wild Wings Bird Dawgs
Buffalo Wild Wings has a new Happy Hour menu with food and drinks priced from $3 – $6 from 3 to 6 pm on weekdays.  The highlights are $3 tall drafts of Wild Herd Kolsh by Goose Island and the all new Bird Dawgs for $5.  The Bird Dawg is a chicken tender stuffed in a brioche bun with sauces and toppings.  It's like a hot dog, but with a chicken tender instead, so we thought we'd include it.  We don't want to be mean to anyone.  Buffalo Wild Wings put out this press release about the Happy Hour menu.  The following varieties are available:
Loaded Bird Dawg topped with beer cheese and wild honey mustard
Honey BBQ Bird Dawg topped with fries and Buffalo Wild Wings' Honey BBQ sauce
Buffalo Bird Dawg topped with ranch, napa slaw, and Buffalo Wild Wings' Medium Buffalo sauce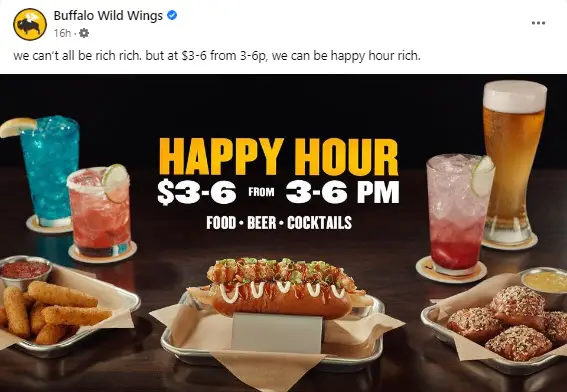 Dog Haus Free Hot Dog
Get a free Haus Dog from the Dog Haus on July 20 – no purchase necessary!  You can't beat free free.  Just text FREE DOG to 833-440-1110 for the deal and head to your nearest Dog Haus to get your hands on one.  Dog Haus posted the deal on social media.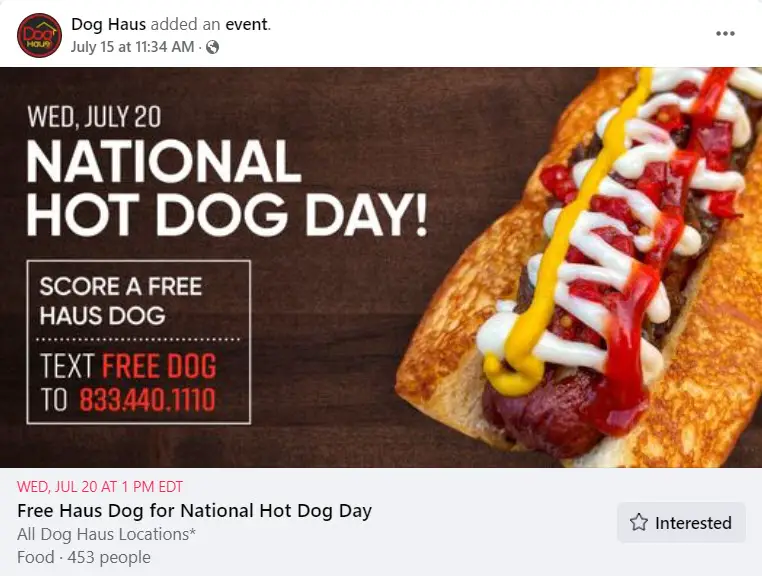 Frisch's Big Boy
Buy any burger and get a Nathan's Famous hot dog for only $0.05 to go along with it at Frisch's Big Boy on July 20.  We spotted the deal online.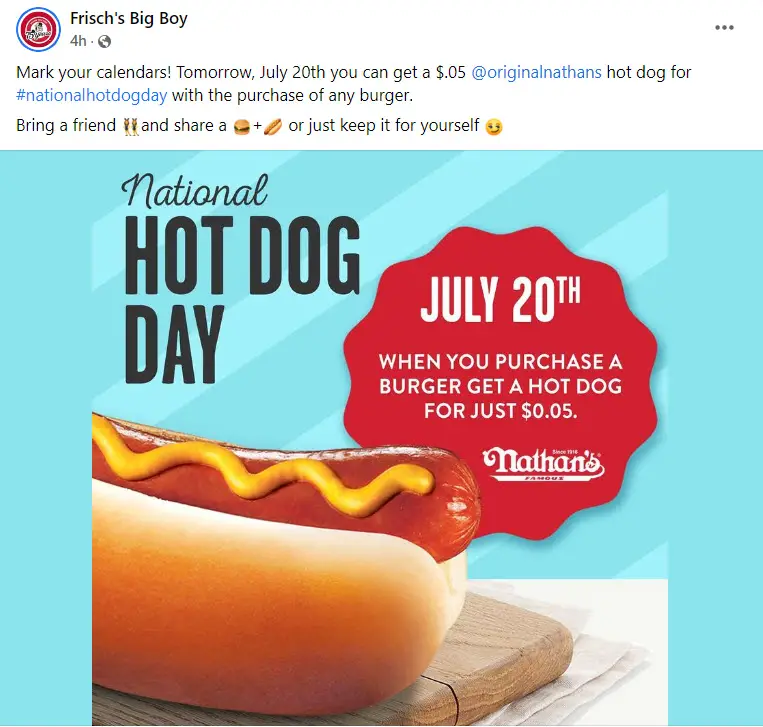 Hot Dog On A Stick
Buy one Original Turkey on a Stick or Veggie on a Stick and get another free at Hot Dog On A Stick on National Hot Dog Day.  That's kinda an alt way to go on the holiday, but it works.
Love's Travel Stop Free Hot Dog
Get a free hot dog with this Love's Travel Stop coupon good on Wednesday, July 20.  You'll need the Love's app for the deal. You can actually get any roller grill item for free, so if you're not in the mood for a hot dog, you could try Roller Bites, Tornados, or something else.  "What better way to celebrate National Hot Dog Day than with a free hot dog," said Joe Cotton, vice president of food service for Love's in this press release. "We're excited to offer a free roller grill item to celebrate the holiday and say 'thank you' to customers for stopping in."
The deal was also announced on Facebook.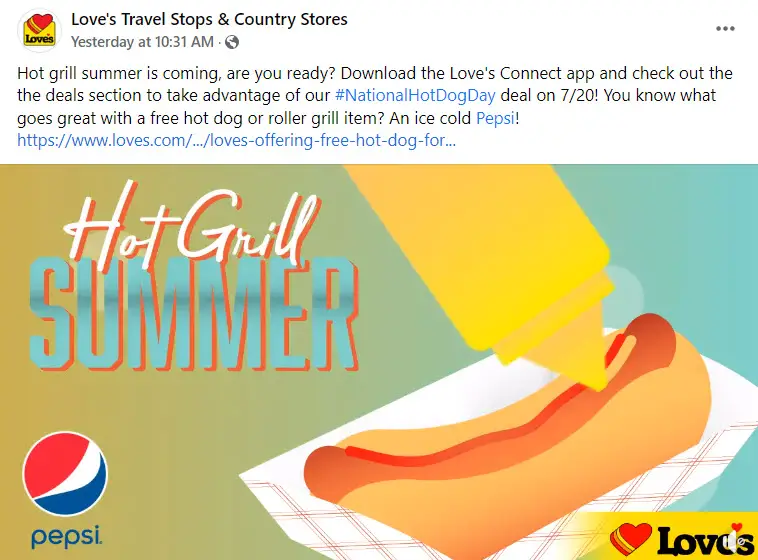 Nathan's Famous $0.05 Hot Dog
Buy one Hot Dog and get another for only 5 cents at Nathan's Famous on July 20 for National Hot Dog Day!  Nathan's Famous posted the news in this press release.
Also, buy one Hot Dog and get one free or buy one Chicken Sandwich and get one free with Nathan's Famous coupons valid through July 31.  CLICK HERE for your Nathan's Famous BOGO coupons.  Use promo code JULY22 for online orders.
Philly Pretzel $1 Dogs
Get $1 Pretzel Dogs on National Hotdog Day (July 20) at Philly Pretzel. You can snag this deal at any Philly Pretzel Factory Store or Walmart!
Exclusions to the promotion include franchise locations in airports, train stations, and entertainment venues. For more information about Philly Pretzel Factory and to find a location near you, visit  https://phillypretzelfactory.com.
Philly Pretzel announced their Hot Dog Day special on social media.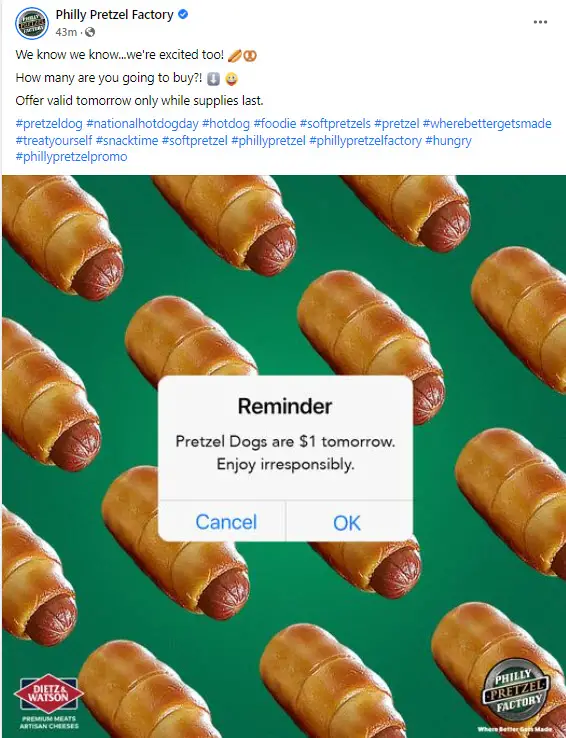 Pilot Flying J Free Hot Dog
Pilot Flying J has buy one, get one free hot dog deal for app users on Wednesday, July 20.
Download or open the myPilot app on July 20 – National Hot Dog Day – to find an offer for a free hot dog or other roller grill item.
"Visit one of our stores for BOGO hot dogs that you can top to your liking, and you may even see the Wienermobile!" says Jonathan Braatvedt, VP of Food and Beverage for Pilot Flying J in this press release.
Guests who take advantage of the National Hot Dog Day promotion can customize their free hot dog with Pilot Flying J's extensive offering of fresh cold toppings, ranging from sauerkraut to sliced jalapenos and banana peppers. The roller grill menu includes a variety of other options at select locations, including:
Jalapeno cheese hot dogs

Johnsonville grilled brats

Johnsonville country recipe sausages and breakfast sausage links, available during breakfast hours.
Wienerschnitzel 4 for $4 Chili Dogs
Get 4 chili dogs for $4 as Wienerschnitzel celebrates National Hot Dog Day on Wednesday, July 20.   Must buy in multiples of 4 for sale price.  You can pay a little extra to add cheese, too.  Wienerschnitzel announced the Hot Dog Day deal on the  Wienerschnitzel home page.