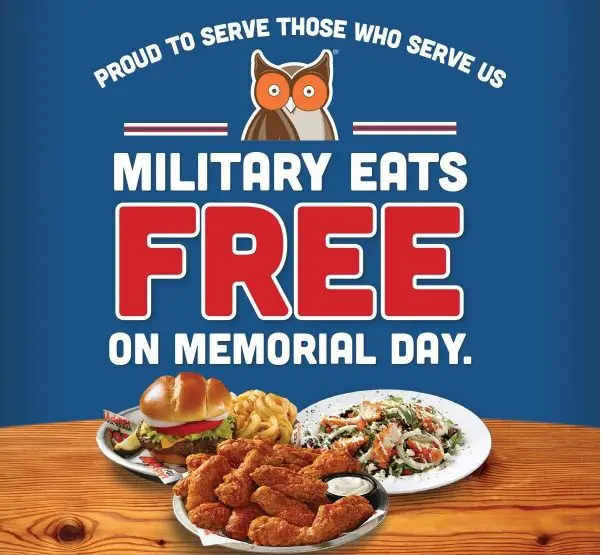 Hooters has their annual free Memorial Day deal for veterans and active-duty military personnel on Monday, May 27, 2019.
Served with world-famous Hooters Girl hospitality, military personnel can choose their favorite entrée from the Hooters Memorial Day Menu, including:
10-Piece Traditional Wings

10-Piece Smoked Wings

10-Piece Boneless Wings

Buffalo Chicken Salad

Buffalo Chicken Sandwich

Hooters Burger.
Military ID is required.  A beverage purchase is also required. Dine-in only.  More details at:  Hooters Memorial Day.
Hooters traditionally has a free meal for veterans every Memorial Day.  This year, Hooters is expanding its support of the military by partnering with the USO. During The Hooters International Pageant this weekend in Charlotte, NC, 20 Hooters Girls will assemble 500 care packages for area military and Hooters will also donate $5,000 to the USO of North Carolina.
Hooters has long supported military causes and has raised hundreds of thousands of dollars for non-profit military organizations. Hooters offers a daily 10 percent military discount and a special 20 percent military discount every Tuesday throughout the year. The weekly discount is only available at participating locations and requires a valid military ID.
The Hooters Memorial Day deal includes a complimentary entrée from the Hooters Memorial Day Menu, with drink purchase, at any participating Hooters location across the U.S. on Monday, May 28, 2018. Free menu item options may vary by location.

About Hooters (from Wikipedia)
Hooters is a restaurant whose waiting staff are primarily young, attractive waitresses usually referred to simply as "Hooter Girls." The menu includes hamburgers and other sandwiches, steaks, seafood entrees, appetizers, and the restaurant's specialty, chicken wings. Almost all Hooters restaurants hold alcoholic beverage licenses to sell beer and wine, and, where local permits allow, a full liquor bar. Other offerings for sale include Hooters T-shirts, sweatshirts, and various souvenirs and curios.
Between company owned locations and franchises, there are now more than 460 Hooters locations throughout the United States. The company has restaurants in 44 U.S. states, the US Virgin Islands, and Guam. In addition, Hooters operates restaurants in 27 other countries.