Pumpkin Latte and other fall favorites have arrived at Starbucks, Coffee Bean, Dunkin', Bruegger's and more places.
Starbucks PSL Arrives
Pumpkin Spice Latte and a new Pumpkin Cold Brew beverage arrived at Starbucks on Tuesday, August 27, 2019.
"On August 27 our fall favorites, including PSL, Salted Caramel Mocha, New Pumpkin Cream Cold Brew, and Pumpkin Cream Cheese Muffin, hit the menu at stores in the U.S. and Canada," the chain announced today on the Starbucks News Page.
"Back for the 16th year, PSL combines espresso and steamed milk with real pumpkin, cinnamon, nutmeg and clove. The beverage is then topped with whipped cream and pumpkin pie spices. Available hot, iced or as a Frappuccino blended beverage," Starbucks said.
The chain also added a new Pumpkin Cream Cold Brew coffee.

Pumpkin Cream Cold Brew is the first new pumpkin coffee beverage to join the Starbucks menu in 16 years.  After trying 10 variations of the beverage, the Starbucks R&D team settled on a recipe that starts with Starbucks Cold Brew and vanilla, topped with pumpkin cream cold foam and a dusting of pumpkin spice topping.
Also available since August 27, 2019 are:
Salted Caramel Mocha: A seasonal favorite, this beverage blends mocha sauce and toffee nut syrup, combined with espresso and milk, and topped with whipped cream, caramel drizzle and a sea salt sugar topping. Available hot, iced or as a Frappuccino blended beverage.
Pumpkin Cream Cheese Muffin:  Moist, perfectly spiced pumpkin muffin is topped with sweet cream cheese and a sprinkling of chopped, caramelized pepitas.
Pumpkin Scone: Top a spiced pumpkin scone with sweet vanilla icing and a pumpkin spice drizzle, and you've got a fall favorite that's good as pie.
Pumpkin Spice Madeleines:  Traditional madeleine cake flavored with pumpkin, cinnamon and a hint of ginger.
Cat Cake Pop: Soft, creamy vanilla cake and white chocolaty icing, with a new feline design.
To read more about Starbucks PSL, visit the Leaf Rakers Society (a Facebook group devoted to PSL) and the Starbucks Twitter Page.
Cheesecake Factory
Pumpkin Cheesecake and Pumpkin Pecan Cheesecake arrived recently at The Cheesecake Factory. The chain announced the return of their Fall tradition on Facebook.
Coffee Bean Pumpkin Flavors
"The taste of Maple has arrived," Coffee Bean said in an anouncement on August 28, 2019.  "Enjoy the sweet, caramelized brown sugar taste of our new Maple Latte or Maple Rooibos Tea Latte.  Or enjoy spicy seasonal favorites like our Pumpkin Latte and Winter Dream Tea Latte."
Available starting Wednesday, August 28, 2019, are:
Maple Latte, Iced Latte & Ice Blended drink

Maple Rooibos Tea Latte

Maple Rooibos Tea Latte Or Iced Tea Latte

Pumpkin Latte

Pumpkin Latte, Iced Latte & Ice Blended drink

Pumpkin Spiced Chai Iced Latte

Pumpkin Spiced Chai Latte, Iced Latte & Ice Blended drink

Winter Dream Tea Latte

Winter Dream Tea Latte
For more details visit the Coffee Bean Fall Menu.
Dunkin' Donuts Pumpkin
Dunkin' Donuts rolled out their fall menu of pumpkin coffees, pumpkin donuts, and more on Wednesday, August 21, 2019.
"While the calendar still says summer, here at Dunkin' we think it's never too early for one of our favorite fall flavors: PUMPKIN!" the chain announced.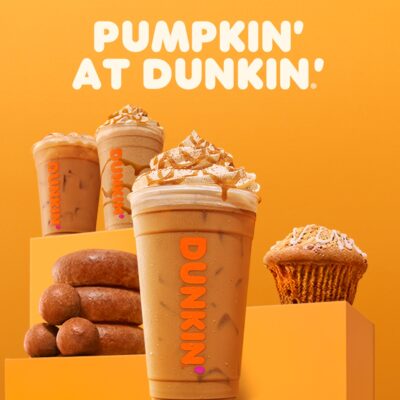 Dunkin's menu for Fall 2019 includes:
NEW Cinnamon Sugar Pumpkin Signature Latte: Dunkin' continues to take lattes to the next level with signature espresso drinks dressed up with exciting flavors and toppings. The new Cinnamon Sugar Pumpkin Signature Latte, available hot or iced, features pumpkin and cinnamon flavors, topped with whipped cream, a caramel drizzle and cinnamon sugar topping for a tasty new seasonal sip.
Pumpkin Flavored Coffees: Dunkin's Pumpkin Flavored Coffees are the classic choice to fuel up for fall. Dunkin's pumpkin flavor swirl is available in its hot or iced coffee, Cold Brew, espresso drinks, frozen coffee and frozen chocolate.
NEW Apple Cider Donut and MUNCHKINS® donut hole treats: The taste of apple cider sweetens the season with Dunkin's Apple Cider Donut, featuring an apple cider cake ring tossed in cinnamon sugar. Perfect for sharing with friends this fall, guests can also enjoy Apple Cider MUNCHKINS® donut hole treats.
Pumpkin Donut and Muffin: Back again for fall is Dunkin's Pumpkin Donut, a glazed pumpkin cake donut that can also be enjoyed as bite-size MUNCHKINS® donut hole treats, as well as Dunkin's Pumpkin Muffin, topped with white icing and sweet streusel crumbs.
Pumpkin K-Cup® Pods: Guests can take the taste of Pumpkin home with Dunkin's Pumpkin K-Cup® Pods, available at participating Dunkin' restaurants for a limited time. Pumpkin flavored K-Cup® Pods and packaged coffee will also be available in grocery and other retailers nationwide as well as online at http://shop.dunkindonuts.com.
The chain announced the 2019 Pumpkin rollout on the Dunkin News Page.
To learn more about Dunkin' Donuts, visit www.DunkinDonuts.com or follow them on Facebook (www.facebook.com/DunkinDonuts) and Twitter (www.twitter.com/DunkinDonuts).
Krispy Kreme Pumpkin Doughnuts
Krispy Kreme has their Pumpkin Spice Original Glazed Doughnut and Pumpkin Spice Original Filled Doughnut through Sunday, September 8, 2019.
The Pumpkin Spice Original Glazed Doughnut is like the normal glazed doughnut, but with pumpkin spice added to the glaze.  The new Pumpkin Spice Original Filled Cheesecake Doughnut kicks it up a notch and is filled with cheesecake Kreme. Krispy Kreme claims this doughnut is the first of its kind.
Details are on the Krispy Kreme Facebook page.

Pumpkin Coffee Now at 7-Eleven
Pumpkin Spice Latte and Pumpkin-Flavored Coffee is back at 7-Eleven for just $1 since Thursday, August 15, 2019.
"Pumpkin spice is our coffee customers' favorite flavored drink, and we didn't want to make them wait any longer," said a 7-Eleven spokesperson. "With 7-Eleven's special one dollar pricing, pumpkin spice-lovers can drink three – at morning, noon and night – for the same price they'd pay for just one latte at a coffeehouse or restaurant. And, after only six beverage purchases scanned on the 7-Eleven app, you can get a free one. That's a big bang for your beverage buck."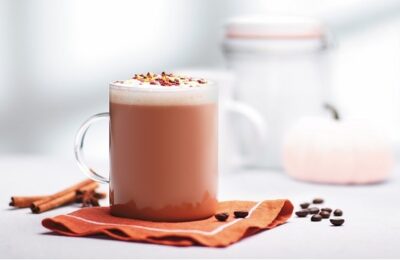 The chain said 7-Eleven pumpkin spice latte blends warm, autumn spices including cinnamon, ginger, anise and clove with creamy pumpkin. To make the seasonal launch even more of a celebration, coffee customers can create a pumpkin spice mocha by adding a pump or two of the retailer's new chocolate sauce to their latte and topping with festive, fall-colored leaf-shaped sprinkles. International Delight pumpkin spice creamer is also available to make any hot beverage more pumpkin-y and spicy. All creamers, sweeteners, flavored syrups and toppings are available on the 7-Eleven hot beverage bar at no extra charge.
The reappearance of hot pumpkin spice beverages each year – and just as suddenly, its disappearance after the holidays, is such a phenomenon that online support groups have popped up to help fans cope with the loss of their favorite drink.
7-Eleven customers can sign up for the 7Rewards loyalty program by (1) downloading the 7‑Eleven mobile app, (2) using the 7Rewards website, (3) messaging the 7‑Eleven Bot on Facebook Messenger or (4) securing a physical 7Rewards loyalty card at a store. Members earn points on most purchases and bonus points on select products, multi-packs and promotional offers.
The 7-Eleven hot beverage bars in select stores offer lots of choices – flavored and exotic coffees, hot tea, cappuccino, lattes and hot chocolate. For no extra charge, customers can conveniently create their perfect cup with sweeteners, plain and flavored creamers, flavored syrups and toppings to suit their tastes.
7-Eleven announced their Pumpkin Coffee rollout in a news release.
Pumpkin at Steak 'n Shake
Steak 'n Shake announced that their seasonal favorite Pumpkin Spice Shake is now available for Fall 2019.  The special was announced on the Steak 'n Shake Facebook Page.
Pumpkin at Bruegger's
Bruegger's Bagels rolled out their seasonal menu, featuring pumpkin bagels, pumpkin coffee and hearty new sandwiches, on Thursday, August 29, 2019.
Because fall isn't fall without pumpkin spice, Bruegger's brings back its famous Pumpkin Bagel, made with simple ingredients and then kettle-boiled and stone hearth-baked; Pumpkin cream cheese, made with pumpkin puree for a creamy, pumpkin pie-like flavor; and of course Pumpkin Spice coffee, available at participating locations, with the taste and aromas of cinnamon, nutmeg, ginger, and allspice.
Returning to the breakfast sandwich menu is the fan-favorite Farmhouse Egg Sandwich, made with two fresh-cracked eggs, peppered bacon, ham, cheddar cheese, and Country Pepper cream cheese on a Cheesy Hash Brown Bagel.
At lunch, Bruegger's offers its take on two deli favorites. The new Hot Pastrami features pastrami, Swiss cheese, red onion, diced pickle, and spicy brown mustard served up hot on an Everything Bagel. Reminiscent of a tuna melt, the Hot Tuna is made with Bruegger's tuna salad featuring albacore tuna, mayo, red onion and a bit of Garden Veggie cream cheese for added flavor. It's then topped with Swiss cheese, tomato and honey mustard and served hot on ciabatta.
"We all look forward to the comfort foods of fall, with their savory flavors and aromatic seasonings," says Bruegger's Bagels executive chef Chad Thompson. "Our deli classics with a twist and farm-inspired breakfast sandwich are just the thing as the weather gets cooler and our guests begin to crave heartier fare."
Bruegger's announced their 2019 fall menu in a news release.
Pumpkin Blizzard
Dairy Queen has a Pumpkin Pie Blizzard available now through September 30, 2019.
DQ says their Pumpkin Blizzard, a fall favorite for 25 years, features real pumpkin pie pieces blended with vanilla soft serve and are topped with whipped cream and a touch of nutmeg.
The chain announced the return of the Pumpkin Blizzard on Facebook.
Pumpkin at Pilot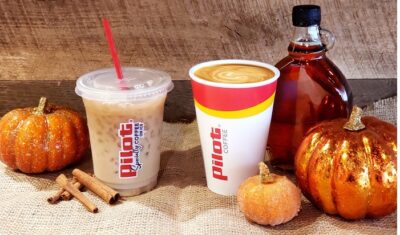 Pilot Flying J, the largest network of travel centers in North America, is debuting a new pumpkin drink this year – the Pumpkin Maple Cappuccino. Available starting Sunday, Sept. 1, 2019 until supplies last at over 550 participating Pilot and Flying J Travel Centers across the U.S., the Pumpkin Maple Cappuccino is priced starting at $1.59.
In addition, Pilot Flying J is introducing the new Cinnamon Spice Cold Brew. The five-ingredient, all-natural flavored coffee is brewed longer resulting in a sweeter, rich taste that doesn't come with bitterness, Pilot said. The new cold brew is available at over 450 participating locations for $2.19.
The travel center's popular pumpkin pie creamer and syrup will return to stores in September, letting anyone be a barista!  Recipes to try include the Autumn Cruiser, which adds pumpkin creamer to a mix of house coffee and the Pumpkin Maple Cappuccino, and the Pumpkin Power Up, which adds caffeinated creamers and pumpkin pie creamers to cold brew.
Pumpkin at McDonalds, Krispy
Other chains have not announced their rollouts but Panera and McDonald's usually start offering PSL in the 2nd week of September.  Tim Horton's, Krispy Kreme, Dunkin' Donuts, Caribou Coffee, Einstein Bros. and Au Bon Pain usually complete rolling out their Pumpkin lattes and other fall flavors by the end of August.   
Also, assuming they repeat last year's deals, coming soon are Pumpkin Pie shakes at Sonic,  Pumpkin Cheesecake Ice Cream at Ben & Jerry's, Pumpkin Smoothies at Jamba Juice, Pumpkin Yogurt at TCBY, and Pumpkin Spice Pancakes at Cracker Barrel.