McDonald's, Dairy Queen, Arby's, and more fast food places have begun serving their green shakes for St. Patrick's Day, an annual tradition at the fast food places.
Arby's is now serving their Mint Chocolate Shake.  "If you've had a long hard day of not drinking a mint chocolate shake topped with Andes candy pieces, then Arby's has a shake for you. The Mint Chocolate Shake is back!" the chain said.
Culver's is now serving their Mint Shake and Mint Chip Shake, made with fresh vanilla frozen custard hand blended with milk and mint flavoring.
Carvel Ice Cream has green mint ice cream and mint chocolate shakes for the season.
Dairy Queen is now serving their Mint Shake for the season.  Also, now through St. Patrick's Day, buuy one Blizzard at regular price and get another for 99 cents.  No coupon required; to get the deal ask your cashier for the Blizzard 99-cent BOGO, or display the Blizzard BOGO announcement on the Dairy Queen website.
Dunkin Donuts has Irish Creme coffees and a Mint Brownie donut for the season.

Freddy's Frozen Custard  is now serving their Mint 'N Oreo Concrete shake. Made with Freddy's fresh and creamy frozen custard blended with cool mint and crunchy Oreo cookies. Topped with whipped cream and sprinkled with Oreo cookie crumbs. At participating locations only.
McDonald's brought out their green Shamrock Shake for 2019 on Wednesday, February 13.  McDonald's says the Shamrock Shake is a "Creamy, dreamy vanilla soft serve blended with Shamrock Shake syrup and topped with a delicious whipped topping."
Portillo's is serving their Mint Chocolate Shake now through March 31, 2019.
Steak 'n Shake has an Oreo Mint Cookies 'n Cream Shake for the season.
St. Patrick's Day Dining Statistics
According to statistics from the U.S. Census Bureau, 46% of adults plan on celebrating St. Patrick's Day, while 20% of adults plan on having a drink to celebrate.
About St. Patrick's Day (from Wikipedia)
Saint Patrick's Day, or the Feast of Saint Patrick (Irish: Lá Fhéile Pádraig, "the Day of the Festival of Patrick"), is a cultural and religious celebration occurring annually on 17 March, the death date of the most commonly-recognized patron saint of Ireland, Saint Patrick (c. AD 385–461).
Saint Patrick's Day was made an official Christian feast day in the early seventeenth century and is observed by the Catholic Chu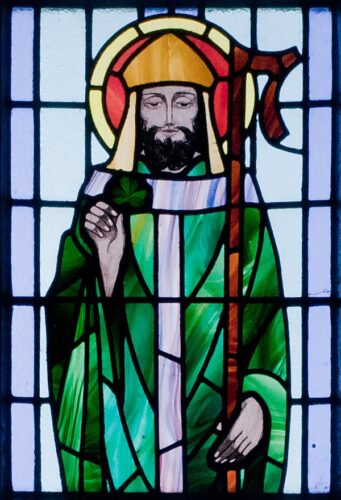 rch, the Anglican Communion (especially the Church of Ireland), the Eastern Orthodox Church and Lutheran Church. The day commemorates Saint Patrick and the arrival of Christianity in Ireland, as well as celebrating the heritage and culture of the Irish in general. Celebrations generally involve public parades and festivals, céilithe, and the wearing of green attire or shamrocks. Christians also attend church services, and the Lenten restrictions on eating and drinking alcohol are lifted for the day, which has encouraged and propagated the holiday's tradition of alcohol consumption.
Saint Patrick's Day is a public holiday in the Republic of Ireland, Northern Ireland, the Canadian province of Newfoundland and Labrador and in the British Overseas Territory of Montserrat. It is also widely celebrated by the Irish diaspora around the world; especially in Great Britain, Canada, the United States, Argentina, Australia and New Zealand.