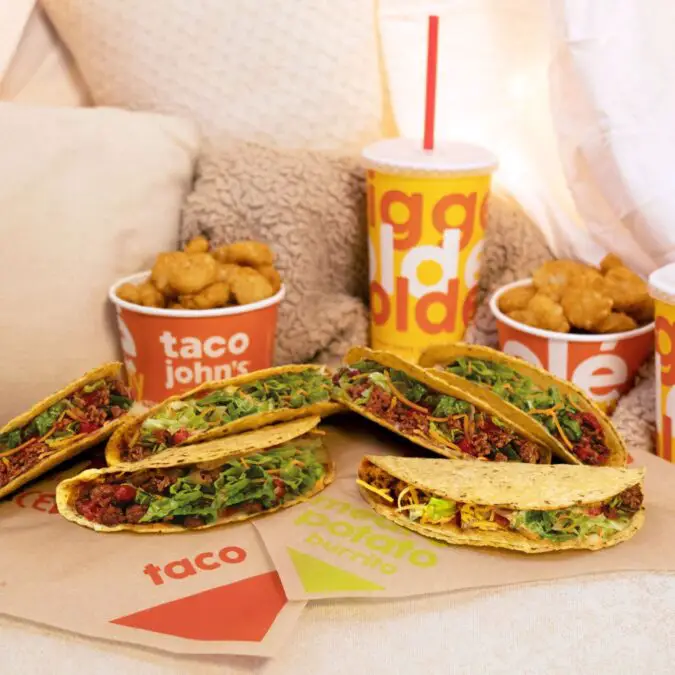 Taco John's serves up its signature "West-Mex" cuisine at almost 400 locations in the United States. The chain originated in Cheyenne, Wyoming way back in 1969. Since then, they have expanded to 23 states in the U.S. Maybe a guy named John started, maybe not. We dunno. Maybe it was a lady named Sally, and she's just trying to throw people off. The Taco John's menu has all your favorites, from quesadillas to nachos to burritos. Its popular Potato Oles have long been a calling card for the company. Potato Oles are small, deep-fried potato nuggets that come as a side, or included in a lot of the tacos and burritos. The menu also boasts its share of unique offerings, like Mexican Donut Bites rolled in sugary goodness. Around the holidays, Taco John's locations offer the festive Nachos Navidad, which features red, yellow, and green chips as the base for a pile of nachos.
Taco John's has a loyal following, with many customers praising the chain for its affordable prices, fast service, and tasty food. The chain also offers a loyalty program, called TJ Rewards. You can earn points on purchases and redeem them for free food, which just plain tastes better!
Feeling hungry yet? Scroll through or search the table below to see prices for everything Taco John's has to offer!
Taco John's Deals
You don't necessarily need a coupon to save a buck at Taco John's. With the restaurant's ValuEST Menu, you can choose from a selection of items–including Chicken Snack Quesadillas, Churros, and Spicy Steak & Potato Grillers–for just $1 – $3 every day. Read our article on Taco John's Coupons and ValuEST Menu Deals for info on the ValuEST Menu and the Taco John's rewards program!
Taco John's Menu & Prices
---
Disclaimer: Menu and prices listed above are based on research of sample locations and are provided for informational purposes only. Since prices and availability may vary by location, please consult your local Taco John's menu for the latest details.