On the Border, Chili's and other chains are celebrating National Tequila Day with drink specials on Sunday, July 24, 2022.  Here's our roundup of 2022 Tequila Day deals.
Our roundup includes links to restaurant websites where you can confirm the deal and find further information.  EatDrinkDeals does not post deals that cannot be verified from a source such as the restaurant website, social media account, or press release.
Do you want to have great deals like these emailed directly to you? Click here to sign up for our newsletter!
Abuelo's
At Abuelos, Rewards members can dine in or order online now through July 24 and get a chance to win prizes like $100 off, a free entree, and more.  For more details see the Abuelos Facebook page.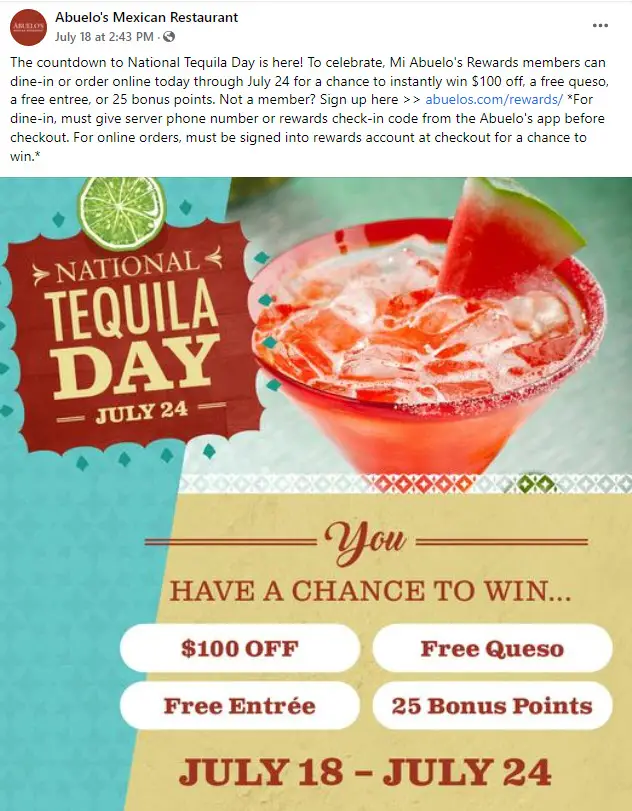 Chevy's Fresh Mex
Get $3 House Margaritas all day long at Chevy's Fresh Mex.  You can only get 'em for dine-in only.  Chevy's sent this email with the deal.
Chili's
Chili's has three special Margaritas on Tequila Day:
($6)

Margarita of the Month – Barcardi Beach Party

:

The July margarita of the month (available through 7/31) has Bacardi Silver Rum, Mi Campo Blanco Tequila, blue curacao, coconut and pineapple.

 

($6) 

Chili's Presidente Margarita®

: The classic. 

Hand-shaken 25 times with Lunazul Reposado Tequila, Citrónge Extra Fine Orange Liqueur and E&J Brandy. Available in classic, mango or strawberry flavors.

 

($30) 

Gallon Mar-Go-'Rita

: 

Celebrate at home with gallon margs to go, available in any flavor.

 
Chuy's
Chuy's has these specials for Tequila Day:
$1 Floaters ~ Add an extra pour of your favorite TEQUILA to any Rita!
$5 Top Shelf Tequila Shots
The chain announced the special on the Chuy's News Page.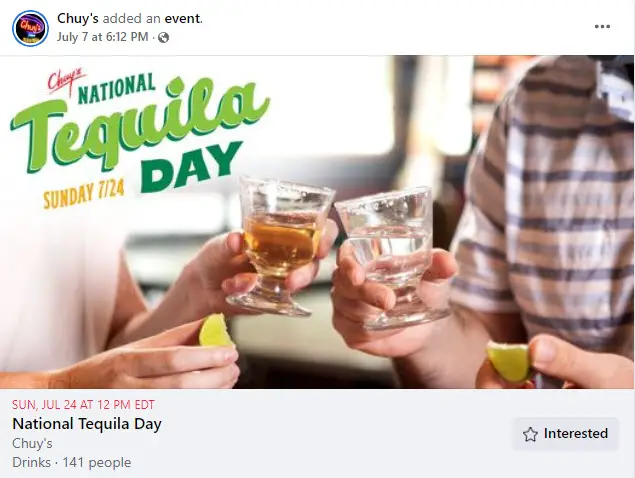 Margaritas
Margaritas Mexican Restaurants have $5 infused tequila shots, $13 mega 20 oz infusion margaritas and more Tequila Day specials.  Margaritas has locations in CT, ME, MA, NH, NJ and PA.  The chain announced the Tequila Day promo on the Margaritas Tequila Day Page.
On The Border
On the Border has their 1800 Tequila Grande Margarita for only $6 on Tequila Day, plus Tequila Meltdown Specials.  For more details see the On the Border Facebook Page.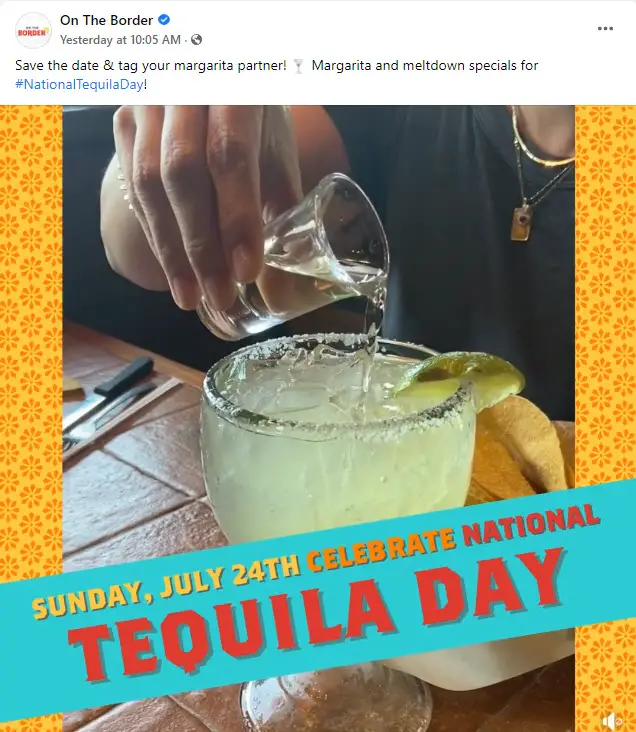 Tequila (Spanish  [teˈkila]) is a regional specific name for a distilled beverage made from the blue agave plant, primarily in the area surrounding the city of Tequila, 65 km northwest of Guadalajara, and in the highlands (Los Altos) of the north western Mexican state of Jalisco.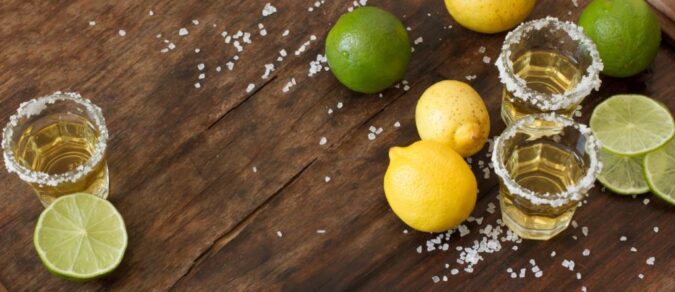 Mexican laws state that tequila can only be produced in the state of Jalisco and limited municipalities in the states of Guanajuato, Michoacán, Nayarit, and Tamaulipas. Tequila is recognized as a Mexican designation of origin product in more than 40 countries.
Tequila is most often made at a 38–40% alcohol content (76–80 U.S. proof), but can be produced between 31 and 55% alcohol content (62 and 110 U.S. proof).
A variety of cocktails are made with tequila, including the margarita, a cocktail that helped make tequila popular in the United States. The traditional margarita uses tequila, Cointreau, and lime juice, though many variations exist. A popular cocktail in Mexico is the Paloma. Also, a number of martini variants involve tequila, and a large number of tequila drinks are made by adding fruit juice. These include the Tequila Sunrise and the Matador. Sodas and other carbonated drinks are a common mixer, as in the Tequila Slammer.