Valentine's doughnuts have returned to Dunkin' Donuts and Krispy Kreme.  
Dunkin Donuts Valentines Deals
Dunkin' Donuts' selection of Valentine's Day donuts, available starting January 29, 2018, includes the Vanilla Truffle Donut, a heart-shaped donut filled with vanilla-flavored buttercreme, frosted with vanilla icing and topped with semi-sweet chocolate curls. The Brownie Batter Crumble Donut is a heart-shaped donut filled with rich chocolatey brownie batter filling, frosted with chocolate icing and crumbled brownies, and Cupid's Choice Donut is a heart-shaped donut filled with Bavarian Creme, frosted with strawberry-flavored icing and sprinkled with a festive mix of pink and white sprinkles. All are available at participating Dunkin' Donuts restaurants nationwide.
Select Dunkin' Donuts locations will also serve new Lovestruck MUNCHKINS donut hole treats, chocolate glazed MUNCHKINS covered in pink and white sprinkles. Also available at select locations will be the Lovestruck Donut, a donut topped with strawberry icing, a chocolate drizzle arrow, and a Lovestruck MUNCHKINS placed in the center.
Finally, Dunkin's donut varieties will feature heartwarming new names and designs inspired by the love and romance of the holiday. The Valentine's Day donut makeover includes:
Boston Dream: A dreamy version of Dunkin's classic Boston Kreme Donut, featuring a heart-shaped shell and red icing drizzle.

Pillow Talk: No need to wait for bedtime to enjoy this heart-shaped Vanilla Creme donut.

Donut Be Jelly: Eating this classic Jelly Donut in a heart-shaped shell is sure to make everyone around envious.

Roses are Red: Love blooms with this classic Vanilla Frosted Donut now featuring red icing topped with pink and white sprinkles.

Pretty in Pink: A Strawberry Frosted Donut topped with pink and white sprinkles tastes as delicious as it looks.

Chocolate Double Date: The perfect double date needs nothing more than Dunkin's Double Chocolate Donut now decorated with white icing drizzle.

Choc Full O' Love: Any donut lover will be filled with love with this Chocolate Frosted Donut topped with pink and white sprinkles.
For coffee fans looking to brew a little romance or show a latte love, Dunkin' Donuts' winter coffee flavors will remain available through February. These include Buttery Toffee Nut, offering the taste of buttery toffee with toasty nut flavor, and Winter White Chocolate, combining creamy white chocolate and subtle vanilla flavors. Both flavors can be enjoyed in Dunkin' Donuts' hot or iced coffees, lattes, macchiatos and Frozen Dunkin' Coffee.
To learn more about Dunkin' Donuts, visit www.DunkinDonuts.com, or subscribe to the Dunkin' Donuts blog to receive notifications at https://news.dunkindonuts.com/blog.
Krispy Kreme Valentines
Krispy Kreme Doughnuts today announced the return of its joy-filled Valentine's Day doughnuts, this year with a special addition: The OREO Cookie's & KREME Doughnut.
The new doughnut is available alongside Krispy Kreme's classic Valentine's Day offerings – the Sprinkle Heart Doughnut, Happy Heart Doughnut and Chocolate Iced with Sprinkles Doughnut – Jan. 29 through Valentine's Day, Feb. 14 at participating U.S. shops.

"Whether for a friend, family member, colleague or significant other, delicious Krispy Kreme doughnuts are perfect for sharing," said Jackie Woodward, Chief Marketing Officer of Krispy Kreme Doughnuts. "The new OREO Cookie's & KREME Doughnut is a wonderful addition to our Valentine's Day collection."
The new OREO Cookie's & KREME Doughnut is an unglazed heart doughnut filled with an OREO Cookie KREME, dipped in dark chocolate and topped with OREO Cookie Pieces and a red icing drizzle. The collection also includes:
The Sprinkle Heart – an unglazed heart doughnut dipped in white icing and topped with a Valentine's sprinkle blend.
The Happy Heart – an unglazed heart doughnut dipped in pink icing, filled with white KREME and decorated with sugar piece eyes, hearts and a joyful chocolate smile.
The Chocolate Iced with Sprinkles – a chocolate iced doughnut topped with a festive Valentine's sprinkle blend.
Show your friends how you celebrate Valentine's Day with a delicious Krispy Kreme doughnut by using #ValentinesDay and tagging @krispykreme.
About Valentine's Day (from Wikipedia)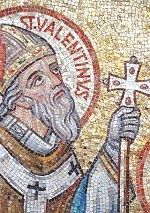 Saint Valentine's Day, also known as Valentine's Day or the Feast of Saint Valentine, is observed on February 14 each year. It is celebrated in many countries around the world, although it remains a working day in most of them.
St. Valentine's Day began as a liturgical celebration of one or more early Christian saints named Valentinus. Several martyrdom stories were invented for the various Valentines that belonged to February 14, and added to later martyrologies.  A popular hagiographical account of Saint Valentine of Rome states that he was imprisoned for performing weddings for soldiers who were forbidden to marry and for ministering to Christians, who were persecuted under the Roman Empire. According to legend, during his imprisonment, he healed the daughter of his jailer, Asterius. An embellishment to this story states that before his execution he wrote her a letter signed "Your Valentine" as a farewell.
The day was first associated with romantic love in the circle of Geoffrey Chaucer in the High Middle Ages, when the tradition of courtly love flourished. In 18th-century England, it evolved into an occasion in which lovers expressed their love for each other by presenting flowers, offering confectionery, and sending greeting cards (known as "valentines"). Valentine's Day symbols that are used today include the heart-shaped outline, doves, and the figure of the winged Cupid.