White Castle is now accepting reservations for their annual Valentine's Dinner.
White Castle's 28th annual Valentine's Day dinner is Thursday, February 14, 2019, from 4 – 9 p.m at select locations.  Seating is limited and reservations are required.  Visit this White Castle Valentine's website to find the White Castle nearest you and to reserve your table.
This renowned and celebrated experience has been a yearly tradition for more than a quarter century, complete with hostess seating, tableside service, festive decorations and a flavorful lineup including The Original Slider, the new Impossible Slider and all other Craver favorites. The popular event reaches a record number of White Castle fans each year, and more than 30,000 Cravers enjoyed the Valentine's Day experience in 2018.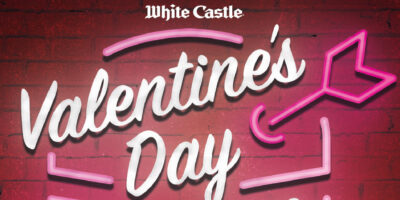 For the first time since the Valentine's Day tradition began, White Castle will also be offering Cravers the opportunity to enjoy the Valentine's Day experience in the comfort of their own homes. Interested customers should keep an eye out for more information in early February to learn how they can have the enchanting Valentine's Day experience, complete with an exclusive "Love Castle" Crave Case, delivered to them through White Castle's delivery partners.
"Valentine's Day has become a longstanding tradition that is very special to many of our customers and team members across the country," said Jamie Richardson, vice president of White Castle. "Many Cravers have shared stories with us about meeting the loves of their lives, or forming lifelong friendships at our restaurants, so we look forward to hosting this special event every year to help our fans build even more memorable moments.
"Every year, reservations fill up quickly at most of our Castles," Richardson said. "We encourage Cravers everywhere to book their reservations as soon as possible to ensure they are able to join in on the celebration. This is the ultimate way to celebrate with your favorite Craver on Valentine's Day – and we're excited to also offer a limited edition, romantic touch for those fans who would like to experience a White Castle Valentine's Day at home via our delivery partners."
Due to the event's popularity, the Valentine's Day dinner will be celebrated on both February 14 and February 15 at a limited number of Castles. Find a list of locations offering celebrations on both days here. Two of White Castle's Las Vegas locations will also be participating this year and will be accepting a limited number of reservations.
About White Castle (from Wikipedia)
White Castle is an American regional fast food hamburger restaurant chain in the Midwestern United States and in the New York metropolitan area, and the first of its kind in the US. It is known for its small, square hamburgers. Sometimes referred to as "sliders", the burgers were priced at five cents until the 1940s, and remained at ten cents for years thereafter while the burgers became smaller.
On January 14, 2014, Time labelled the White Castle slider to be the most influential burger of all time.
The White Castle menu features a variety of sliders, including the Original Slider, Cheese Slider, Bacon Cheese Slider, Jalapeno Slider and Chicken Breast Slider.  Sides include USA-made French Fries as well as Onion Chips, Chicken Rings and Mozzarella Cheese Sticks.