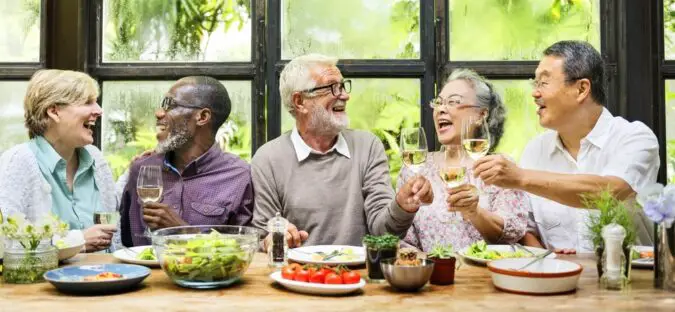 AARP members can get 15% off at Denny's, 10% off at Outback Steakhouse, and other restaurant discounts.
Many other restaurants have policies that will allow senior discounts, but they are at the discretion of individual stores or franchisees.  You can find these deals listed at The AARP Amazing Dining Deals website.  While those discounts can still be valid, we do not list those restaurants here to ensure a consistent experience for our all of our EatDrinkDeals users across the U.S.  The only discounts listed are those that can be verified on the restaurant website to ensure accuracy for our users.  You can use the links for each restaurant listed below to go to the restaurant's website and confirm the discount with your cashier or server ahead of time.
Current Confirmed Restaurant Discounts as of August 16, 2019
Here are the current AARP Restaurant Discounts as of August 16, 2019.  You can find these deals listed at The AARP Dining Discounts website.   To qualify for these deals you'll need to show your server a current AARP membership card.
If you spot any other restaurants that offer a senior discount, please contact us at editor@eatdrinkdeals.com and provide a website link if applicable so we can add the deal.  Thank you!
Click on the restaurant link above for individual terms.  In general, discounts do not include alcohol, applicable taxes and gratuity.  Member must present AARP membership card at time the guest check is presented.  Cannot be combined with special offers, coupons or discount offers.  Not valid on group party packages.  Not valid at International locations.
More Senior Discounts
IHOP 55+ Menu
IHOP offers a menu specifically for customers aged 55 and up.  The menu prices are typically 10% off the normal price.  Click here to view the 55 and up menu.
McDonald's Senior Discount
Although McDonald's has no AARP benefits, senior citizens can get soft drinks and coffee for 59 to 79 cents at most McDonald's.  Just ask your server for a senior size.  If using the McDonald's app, browse soft drinks or coffee and select Senior as the size (change the default from medium).  You'll get your drink for less than a dollar; price varies by location.
Old Country Buffet Senior Discount
Old Country Buffet, which also includes Hometown Buffet and Ryan's offers senior discounts, but the amounts vary by location.  Click here for details and how to check with your preferred location.
Perkins Fifty-Five Plus Menu
Perkins offers a discounted Fifty-Five Plus menu for its customers.  Click here to view the menu.
Dunkin' Donuts Offer Discontinued
One popular discount that has been discontinued is the free donut at Dunkin' Donuts, which ended on February 28, 2018. For details, see:  No more AARP free donuts at Dunkin Donuts.
About AARP (from Wikipedia)

AARP, formerly the American Association of Retired Persons, is a United States-based non-governmental organization and interest group, founded in 1958 by Ethel Percy Andrus, PhD, a retired educator from California, and based in Washington, D.C. According to its mission statement, it is "a nonprofit, nonpartisan membership organization for people age 50 and over … dedicated to enhancing quality of life for all as we age," which "provides a wide range of unique benefits, special products, and services for our members."
AARP claims approximately 38 million members, making it one of the largest membership organizations in the United States.