KFC is shaking up its specials lineup and putting their Wraps back in the spotlight – you can get 2 for only $5. Choose from the Classic, the Spicy Slaw, or the all new Mac & Cheese Wrap.
Right now at KFC, you can get a Big Box for $9 when you order online, 8 Hot and Spicy Wings for $4.99, $20 Fill Ups and other deals.
KFC $9 Big Box Online
Get a Big Box at KFC for only $9 for a limited time when you order online or in the app. That's 3 pieces of chicken, two sides, a biscuit, plus a drink. You can pick between a Variety Box with two breasts and a wing, or a Drum & Thigh Box. You can pick between Original Recipe or Extra Crispy chicken, too. Start your online order here and you ought to see the $9 deal up right at the top. Depending on your location, this KFC deal saves you $4-$5 off the normal price.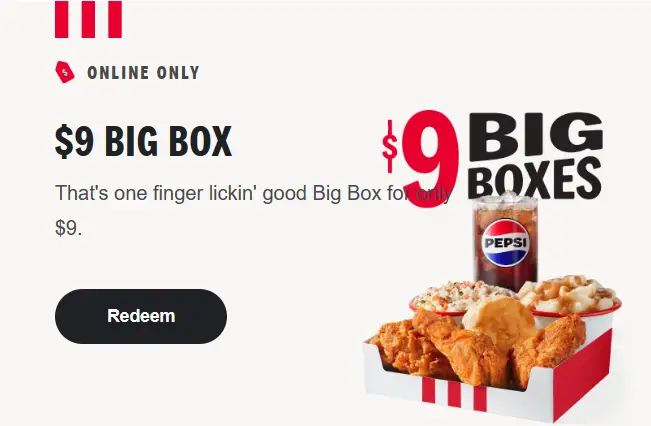 $4.99 Wings At KFC
KFC is giving chicken wings another go and putting Hot and Spicy Wings back on the menu. A fitting menu addition for the onset of football season – a.k.a. the most popular background entertainment while eating wings. Grab an 8 piece order for $4.99 for a limited time. KFC teased the September 10 debut on its socials.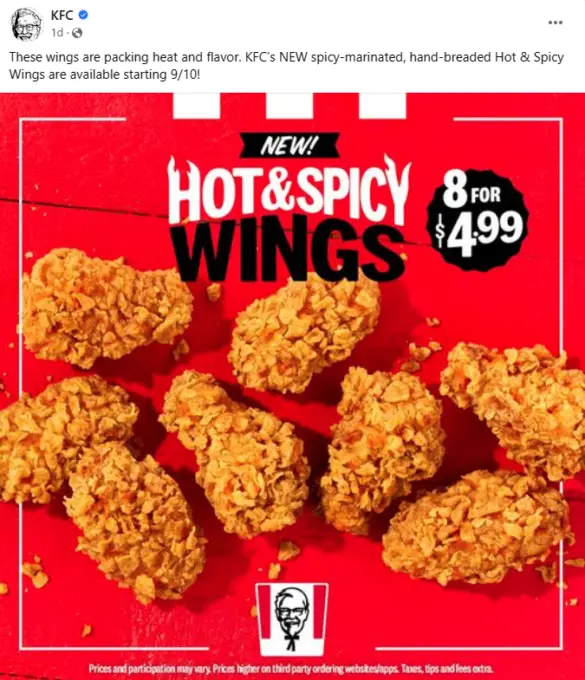 $20 Fill Up Box At KFC
KFC has a new $20 Fill Up Box which comes with a 12-piece of KFC's new Chicken Nuggets, 4 pieces of chicken, Secret Recipe Fries, 4 biscuits, and your choice of sauces. I'm no mathematician, but that sounds like value.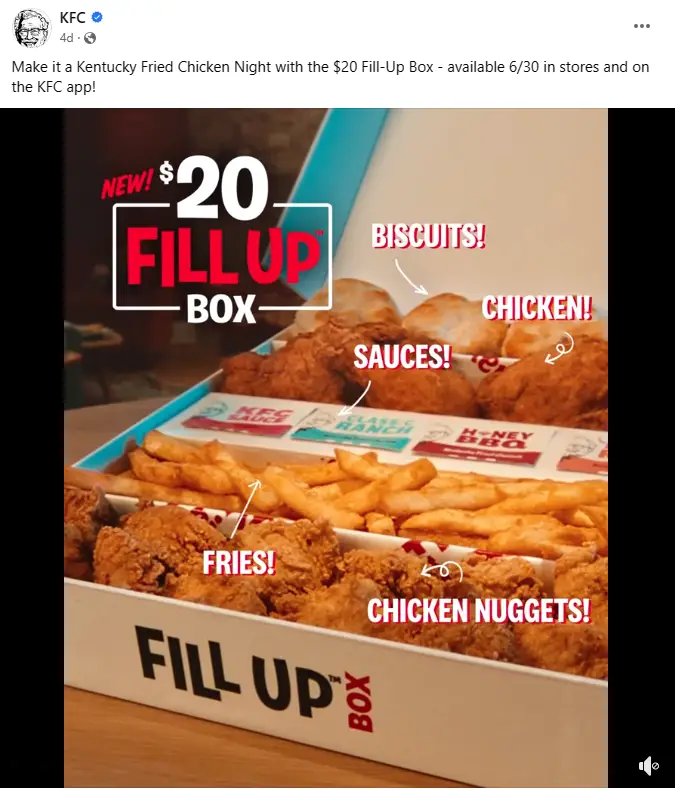 Chicken Nuggets At KFC
In what seems like a long overdue move, Chicken Nuggets have arrived to the KFC menu nationwide. This follows a successful test run last year. The 100% white meat nuggets are hand-breaded with KFC's Original Recipe of 11 herbs and spices. The nuggets come in 5, 8, 12 or 36-piece sizes, and include sauces for dipping. Pricing starts at $3.49 for a 5-piece and goes up from there. Choices include KFC Sauce, Honey BBQ, Classic Ranch, Honey Mustard or Buffalo Ranch. Also, nuggets can be included in a combo with fries, biscuit and a drink.
"As the original fried chicken experts, we're introducing a chicken nugget made the way only KFC can—hand-breaded with our distinctive Original Recipe of 11 herbs and spices," says Nick Chavez, CMO, KFC U.S. in this press release. "Simply put, you've never had chicken nuggets like these—they're the chicken nugget America deserves, and worth the wait. Now that's Finger Lickin' Good."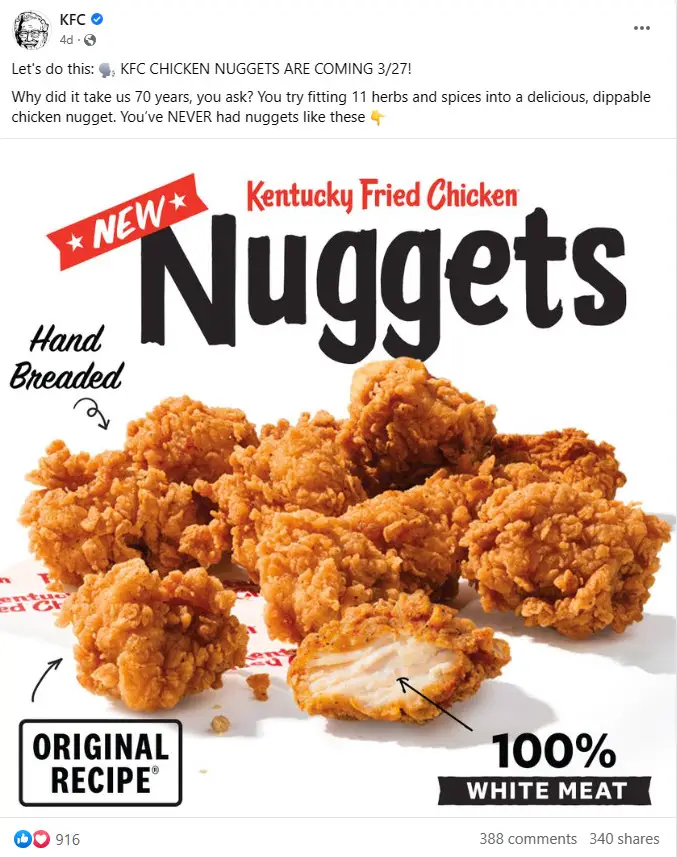 KFC's $30 10 Piece Family Feast
Feed the whole crew with the $30 ten piece Family Feast from KFC.  You'll get 10 pieces chicken, 2 large sides of mashed potatoes and gravy, a large coleslaw, 4 biscuits, 4 chocolate chip cookies and a 1/2 gallon beverage bucket.  KFC posted the details on the Family Feast on its website.
KFC's Buffalo Ranch Sauce
KFC has a brand-new Buffalo Ranch dipping sauce available nationwide. The chain has partnered with Tinder to promote this zesty creation. Starting October 21, Tinder members can take a "What's Your Sauce" quiz in the app for a chance to win a Saucy Dream Date – an all-expenses paid trip with tickets and VIP backstage passes to see Jack Harlow!
KFC also has a Tinder Tenders meal for two available only on the KFC app and website. It includes 6 Extra Crispy tenders, 2 individual sides, 2 biscuits, 2 medium beverages, and the new Buffalo Ranch sauce. The meal usually costs around $16, but pricing will vary depending on the location you choose.
Does KFC Have Coupons Right Now?
There may be other KFC printable coupons and promo codes out there, but unfortunately, they are often only available for specific locations, or have expired.  At EatDrinkDeals, our policy is to only publish Kentucky Fried Chicken coupons that are widely available to avoid disappointing our users.  When KFC coupon codes are nationally available and from verifiable sources, we will post them here.  We test the coupons and promo codes for a variety of stores across the U.S. to make sure they work.  You won't be disappointed with a dud!  We only post the KFC deals that are widely available.
What's On The KFC Menu?
Kentucky Fried Chicken has a menu focused on their world famous fried chicken.  There's the classic Original Recipe, and the (newer, but also classic) Extra Crispy flavor available.  Sides include cole slaw, fries, mashed potatoes and other favorites.  Most meals come with a buttermilk biscuit, too.  KFC has had massive success with other creations like their meal bowls over the years, but you can always go with a staple like the 2-piece chicken dinner, too.
For the full menu, visit our KFC menu page here. Or, click here for the KFC official website.
Is There A KFC Near Me?
KFC has over 20,000 locations globally!  There's several thousand in the United States, so chances are there's one near you.  You can find the nearest KFC at: KFC Near Me
What Are KFC's Hours?
Most KFC are open every day from 10 am to 10 pm, but times can vary. To find the hours, address and more details for your local KFC, select your location from: Kentucky Fried Chicken Near Me
Can I Get KFC Delivered?
KFC offers delivery through its third-party delivery partners, such as Doordash.  Usually there is a delivery fee, but delivery is free during special promotions. To start a KFC delivery order, or to check on KFC delivery deals, visit:  Kentucky Fried Chicken Delivery
You can also place a delivery order through the KFC App.
Where Can I Find KFC Nutritional Info?
KFC lists food allergen information in their online and app menus.  To view the allergen content of any menu item, click here for the KFC Nutrition page.
When you start an online order, you can make modifications to the menu ingredients online; when ordering at the restaurant, simply ask the crew member to hold a given ingredient.