Whats poppin'? We'll tell you: Jack Harlow recently partnered with KFC to create the Jack Harlow Meal, containing some of the hip-hop artists' favorite items. The meal includes a spicy chicken sandwich, secret recipe fries, mac & cheese, a ranch dip cup, and a cold lemonade. In our testing, we saw significant variations in price depending on location. For instance, in Charlotte, NC you can snag the meal for $8.29, whereas it'll run you $10.19 at certain locations in New York City. A reasonable estimate for the meal at most locations would be $8 to $11. However, for the most accurate information, we suggest you check the price of the meal online by searching for your preferred KFC location.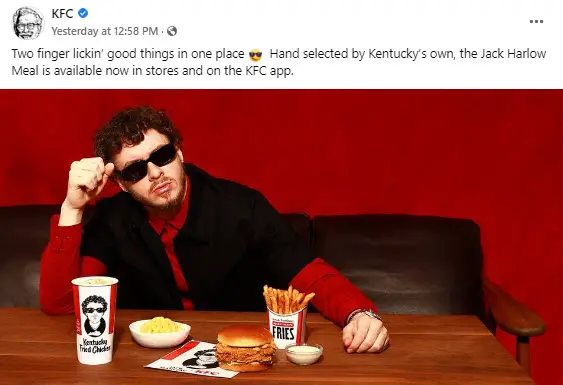 KFC Chicken Sandwich
The new KFC Chicken Sandwich is out nationwide!  You can snag one for $3.99 ($4.99 in some locations), or with fries and a drink for $6.99.  KFC posted about its new Chicken Sandwich on Facebook.
More from EatDrinkDeals
For more deals like this visit:  EatDrinkDeals Fried Chicken Deals
Want to get info on other deals, discounts, coupons and specials from your favorite restaurants?  Click here to see the latest and greatest from EatDrinkDeals!
KFC's $30 10 Piece Family Feast
Feed the whole crew with the $30 ten piece Family Feast from KFC.  You'll get 10 pieces chicken, 2 large sides of mashed potatoes and gravy, a large coleslaw, 4 biscuits, 4 chocolate chip cookies and a 1/2 gallon beverage bucket.  KFC posted the details on the Family Feast on its website.
KFC $5.99 Fill Up Deals
KFC has $5.99 Fill Up meals available to fuel you up for a low price.  The options change from time to time, and currently you've got 2 choices:
Chicken pot pie, drink and a chocolate chip cookie for dessert
KFC's World Famous Bowl, drink and a chocolate chip cookie for dessert
For more details and to place an order, go to the KFC website.  KFC also announced the $5.49 Fill Ups on their Facebook page.
More Restaurant Daily Deals
Daily deals for all days of the week can be found here:
For more daily and weekly restaurant specials like these, see:  Restaurant Daily Deals
If you're an AARP member, you can get every day discounts at Denny's, McCormick & Schmick's, Outback and more places.  You can find all the details in our story, AARP Dining Discounts.
Also, many restaurant chains such as Bob Evans, Outback Steakhouse, Zoe's Kitchen and more offer discounts to the active military and veterans.  Here's the EatDrinkDeals roundup, Restaurant Military and Veterans Discounts.