Finally, Chipotle is giving queso another shot!  A new Queso Blanco recipe has come to the menu nationwide.  The new recipe uses 13 like aged Monterey Jack cheese and a mix of serrano, poblano and chipotle peppers, to create a slightly spicy queso.
For the full details on ingredients used and how Queso Blanco is prepared, go to the Chipotle Queso Blanco site here.
Guac Mode Free Guacamole Days
Chipotle is celebrating one year of its Chipotle Rewards program by activating "Guac Mode" for free guac with the purchase of an entree. Existing Rewards members don't need to do anything; they should see the Guac Mode in the Rewards section of their account automatically. Alternatively, you can text "Guac Mode" to 888-222 to get signed up.
The first offer when Guac Mode gets activated will get you a free topping or side of guac with purchase of an entree, and Chipotle is promising more rewards throughout 2020.
Chipotle Rewards has other perks going for it, too.  Read below for more details on the program.
Free Delivery Sundays
Chipotle has free delivery every Sunday in February, 2020.
Place an order of $10 or more at  https://www.chipotle.com/freedeliverysundays and get free delivery every Sunday through February.  Chipotle announced the free delivery deal on Facebook.

FREE DELIVERY SUNDAYS TERMS AND CONDITIONS
Valid only for orders placed and fulfilled on Sundays in February 2020, beginning 2/2, within Chipotle's delivery areas within the U.S. from participating U.S. Chipotle locations, during normal operating hours for such locations. Minimum order $10/maximum order $200, each excluding tax. Deliveries subject to availability. Offer is not valid on catering or Burritos by the Box orders. Redemptions of Chipotle Rewards and other promotional offers may be included in a qualifying delivery order but do not count towards satisfaction of minimum purchase requirements. Valid only at chipotle.com or on the Chipotle app; not valid on orders placed via third-party delivery platforms. Chipotle reserves the right to modify or terminate this offer at any time without notice. Additional restrictions may apply; void where prohibited.
Chipotle Rewards
Chipotle has a rewards program with points for purchases and a free item on your birthday.
Visit Chipotle Rewards to learn more.  We rated the app a 7/10 in our review.  We found the app to be well designed, and like the feature offering delivery straight from the app.
About Chipotle (from Wikipedia)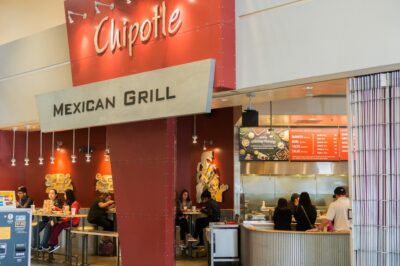 Chipotle Mexican Grill, Inc.  is a chain of restaurants located in the United States, United Kingdom, and Canada, specializing in burritos and tacos. Its name derives from chipotle, the Mexican Spanish name for a smoked and dried jalapeño chili pepper.
The restaurant is known for its large burritos, assembly-line production, and use of natural ingredients.  The company has released a mission statement called Food with Integrity, which highlights its efforts in using organic ingredients,and serves more naturally raised meat than any other restaurant chain.
Chipotle has more than 1900 locations.
Chipotle Menu
Chipotle's menu consists of four items: burritos, bowls, tacos, and salads.  The price of each item is based on the choice of chicken, pork carnitas, barbacoa, steak, tofu-based "sofritas", or vegetarian (with guacamole, which would be at an extra charge otherwise).  Additional optional toppings are offered free of charge, including: rice, beans, four types of salsa, sour cream, cheese, and lettuce. Chipotle also offers a children's menu. Most restaurants sell beer and margaritas in addition to soft drinks and fruit drinks.
The majority of food is prepared in each restaurant. Some exceptions are the beans and carnitas, which are prepared at a central kitchen in Chicago, Illinois. None of the restaurants have freezers, microwave ovens, or can openers.