If you're a Chipotle Rewards member, check your Rewards wallet – Guac Mode is activated through July 7. Get yourself a free topping or side of guac with the purchase of an entree! You should see the reward in your app starting today.
Chipotle Rewards has other perks going for it, too. Read below for more details on the program.
Chipotle has upped its app game.  Now you've got Complete Customization options to make your burrito/tacos/bowl masterpiece just the way you want it!  You can get a "Normal", "Light", or "Extra" amount of a topping or filling like rice, salsa and such, or you can get it on the side.  Click here to visit Chipotle Rewards to download the app – it's well worth the screenspace and memory on your phone!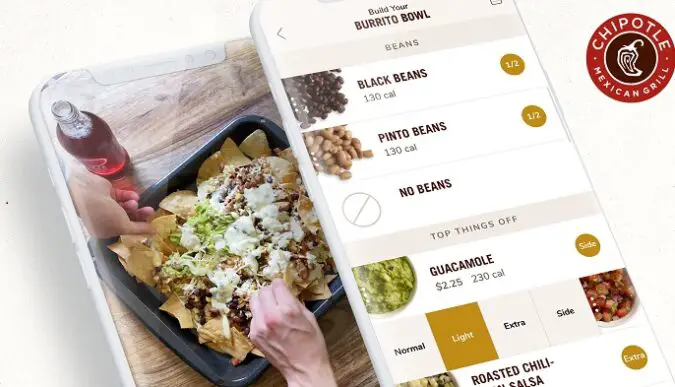 Chipotle is also a TikTok champion among restaurant brands, and they are putting out a series of videos showing some great menu hacks that use the Complete Customization capabilities to the max.  Here's a few:
DIY Nachos
The Extra Dip
Taco Salad Hack
More from EatDrinkDeals
Want to get info on other deals, discounts, coupons and specials from your favorite restaurants?  Click here to see the latest and greatest from EatDrinkDeals!
Chipotle Rewards
Chipotle has a rewards program with points for purchases and a free item on your birthday.
Visit Chipotle Rewards to learn more.  We rated the app a 7/10 in our review.  We found the app to be well designed, and like the feature offering delivery straight from the app.
About Chipotle (from Wikipedia)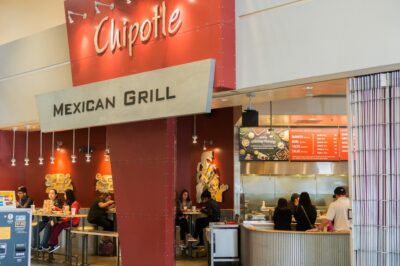 Chipotle Mexican Grill, Inc.  is a chain of restaurants located in the United States, United Kingdom, and Canada, specializing in burritos and tacos. Its name derives from chipotle, the Mexican Spanish name for a smoked and dried jalapeño chili pepper.
The restaurant is known for its large burritos, assembly-line production, and use of natural ingredients.  The company has released a mission statement called Food with Integrity, which highlights its efforts in using organic ingredients,and serves more naturally raised meat than any other restaurant chain.
Chipotle has more than 1900 locations.
Chipotle Menu
Chipotle's menu consists of four items: burritos, bowls, tacos, and salads.  The price of each item is based on the choice of chicken, pork carnitas, barbacoa, steak, tofu-based "sofritas", or vegetarian (with guacamole, which would be at an extra charge otherwise).  Additional optional toppings are offered free of charge, including: rice, beans, four types of salsa, sour cream, cheese, and lettuce. Chipotle also offers a children's menu. Most restaurants sell beer and margaritas in addition to soft drinks and fruit drinks.
The majority of food is prepared in each restaurant. Some exceptions are the beans and carnitas, which are prepared at a central kitchen in Chicago, Illinois. None of the restaurants have freezers, microwave ovens, or can openers.