Get $1 delivery with a $10 order every day at Chipotle.
"We're offering $1 Delivery for Chipotle orders of $10 or more. Yep, all your Chipotle faves delivered to your door for just $1," Chipotle announced.
To get the $1 delivery deal, go to chipotle.com, or the Chipotle mobile app, build your order, select delivery and submit your order.
Orders are sealed for safety with the option for contactless delivery.
For more details or to start your order visit https://chipotle.com/dollardelivery.
Chipotle announced the $1 delivery deal on the Chipotle Home Page. Good for a limited time; no end date was announced.
Chipotle Has New Watermelon Limeade
Chipotle just announced their first ever seasonal drink: Watermelon Limeade. Chipotle paired with Tractor Beverage Co. in 2020 as part of an initiative to ensure that their food complies with their Food with Integrity standards. Made from sweet watermelon and real lime, this drink pairs perfectly with all of Chipotle's 50+ ingredients and you can be certain it is organic and non-GMO.
A 22 oz. will run you roughly $2.60 while a 32 oz. costs $2.90 at most locations, though pricing may vary depending on where you order from.
Plant-Based Chorizo At Chipotle
Chipotle recently announced the national launch of their Plant-Based Chorizo. This was available for a limited time in selected markets in 2021 and found great success.
The Plant-Based Chorizo emphasizes freshness and will feature Ancho Chilli and Chipotle peppers, ripe tomato paste, crushed garlic, Spanish smoked paprika, and Extra Virgin Olive Oil with a pea derived protein.
Chipotle is also helping you keep your New Years Resolution of eating clean with new Lifestyle Bowls. The options include:
Whole30 Salad Bowl: Supergreens Lettuce blend, Plant-Based Chorizo, Fresh Tomato Salsa, Fajita Veggies, and Guacamole.
Vegetarian Bowl: Supergreens Lettuce blend, Pinto Beans, Plant-Based Chorizo, Fresh Tomato Salsa, Fajita Veggies, and Cheese.
Vegan Bowl: White Rice, Black Beans, Plant-Based Chorizo, Corn Salsa, Fresh Tomato Salsa, and Shredded Romaine.
Try out the new protein for a limited-time! Click here to place an order.  The options on the Whole30 bowls range from $10.50 – $13 depending on your location and choice of protein.  The Vegetarian and Vegan Salad Bowls are cheaper, in the $9 – $10 range.
Smoked Brisket
Chipotle has added their brand new Smoked Brisket to the menu!  This new protein is made with Responsibly Raised Beef, charred on the grill, and seasoned with fire-roasted jalapeños and chipotle chili peppers among other Mexican spices. Finally, it is topped with a smoky chili pepper based Brisket sauce.  A meal based with the Smoked Brisket will cost a base price of roughly $10, though this is subject to change depending on your location. Enter your location on Chipotle's website to see the most relevant menu information.
What Is The Chipotle Rewards Exchange?
Chipotle recently launched its Rewards Exchange, significantly altering their Rewards Program. With the revamped reward system, Chipotle Rewards Points can be used to redeem over fifteen options including free food, drinks, Chipotle Goods, and more!  You'll get 10 points for each dollar spent, whether it's a dine-in, online or app order.  You'll get a free small side, like Chips and Guac, for signing up, plus a free burrito deal for your birthday. You will also gain access to exclusive Chipotle deals.  For more info and to sign up, visit the Chipotle Rewards page here.
Does Chipotle Have Quesadillas?
Move over, burritos – Chipotle's finally bringing quesadillas to the menu!  After years of waiting, it's finally here.  The Chipotle Quesadilla is filled with Monterey Jack Cheese and comes with your choice of Chicken, Steak, Carnitas, Barbacoa, Sofritas, or Fajita Veggies.  The only catch is that you need to order online or in the app to get the Quesadilla.  You can't order one walking in to the restaurant.  Chipotle posted the news of the quesadilla menu addition on its website.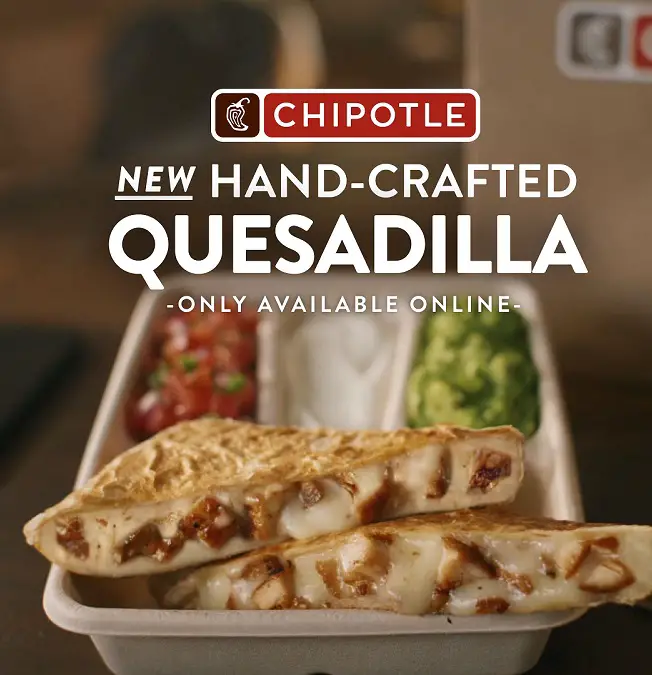 More from EatDrinkDeals
Inflation stinks!  Want to get make your money go further with the best deals, discount codes, coupons and specials from your favorite restaurants?  Click here to see the latest and greatest from EatDrinkDeals!
What Are Some Chipotle App Menu Hacks?
Chipotle has upped its app game.  Now you've got Complete Customization options to make your burrito/tacos/bowl masterpiece just the way you want it!  You can get a "Normal", "Light", or "Extra" amount of a topping or filling like rice, salsa and such, or you can get it on the side.  Click here to visit Chipotle Rewards to download the app – it's well worth the screenspace and memory on your phone!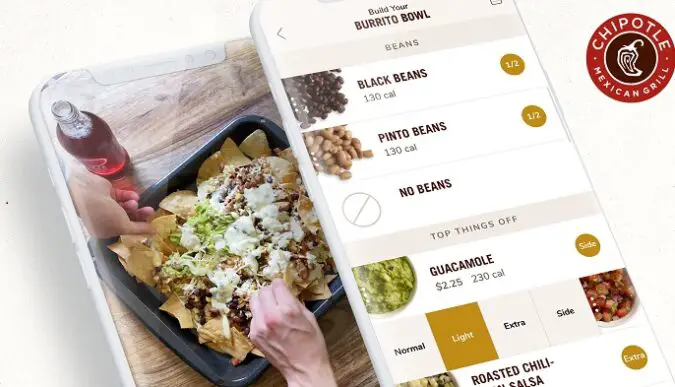 Chipotle is also a TikTok champion among restaurant brands, and they are putting out a series of videos showing some great menu hacks that use the Complete Customization capabilities to the max.  Here's a few:
DIY Nachos
The Extra Dip
Taco Salad Hack
Chipotle Rewards
Chipotle has a rewards program with points for purchases and a free item on your birthday. As you move up the ladder by accumulating points, you will continue to get free Chipotle.
Visit Chipotle Rewards to learn more.  We rated the app a 7/10 in our review.  We found the app to be well designed, and like the feature offering delivery straight from the app.
Plus, from now until March 31, 2022, you can also unlock "guac mode" by signing up for Chipotle Rewards. You can get rewards like free guacamole throughout the year just for holding an account. Sounds like a fair bargain to us.
What's On Chipotle's Menu?
Chipotle Mexican Grill prides itself on its Tex-Mex cuisine using only 53 ingredients for the whole menu, with no artificial flavors or preservatives.  There are no microwaves, freezers, or can openers in the kitchen – it's all fresh!  Enjoy burritos, tacos, or bowls for the low carb crowd with choices of proteins like humanely raised chicken, beef, or pork, with vegetarian options available, too.  Chipotle makes a mean guacamole, and also has some house-made queso with a kick to go with your chips and salsa. Here at EatDrinkDeals, we think you get the most bang for your buck by getting a burrito bowl with a tortilla on the side! Try it out next time you visit.  For the full current menu, click here for the Chipotle Menu page.
Chipotle also frequently has promo codes that you can use to get free food. Here at EatDrinkDeals, we have a policy of only giving accurate and guaranteed codes. Rest assured, if there are verified Chipotle coupons and Chipotle promo codes out there, we will update this article with them.
Is There A Chipotle Near Me?
There are over 2,000 U.S. locations of Chipotle, and over 30 combined locations in Canada, France, Germany, and the United Kingdom. They've been on a tear lately, so if you don't have one nearby now, you might very soon.  They are aggressively expanding.  You can find the Chipotle location near you at: Chipotle Near Me
What Are Chipotle's Hours?
Most Chipotles are open from 10:30 am – 10 pm local time every day, but times can vary.  To find the hours, address and additional details for your local Chipotle, select your location from: Chipotle Near Me
Does Chipotle Deliver?
Chipotle has invested heavily in its digital app and online platforms to enable a robust delivery and takeout business.  You can get delivery with a fee of $3 – $4, and many times Chipotle will have promotions like free delivery on $10 or more orders.  To start a Chipotle delivery order, or to check on delivery deals, visit:  Chipotle Delivery and click on the Delivery button
You can also place a delivery order through the Chipotle Rewards App – click here to download the app if you don't have it yet.
Where Is The Chipotle Nutrition Guide?
Chipotle proudly posts its nutritional information in their online and app menus.  To view the nutritional content of any menu item, click here for the Chipotle Nutritional Calculator page.
When you start an online or order, you can make modifications to the menu ingredients online; when ordering at the restaurant, simply ask the crew member to hold a given ingredient.  The online ordering system has been revamped to allow for a lot more customization on your food – tell them to give you extra rice, hold the tomatoes, and extra salsa, or anything in between!
More Restaurant Daily Deals
Daily deals for all days of the week can be found here:
For more daily and weekly restaurant specials like these, see:  Restaurant Daily Deals