Place a $10 minimum order at Chipotle and get free delivery via DoorDash today through June 19, 2019.
For more details or to start your order visit the Chipotle Home Page.
FREE DELIVERY DETAILS: $10 minimum/$200 maximum order (food and beverage) subtotal required. Taxes not included, and optional gratuity will increase the total order charge. Offer valid only for orders placed and fulfilled May 29 – June 9, 2019 (subject to extension or earlier termination at Chipotle's sole discretion) from participating Chipotle locations within Chipotle and DoorDash's delivery areas during normal operating hours applicable for such location. Unlimited redemptions per person. No promo code needed to redeem, offer will automatically apply at checkout. Deliveries subject to availability. Offer cannot be combined with other offers or promo codes and is non-transferrable. No adjustments to previous purchases. Valid through DoorDash, order.chipotle.com and the Chipotle app only. Chipotle reserves the right to modify or terminate this offer at any time without notice. Additional restrictions may apply; void where prohibited.
Chipotle has a rewards program with points for purchases and a free item on your birthday.
For more information or to enroll now, visit:  Chipotle Rewards
About Chipotle (from Wikipedia)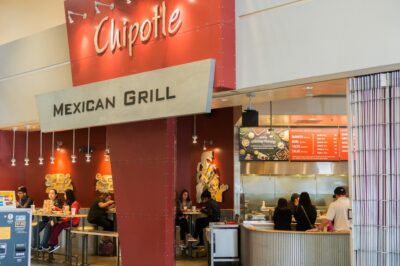 Chipotle Mexican Grill, Inc.  is a chain of restaurants located in the United States, United Kingdom, and Canada, specializing in burritos and tacos. Its name derives from chipotle, the Mexican Spanish name for a smoked and dried jalapeño chili pepper.
The restaurant is known for its large burritos, assembly-line production, and use of natural ingredients.  The company has released a mission statement called Food with Integrity, which highlights its efforts in using organic ingredients,and serves more naturally raised meat than any other restaurant chain.
Chipotle has more than 1900 locations.
Chipotle Menu
The majority of food is prepared in each restaurant. Some exceptions are the beans and carnitas, which are prepared at a central kitchen in Chicago, Illinois. None of the restaurants have freezers, microwave ovens, or can openers.