Get a free side or topping of guacamole at Chipotle on July 31 to celebrate National Avocado Day!  The offer is available to all guests who order online or in the app with promo code AVO2021. "National Avocado Day, our most popular 'Chipotday,' has long given our fans something extra to celebrate on July 31," said Chris Brandt, Chief Marketing Officer, in this press release. "We're excited to continue the tradition this year by offering fresh, hand-mashed guac for free via our digital channels only with the promo code AVO2021."  For the full details of the giveaway, visit the Chipotle Avocado Day page here for U.S. guests.  The Canadian page is here.
Chipotle Rewards Exchange
Chipotle recently launched its Rewards Exchange, significantly altering their Rewards Program. With the revamped reward system, Chipotle Rewards Points can be used to redeem over fifteen options including free guacamole, drinks, Chipotle Goods, and more!  You'll get 10 points for each dollar spent, whether it's a dine-in, online or app order.  You'll get a free order of Chips and Guac for signing up, plus a free burrito deal for your birthday.  For more info and to sign up, visit the Chipotle Rewards page here.
Chipotle's Quesadillas
Move over, burritos – Chipotle's finally bringing quesadillas to the menu!  After years of waiting, it's finally here.  The Chipotle Quesadilla is filled with Monterey Jack Cheese and comes with your choice of Chicken, Steak, Carnitas, Barbacoa, Sofritas, or Fajita Veggies.  The only catch is that you need to order online or in the app to get the Quesadilla.  You can't order one walking in to the restaurant.  Chipotle posted the news of the quesadilla menu addition on its website.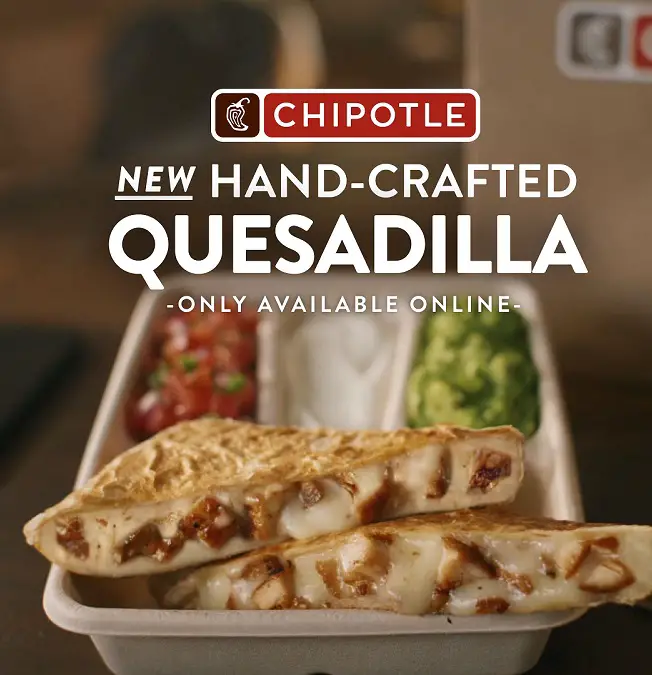 Chipotle's $1 Delivery Deal
Get $1 delivery with a $10 order every day at Chipotle.
"We're offering $1 Delivery for Chipotle orders of $10 or more. Yep, all your Chipotle faves delivered to your door for just $1," Chipotle announced.
To get the $1 delivery deal, go to chipotle.com or the Chipotle app, build your order, select delivery and submit your order.
Orders are sealed for safety with the option for contactless delivery.
For more details or to start your order visit https://chipotle.com/dollardelivery.
Chipotle announced the $1 delivery deal on the Chipotle Home Page. Good for a limited time; no end date was announced.
Chjpotle offers a Digital Kitchen feature in the app so customers can follow their meal in real-time.  The video below shows the new feature.
More from EatDrinkDeals
Want to get info on other deals, discounts, coupons and specials from your favorite restaurants?  Click here to see the latest and greatest from EatDrinkDeals!
Chipotle has upped its app game.  Now you've got Complete Customization options to make your burrito/tacos/bowl masterpiece just the way you want it!  You can get a "Normal", "Light", or "Extra" amount of a topping or filling like rice, salsa and such, or you can get it on the side.  Click here to visit Chipotle Rewards to download the app – it's well worth the screenspace and memory on your phone!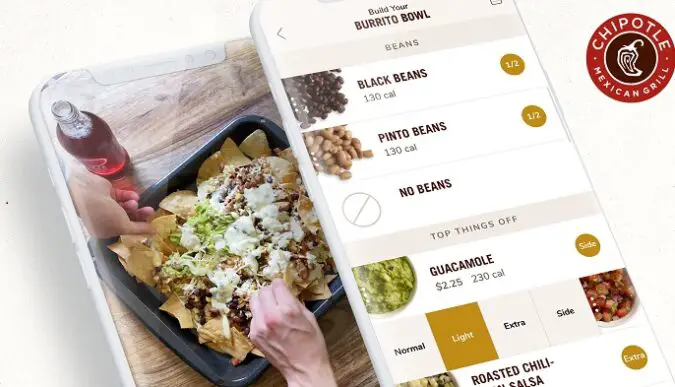 Chipotle is also a TikTok champion among restaurant brands, and they are putting out a series of videos showing some great menu hacks that use the Complete Customization capabilities to the max.  Here's a few:
DIY Nachos
The Extra Dip
Taco Salad Hack
Chipotle Rewards
Chipotle has a rewards program with points for purchases and a free item on your birthday.
Visit Chipotle Rewards to learn more.  We rated the app a 7/10 in our review.  We found the app to be well designed, and like the feature offering delivery straight from the app.
Chipotle Menu
Chipotle prides itself on its Tex-Mex cuisine using only 53 ingredients for the whole menu, with no artificial flavors or preservatives.  There are no microwaves, freezers, or can openers in the kitchen – it's all fresh!  Enjoy burritos, tacos, or bowls for the low carb crowd with choices of proteins like humanely raised chicken, beef, or pork, with vegetarian options available, too.  Chipotle makes a mean guacamole, and also has some house-made queso with a kick to go with your chips and salsa.  For the full current menu, click here for the Chipotle Menu page.
Chipotle Near Me
There's over 2,000 Chipotle locations in the U.S.  They've been on a tear lately, so if you don't have one nearby now, you might very soon.  They are aggressively expanding.  You can find the Chipotle location near you at: Chipotle Near Me
Chipotle Hours
Most Chipotles are open from 10:30 am – 10 pm every day, but times can vary.  To find the hours, address and more details for your Chipotle, select your location from: Chipotle Near Me
Chipotle Delivery
Chipotle has invested heavily in its digital app and online platforms to enable a robust delivery and takeout business.  You can get delivery with a fee of $3 – $4, and many times Chipotle will promotions like free delivery on $10 or more orders.  To start a Chipotle delivery order, or to check on delivery deals, visit:  Chipotle Delivery and click on the Delivery button
You can also place a delivery order through the Chipotle Rewards App – click here to download the app if you don't have it yet.
Chipotle Nutrition
Chipotle proudly posts its nutritional information in their online and app menus.  To view the nutritional content of any menu item, click here for the Chipotle Nutritional Calculator page.
When you start an online or order, you can make modifications to the menu ingredients online; when ordering at the restaurant, simply ask the crew member to hold a given ingredient.  The online ordering system has been revamped to allow for a lot more customization on your food – tell them to give you extra rice, hold the tomatoes, and extra salsa, or anything in between!