FINALLY!  Free Cone Day is back at Ben & Jerry's on April 3! This will be the first Free Cone Day since 2019! As with previous years, waaaay back before the pandemic, guests can just walk in and get a free scoop in a cup or cone. No purchase necessary, no strings attached. Ben & Jerry's sent this message with the great news.
Get 10% Off At Ben & Jerry's Every Day
Join the Flavor Fanatics Club at Ben & Jerry's and get 10% off your orders every time, plus a free treat on your birthday.  You'll need an email address and phone number to sign up.  Click here for the Ben & Jerry's website to get started.  Then, just give your phone number when you check out for in-store or takeout orders for your 10% discount!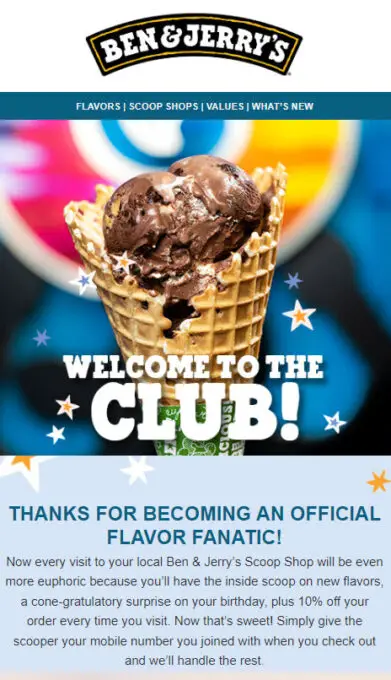 Ben & Jerry's Free Cone Day Delays
Ben & Jerry's Free Cone Day has been delayed again this year, the chain announced. Free Cone Day is normally held annually in early April but the Coronavirus Pandemic caused it to be canceled in 2020, 2021, and now in 2022.
"We hoped to host Free Cone Day soon, but it's not looking possible this year," the chain announced.
"Worry not! We're putting all our energy into the most epic summer of scooping to date! Giving us a chance to flex our scooping arms and get back into prime Free Cone Day shape!  Free Cone Day will be back. Bigger. Better and Ben & Jerrier than ever"
About Free Cone Day
Free Cone Day is an annual event held between late March and early May, in which Ben & Jerry's scoop shops give out free ice cream cups and cones. The first Free Cone Day was held on Saturday, May 5, 1979 by Ben and Jerry as a customer and staff appreciation event for the first anniversary of their store's opening.
Over one million free cones are given away each year, prompting the company's ad slogan "Be One In A Million." Charitable organizations are often present at the stores each year and enjoy a significant amount of fundraising success. Often, local celebrities show up at various stores, promoting the day and the charities there. Sometimes the event is scheduled to coincide with Earth Day and sometimes volunteers are on hand with clipboards and voter registration forms to help those who would like to register to vote.