Bertucci's has Family Meal Deals to feed two for $18 or four for $32 available everyday.  They also have other specials on Mondays and Tuesdays.  All Family Meal Deals come with freshly baked rolls and salad, and the entrees are individually packaged so you can save them for later.  The Family Meal Deals change by day, but the Pizza option is available every day.  Here's the schedule:
Monday – Chicken Parmesan
Tuesday – Rigatoni Abruzzi
Wednesday – Chicken Domani
Thursday – Chicken Piccata
Friday – Shrimp Rossini
Saturday – Spaghetti and Meatballs
Sunday – Four Cheese Ravioli
Every Day – 2 Large Signature Pizzas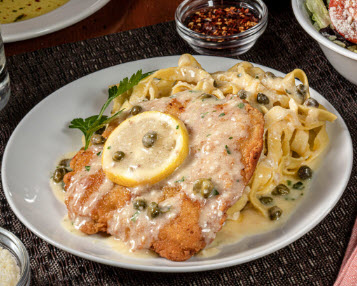 To start an online order, click here for the Bertucci's order page.
On Menucci Monday from 11:30 am – 3 pm, get a Menucci (flatbread) with salad for $7.99, or double it out for $14.99.  See the Bertucci's specials page for more details.
On Two For Tuesday, buy any brick oven pizza and receive another pizza of equal or lesser value for free.  Valid on dine-in, carryout or delivery.  For online orders, make your pizza selections in the "Two for Tuesday" menu category and use code 2FORTUESDAY at checkout.  Limit one per guest per check.  One free pizza per party.
More details are available on the Bertucci's specials website.
More Restaurant Deals
Looking for deals from your other favorite restaurants?  Click here to visit the EatDrinkDeals Restaurant Deals section for all the latest and greatest!
Email Club Coupon
Get a $5 Bertucci's coupon when you enroll in their email club.
Sign up for the Fire Insider e-mail club, get a $5 coupon, and receive special offers from Bertucci's throughout the year. You'll also be the first to know when our seasonal specials arrive.  Sign Up Now
About Bertucci's (from Wikipedia)
Bertucci's is an American chain of restaurants offering pizza and Italian food. It also offers delivery (from some stores), take-out and private dining. It was founded by Joey Crugnale in Davis Square, Somerville, Massachusetts, in 1981. The company expanded rapidly during the 1990s. Company locations are primarily found in the Northeast, but range as far south as Virginia. N.E. Restaurant Co. Inc. bought out Bertucci's in 1998, adopting the Bertucci's Co. name in 2001.  While it began by offering only brick oven pizzas, in the 1990s it began offering pasta dishes, panini, and foccacia sandwiches and various grilled dishes.  In June 2018, the Bertucci's chain agreed to be acquired by the corporate parent of Planet Hollywood, Earl Enterprises, for $20 million.  Earl Enterprises currently owns 58 Bertucci's locations.