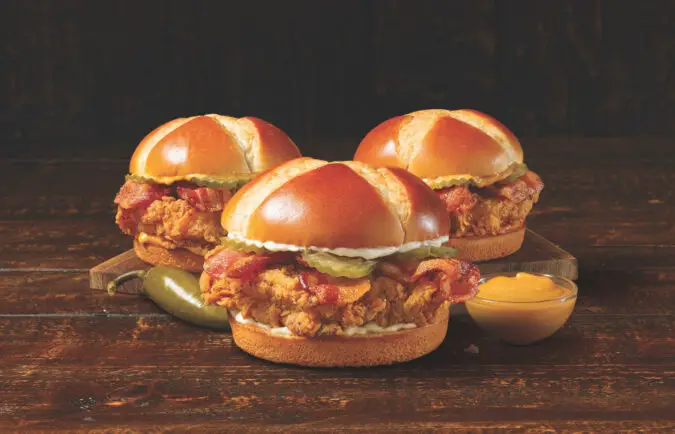 Church's Chicken, recently rebranded as Church's Texas Chicken, is famous for their fried chicken, biscuits, and jalapeños on the side. The Church's Texas Chicken menu serves up fried chicken just the way you like it: original or spicy, in classic combos, as tenders, or on sandwiches. Sides include cole slaw, regular fries, fried okra, mashed potatoes and other favorites.  Most meals come with a famous Honey Butter Biscuit, too.
Scroll through or search the table below to see prices for everything Church's Texas Chicken has to offer, from family meals to sides and desserts!
Church's Texas Chicken Deals
Church's Texas Chicken regularly offers coupons and deals that can help you save a buck or feed the whole family, whether you're hosting a gathering or just don't feel like cooking. For the latest, check out our article on Church's Chicken Coupons & Deals. For example, Church's is currently offering a coupon for discounts on Two Can Dine and Family Deal meals. The coupon is good through February 15, 2023. Additionally, you can take advantage of current Holi-Deals® to feed a family of four starting at just $20!
Church's Texas Chicken Menu & Prices
---
Disclaimer: Menu and prices listed above are based on research of sample locations and are provided for informational purposes only. Since prices and availability may vary by location, please consult your local Church's Texas Chicken menu for the latest details.
About Church's Chicken
Church's Chicken is a fast-food restaurant chain that specializes in fried chicken. The chain was founded in 1952 in San Antonio, Texas. Now you can find Church's Chicken all over with more than 1,500 locations. Though it's not quite as big as competitors like KFC, Popeyes or Chick-Fil-A, it stands on its own right with a flavorful recipe.
The menu at Church's Chicken features a variety of fried chicken dishes, including chicken tenders, wings, and bone-in chicken pieces. The chicken is marinated in a signature blend of seasonings before being coated in a batter and fried until crispy and golden brown. Sides include mashed potatoes, coleslaw, and corn on the cob. They also offer sandwiches and burgers that feature their famous chicken.
Church's Chicken is a popular choice for those looking for delicious fried chicken in a fast-food setting. You can dine-in, visit the drive-thru, or order online at your convenience.