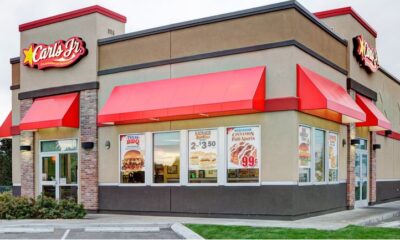 Commonly referred to as the west coast counterpart to Hardee's, Carl's Jr. has a much deeper history than many people know. In 1941, Carl and Margaret Karcher used their savings to open a hot dog stand. Due to its success, the couple was able to open the first two Carl's Jr. restaurants a few years later in Anaheim, California. By 1977, there were over 200 locations in California! Two decades later, in 1997, Carl Karacher Enterprises (CKE) Restaurants acquired Hardee's, with both restaurants operating under the same logo and similar menus. Fast forward to today and there are over 5,000 Hardee's and Carl's Jr. restaurants across the world. In the United States, you can primarily find Hardee's in the East and Midwest while Carl's Jr. restaurants are most frequently found in the West.
Carl's Jr. features a variety of burgers, breakfast offerings, and more. Some of Carl's Jr.'s most popular menu items include their signature Chicken Stars, the new El Diablo Burger, and the beloved Hand-Breaded Chicken Biscuit. Scroll through the full menu below and click here to start an order when you're ready!
Carl's Jr. Deals
Check out our Carl's Jr. Coupons and Promo Codes article to learn about the latest and greatest deals at Carl's Jr. Some current deals include BOGO Cinnamon Rolls, $3 Fried Zucchini and Onion Rings, and free Chicken Stars with a $20 purchase.
Carl's Jr. regularly updates their deals and discounts throughout the year. To stay up to date and ensure that you don't miss out on the savings, subscribe to the EatDrinkDeals newsletter. We'll do the research and you can stick to saving money and eating!
Carl's Jr. Menu and Prices
Disclaimer: The menu and prices listed above are based on research of sample locations and are provided for informational purposes only. Since prices and availability may vary by location, please consult your local Carl's Jr. menu for the latest details.