Get a coupon for $10 off $35 when you join the Rock Bottom Brewers Club.
CLICK HERE to enroll.
About Rock Bottom (from Wikipedia)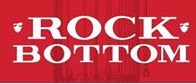 Craftworks CraftWorks Restaurants & Breweries, Inc. is a multi-brand restaurant operator headquartered in Broomfield, CO. The company owns several casual dining restaurant chains, most notably Old Chicago, Gordon Biersch Brewery Restaurants, and Rock Bottom Restaurants Breweries.
The company operates 30 breweries under the name Rock Bottom Restaurant & Brewery. These breweries are located in several states, with seven restaurants in Colorado, five in Illinois, three in California, two in Minnesota, and one restaurant each in Arizona, Florida, Indiana, Iowa, Maryland, Massachusetts, North Carolina, Ohio, Oregon, Pennsylvania, Tennessee, Virginia, and Wisconsin.
The store renamed itself to Rock Bottom after someone pointed out that they were "building at the bottom of the rock,".  At the time, Prudential owned that slogan. Rock Bottom Restaurants won Brewpub Group Brewer of the Year award at the 2013 Great American Beer Festival (GABF).