National Frozen Yogurt Day is Thursday, February 6, 2020.  Celebrate with free yogurt, BOGOs and other deals from these chains!  We include links to restaurant websites or emails so you can confirm the deal and find further information.  EatDrinkDeals does not post deals that cannot be verified from a source such as the restaurant website, social media account, or press release.
Email us at editor@eatdrinkdeals.com if we've missed any!
Do you want to have great deals like these emailed directly to you? Click here to sign up for our newsletter!
EatDrinkDeals Yogurt Day Deals, in Alphabetical Order
16 Handles
On February 6, 2020, get 3 free ounces of froyo, plus a $2.75 credit for a future visit through the end of February at 16 Handles. You'll need to get the 16 Handles app to get the deal.  Get the app on iOS here or Android here.
"National Frozen Yogurt Day is the perfect occasion to celebrate our favorite flavors and thank our customers for their loyalty," says CEO and founder Solomon Choi in this press release. "This year, we wanted to extend our celebration all month long by offering those who join us on National Fro-Yo Day even more loyalty-app credit."
16 Handles also announced the deal on Facebook.
Menchie's Frozen Yogurt
Menchie's Frozen Yogurt has a buy one, get one free deal on Frozen Yogurt Day from 3-7 pm.  Buy one frozen yogurt and get one of equal or lesser value free.  Menchie's announced the BOGO on their website and Facebook page.
* Offer valid at participating Menchie's stores on 2/6/20.  Cannot be combined with any other offers.
Red Mango
Red Mango is offering Fill Up Cups of frozen yogurt and toppings for only $5 all day on Frozen Yogurt Day.  The chain announced their Yogurt Day deal on the Red Mango Facebook Page.
SweetFrog
SweetFrog is giving Loyalty members a BOGO offer on February 6.  Click here to sign up to get the deal.  SweetFrog announced the BOGO on Facebook.
TCBY
TCBY is celebrating National Frozen Yogurt Day by giving out free 6 ounce cups of frozen yogurt. From opening to close, guests can join in on the celebration with the world's first frozen yogurt brand at participating TCBY locations.  TCBY announced the offer on their Facebook page.
* Free froyo up to 6 ounces.  One offer per person.  For self-serve stores, toppings are included in the 6 oz weight.  Customer to pay the difference if yogurt weighs more than 6 ounces.  At traditional over-the-counter stores, toppings are extra.
Yogurtland
On February 6, 2020 from 4-7 pm get free 5 oz cups of froyo (or ice cream!) to celebrate Frozen Yogurt Day. Yogurtland announced their Yogurt Day deal on the Yogurtland Facebook page and Yogurtland Free Yogurt website.
* In-store only at participating Yogurtland stores, while supplies last. Not valid for Drinkable Creations or cones.
Top 10 Froyo Chains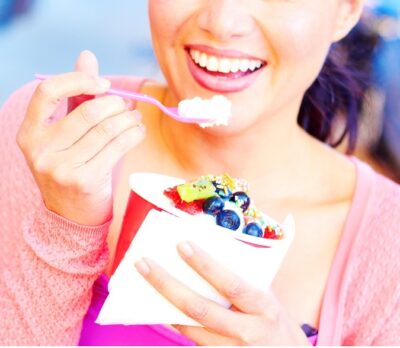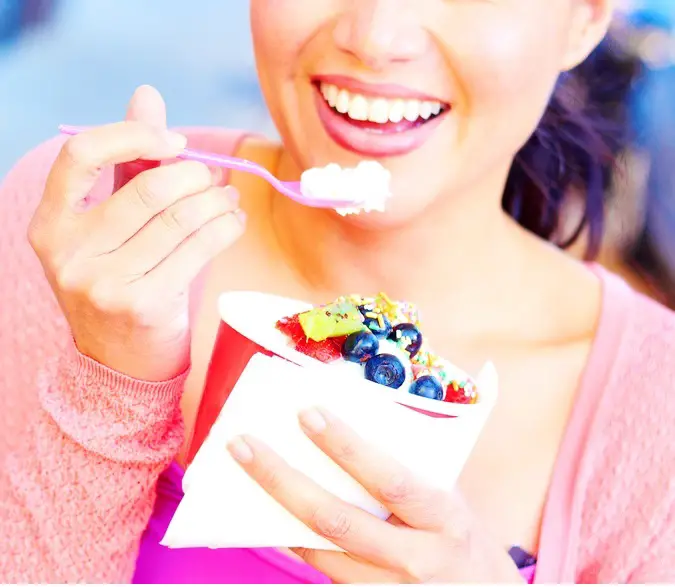 Here are the top 10 Froyo chains by number of locations in 2018, according to the International Frozen Yogurt Association:
MENCHIE'S: 506 locations

YOGEN FRUZ: 500 locations (most are outside the U.S.)

YOGURTLAND: 300 locations

SWEETFROG: 290 locations

PINKBERRY:  258 locations

LLAOLLAO: 227 locations (most are outside the U.S.)

TCBY: 220 locations

TUTTI FRUTTI:  219 locations

YOGORINO: 165 locations (most are outside the U.S.)

ORANGE LEAF: 131 locations
For more details see the Frozen Yogurt Association news page.
What's The Deal With Frozen Yogurt? (from Wikipedia)
Frozen yogurt, also known by the tradename "Froyo," is a frozen dessert made with yogurt and sometimes other dairy products. It varies from slightly to much more tart than ice cream, as well as being lower in fat (due to the use of milk instead of cream). It is different from ice milk (more recently termed low-fat or light ice cream) and conventional soft serve.
Frozen yogurt has come to be used much like ice cream, and is served in a wide variety of flavors and styles. Many companies allow customers the option of adding various toppings, or of ordering their frozen yogurt in cups or in cones. Certain sellers offer sugar-free varieties. Frozen yogurt made by some chains is tarter and closer to the original recipe, whereas other firms focus on making their frozen yogurt taste like ice cream.
Debates have arisen as to what the best flavor and topping combinations are. Because of this, a number of frozen yogurt stores offer customers the opportunity to serve themselves and experiment with several flavors and toppings. Some stores even have a board where you can write your favorite combos for all to see. Dieticians often recommend selecting healthy toppings when mixing and ordering frozen yogurt.