Ruth's Chris Steakhouse has a happy hour with specially priced drinks and menu items.
The Ruth's Chris Happy Hour – called Sizzle, Swizzle, Swirl – is offered at most of the high-end steakhouse chain's restaurants.  For a complete list of participating locations and a menu, visit:
The Sizzle and Swirl happy hour is offered only at the Ruth's Chris bar, not in the main restaurant.  Happy Hour times vary by location, but common times are 4:00 – 6:00 every day but Saturday. Some locations have extended Happy Hours during the holidays.
Food items on a typical happy hour menu start at about $11 and include (as of October 2022):
PRIME CHEESEBURGER WITH FRIES:  A juicy, USDA Prime burger broiled to perfection, topped with lettuce, tomato, and onion, and choice of cheese.  Serrved with hand-cut seasoned fries.

TUNA STACK:  Ahi Tuna, soy ginger sesame sauce, avocado, English cucumber salad.

STEAK SANDWICH: Sliced filet, béarnaise sauce, garlic bread, fries.

SPICY SHRIMP: Tender shrimp lightly fried and tossed in a spicy cream sauce.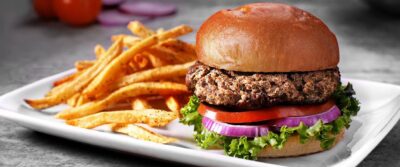 Drink specials include a Raspberry Cosmo, Pomegranate Martini, and Ruth's Manhattan.
*Sizzle Swizzle Swirl Happy Hour times and offerings are subject to change to comply with local or state liquor laws, and may vary by location. Food offered as part of the Sizzle Swizzle Swirl Happy Hour is only available in the bar. Sizzle Swizzle Swirl Happy Hour is dine-in only and available for a limited time. This advertisement is not intended for residents of AR, IN, MA, MO, OK, OR, UT, VA, Fresno, CA, Atlanta & Kennesaw, GA, and Jacksonville, FL or where prohibited by law. Sizzle Swizzle Swirl not offered in Cherokee, NC location.