Ruth's Chris Steakhouse has a happy hour with specially priced drinks and menu items.
The Ruth's Chris Happy Hour – called Sizzle, Swizzle, Swirl – is offered at most of the high-end steakhouse chain's restaurants.  For a complete list of participating locations and a menu, see the Ruth's Chris Promotions page and click on Happy Hour.
The Sizzle and Swirl happy hour is offered only at the Ruth's Chris bar.  Happy Hour times vary by location, but common times are 4:00 – 7:00 every day but Sunday. Some locations have extended Happy Hours during the holidays.
Food items on a typical happy hour menu start at $9 and include (as of October 2019):
PRIME BURGER WITH FRIES:  A juicy, USDA Prime burger broiled to perfection, topped with lettuce, tomato, and onion, and served with hand-cut seasoned fries.

ROASTED ARTISAN CHICKEN SANDWICH: Cilantro marinated chicken breast, brie cheese , curry peach compote, served with a fresh berry and arugula salad.

STEAK SANDWICH WITH FRIES: Generous slices of tenderloin finished with house-made béarnaise sauce and served on a fresh-baked roll with hand-cut seasoned fries.

SEARED AHI TUNA: Blackened slices of sushi grade Ahi complemented by a spirited sauce with hints of ginger, mustard and beer.

SPICY SHRIMP: Tender shrimp lightly fried and tossed in a spicy cream sauce.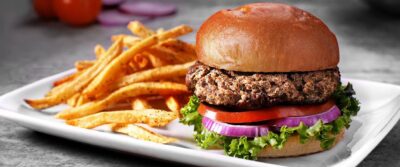 Drink specials include a Classic Cosmo, Pomegranate Martini, and Ruth's Manhattan.
*Ruth's Chris Happy Hour Terms: Sizzle Swizzle Swirl Happy Hour times and offerings are subject to change to comply with local or state liquor laws, and may vary by location. Food offered as part of the Sizzle Swizzle Swirl Happy Hour is only available in the bar. Sizzle Swizzle Swirl Happy Hour is dine-in only and available for a limited time.
About Ruth's Chris Steak House (from Wikipedia)
Ruth's Chris Steak House has over 130 domestic locations. The restaurant is regarded as an upscale fine dining establishment, marking a gradual elevation in its status since its founding in 1965. Ruth's Chris is currently the largest luxury steakhouse company in number of locations, operating income, and overall profit, larger than The Palm and Morton's.

Ruth's Chris Menu
The restaurant's signature is serving USDA prime steaks that are seared at 1800° Fahrenheit (982.2 °C) and served on ceramic plates heated to 500° Fahrenheit (260.0 °C). Half an ounce (1 Tbsp) of butter is added just before the plates leave the kitchen in order to create the signature 'sizzle'.  Founder Ruth Fertel firmly believed that the success of her steaks was due as much to the sound and smell of the 'sizzle' as well as the taste.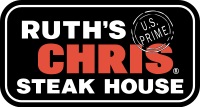 In addition to steaks, the restaurant also serves entrees of chicken, lamb, fish, shrimp and lobster.
Portions generally are large enough to serve two or more diners. Family style side dishes include au gratin potatoes, topped with a bechamel sauce and Cheddar cheese. Some recipes, such as the BBQ shrimp, New Orleans style creamed spinach or the sweet potato casserole, are traditional 19th century Louisiana recipes that originate with Ruth Fertel's family, particularly her great-uncle Martin, a Louisiana Delta farmer from a French-Alsatian family.
Also available are dessert selections, with the restaurant's signature creme brulee being a staple item throughout the chain.
Ruth's Chris Beverages
The award-winning wine list includes over 200 wines, primarily from leading Californian vineyards such as Mondavi, Beringer and Stag's Leap. 25 or more wines are available by the glass, depending on location.
The seasonal vintage-inspired cocktail selection, introduced in 2011 by Beverage Director Helen Mackey, includes both classic and contemporary hand-crafted cocktails.