IKEA Family members can enjoy special IKEA Restaurant offers every Monday through Thursday at most locations.  The IKEA Restaurant deals include:
Monday: Meatless Monday. Veggie & Plant Ball plates, $3
Tuesday – Thursday: (M)eatball Happy Hour. 3-5pm $2 off (m)eatball plates
Tuesday: Spend $20 in the Restaurant and get 20% off in the Swedish Food Market
Wednesday: Two kides entree free with purchase of adult entrée
Thursday: Buy one entrée, get a second of equal or lesser value 50% off
IKEA Family members get free UTZ certified coffee in the IKEA Restaurant- all day, every day.
IKEA also has regular specials like $2.99 kids meals.  For more details see the
IKEA Foods Page.
*IKEA Family Restaurant offers
*Valid in the U.S. at IKEA Restaurants only. Not valid in locations without Restaurants. Offers are as follows: 1) Tuesdays through Thursdays, all meatball plates are $2 off from 3 – 5 PM local time; 2) Mondays, all plant ball and veggie ball plates are $3.00 plus tax; 3) Tuesdays, spend $20.00 (pre-tax) in the Restaurant and receive 20% off your purchase in the Swedish Food Market on the same day only (coupon to be provided by Restaurant cashier); 4) Wednesdays, all kids meals are 50% off when you purchase an adult entrée (maximum of 2 kids meals per adult meal purchased); and 5) Thursdays, buy one entrée and get a second entrée of equal or lesser value for 50% off. Not valid online. Discount applied pre-tax at register. Other restrictions may apply. See store for details. Visit IKEA-USA.com to find your local IKEA Restaurant and check hours.© Inter IKEA Systems B.V. 2022.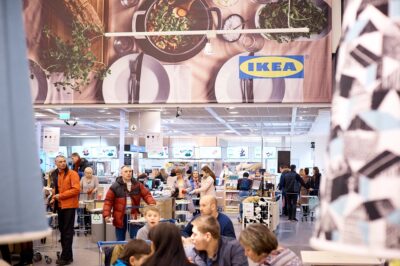 IKEA (/aɪˈkiːə/; Swedish: [ɪˈkeːˈa]) is a multinational group of companies that designs and sells ready-to-assemble furniture (such as beds, chairs and desks), appliances and home accessories. As of January 2008, it is the world's largest furniture retailer.
The company is known for its modern architectural designs for various types of appliances and furniture, and its interior design work is often associated with an eco-friendly simplicity.
As of September 2016, IKEA owns and operates 389 stores in 48 countries.
Every store includes a restaurant serving traditional Swedish food, including potatoes with Swedish meatballs, cream sauce and lingonberry jam, although there are variations. Besides these Swedish foods, hot dogs and drinks are also sold, along with a few varieties of the local cuisine, and beverages such as lingonberry juice.  Also items such as prinsesstårta (princess cake) are sold as desserts.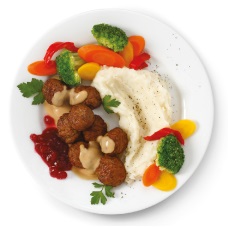 IKEA Menu