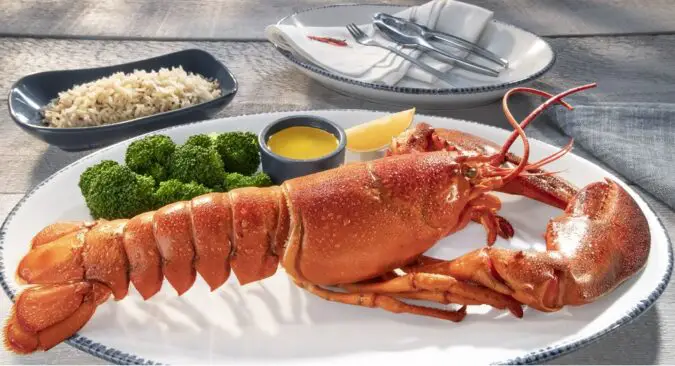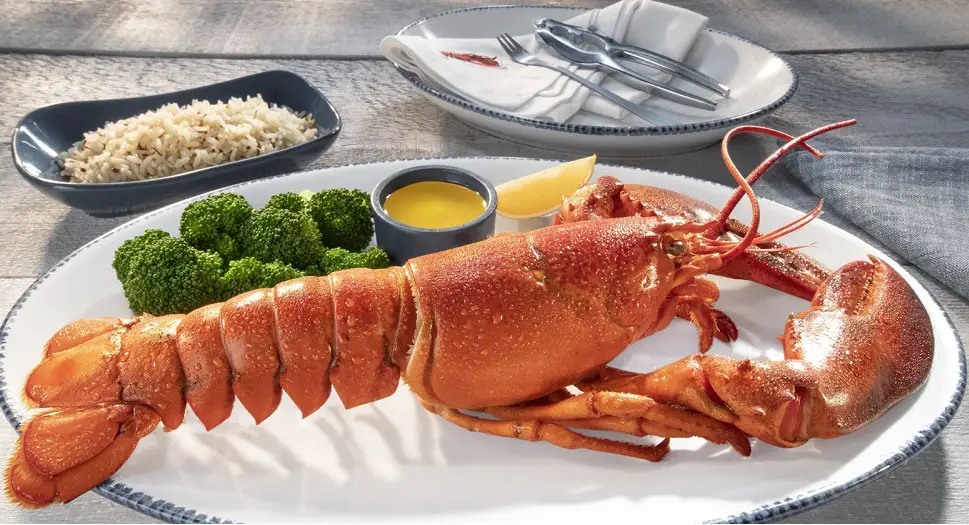 Get lobster specials at Red Lobster, The Palm and more places as restaurants celebrate National Lobster Day on Wednesday, September 25, 2019.
Red Lobster $19.99 Special
Red Lobster has a 1¼lb lobster for just $19.99* on Lobster Day.
The special is available for dine-in or to-go.  Red Lobster announced the one-day lobster special on Facebook.
In addition to the lobster deal, Red Lobster is running its annual Endless Shrimp promotion.
To learn more, please visit http://www.redlobster.com or find Red Lobster on Facebook or Twitter.  For your nearest Red Lobster, see: Red Lobster Locations
*Available while supplies last. Not available in HI, NY Times Square, Guam, PR or Canada. Not available for third-party delivery.
Three-Pound Lobster at The Palm
Get a three-pound lobster for $69 at The Palm on Lobster Day.
The giant Nova Scotia lobster is served a la carte while supplies last on September 25, 2019.  The Palm announced the one-day special on Facebook.
*Offer only valid on September 25th, 2019. Only available on 3 pound lobsters and served a la carte. Available while supplies last at all Palm Restaurant locations, excluding Mexico City, and The Palm Bar & Grille at JFK Airport. *Denotes price does not include beverage, tax, or gratuity. Cannot be combined with any other offer or promotion, including 837 Club certificates. No substitutions. Dine in only.
Fleming's $55 Steak and Lobster
Although not specifically for Lobster Day, Fleming's Prime Steakhouse and Wine Bar has a Fall Steak and Lobster dinner special for $55.
Get a North Atlantic Lobster Tail with an 8 oz Petite Filet Mignon for $55.  Or upgrade to an 11 oz Filet for $62, or a 14 oz Ribeye for $65.*
The dinner, available every day through October 21, 2019, also comes with a first course of salad and a dessert.
*Offer not available at Fleming's in Santa Clara, CA; Newport Beach, CA; El Segundo, CA; and Rancho Cucamonga, CA. Offer available through October 21. Excludes tax, gratuity and beverages. Prices, participation and menus may vary due to local selections. Fleming's abides by all state and local liquor laws.
For more details see: Fleming's Steak and Lobster Promotion.  You can find a sample menu at: Steak and Lobster Menu
More Seafood Specials
Seafood lovers might also use the occasion to take advantage of these Shrimp specials:
Bonefish Bang Wednesday
Bonefish Grill has a "Bang Wednesday" special every week with Bang Bang Shrimp for just $7.  Every Wednesday from 4 PM to close, get Bang Bang Shrimp for $7.  Regular price is about $12.  Get crispy shrimp, tossed in a creamy, spicy sauce.
Good for a limited time.  More details on the Bonefish Bang Wednesday website.
LongHorn Coupon: $5 Shrimp
Get a shrimp appetizer for $5 with this LongHorn Steakhouse coupon good today through Thursday, September 26, 2019.
CLICK HERE for your LongHorn Steakhouse coupon.   Good for a Wild West Shrimp Appetizer for $5. Regular price is about $11.  The steakhouse chain announced the coupon in This Email.
LongHorn coupons must be printed and given to your server. See coupon for other details.
McCormick & Schmick's $1 Shrimp & Shuck
McCormick & Schmick's has a $1 Shrimp & Shuck" special on Wednesdays at select locations.  Get oysters or shrimp for $1 each.
Good starting at  5 pm in the bar area.  Visit the McCormick & Schmick's Shrimp & Shuck website for more details and to find out whether your location participates in the seafood special.
Outback Unlimited Shrimp
Outback Steakhouse has a Steak and Unlimited Shrimp special.
Get a 6 oz. Outback Sirloin and all the shrimp you can eat for $16.99*.  You can also add unlimited Crispy or Garlic Herb Butter Shrimp to any entrée for about $10.
Choose from crispy shrimp or garlic herb butter shrimp.  You can also get your choice of two sides instead of just one like last year.    Steak and Unlimited Shrimp began on Thursday, August 15, 2019.  The annual special typically runs until mid-November.
For more information on Outback Endless Shrimp, visit the Outback Specials Page, Outback Facebook page.