Red Lobster's Create Your Own Ultimate Feast is back starting today, Monday, November 18, 2019.
The annual promotion gives you a feast of four seafood items that you can pick from 10 selections.  Selections include the new Butter-Poached Maine Lobster Meat and Crab-Stuffed Shrimp Rangoon, and classic favorites such as Garlic Shrimp Scampi and  Snow Crab Legs.
Create Your Own Ultimate Feast is priced at $29.99; priced higher at some locations.
Guests create their own seafood feast with four seafood selections from three different categories, including one Lobster item, one Seafood Favorite and two Shrimp Classics. To complement the meal, guests will receive their choice of salad, side, and unlimited Cheddar Bay Biscuits.
This year's Create Your Own Ultimate Feast selections include these categories:
Lobster: Classic Maine Lobster Tail, Lobster Mac and Cheese and new Butter-Poached Maine Lobster Meat
Seafood Favorites: Wild-Caught Snow Crab Legs, Wood-Grilled Sea Scallops and Wood-Grilled Sirloin
Shrimp Classics: Walt's Favorite Shrimp, new Crab-Stuffed Shrimp Rangoon, Garlic Shrimp Scampi, Wood-Grilled Jumbo Shrimp Skewer and Parrot Isle Jumbo Coconut Shrimp.
You get to pick one selection from the Lobster category, one from Seafood Favorites, and two from Shrimp Classics.
"Last year our guests loved being able to design their own customized plate featuring a combination of freshly prepared seafood, which is why we're so excited to be bringing back Create Your Own Ultimate Feast for the second year in a row," said Chef Dustin Hilinski, Executive Chef and Director of Culinary at Red Lobster.
"This year's menu offers festive preparations for the holiday season, like our new Crab-Stuffed Shrimp Rangoon. Fried to perfection and served with a sweet chili sauce – it's the perfect balance of sweet and savory!"
For the complete menu and more details see the Red Lobster Specials Page.
The new special replaces Red Lobster's Endless Shrimp which ran September 2 – November 17, 2019 and Crabfest which ran June 30 – September 1, 2019.
For more Red Lobster specials, see our Red Lobster specials article.
Red Lobster Rewards App
To earn points and redeem tasty rewards, place a to-go order or put your name on the waitlist, sign up for Red Lobster's app-based loyalty program, My Red Lobster Rewards. The free app is available for  IOS and ANDROID. To view the complete Red Lobster menu, find a restaurant location or to join the FRESH CATCH NEWS, visit Red Lobster's WEBSITE.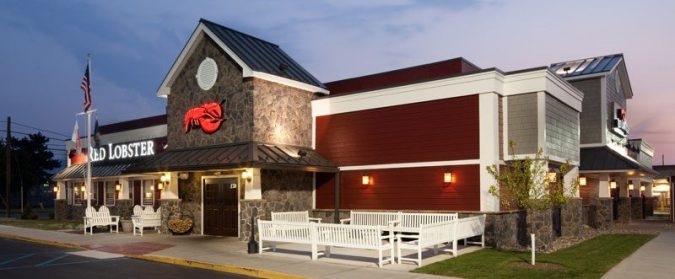 About Red Lobster (from Wikipedia)
Red Lobster was founded in 1968 by entrepreneur Bill Darden and Charley Woodsby. Originally billed as a "Harbor for Seafood Lovers", the original restaurant in Lakeland, Florida was followed by several others throughout the Southeast. General Mills acquired Red Lobster in 1970 as a five-unit restaurant company. The chain expanded rapidly in the 1980s.
Today, there are nearly 700 Red Lobster locations throughout the United States.
Red Lobster Biscuits
You can find Red Lobster's Cheddar Bay biscuit mix at Walmart, Sam's Club and most grocery stores. For questions call Continental Mills at 800-457-7744.