Red Lobster has added new secret menu items to their Endless Shrimp promotion starting on September 30.  Guests in the know can order Crunchy Popcorn Shrimp, Coconut Shrimp Bites and Garlic-Grilled Shrimp Skewers as part of their Endless Shrimp order.  Also, Red Lobster has introduced Nashville Hot Shrimp to the secret menu and available for Endless Shrimp.
The Nashville Hot Shrimp features crispy, corn-flake-crusted shrimp tossed in a sweet and spicy rub and drizzled with amber honey.  Here's the Red Lobster email announcement.
Endless Shrimp is Red Lobster's most popular promotion and is priced at $15.99 this year.*
For those new to Endless Shrimp, here's how it works: Pick two of your favorites from five shrimp preparations, featuring flavors such as Crispy Sriracha Honey Shrimp and Teriyaki-Grilled Shrimp, as well as Red Lobster classics like Garlic Shrimp Scampi, Shrimp Linguini Alfredo and Hand-Breaded Shrimp.  Next, order additional shrimp dishes one at a time.  For the menu and more details see the Red Lobster Endless Shrimp Page.
The annual special officially began on Monday, September 2, 2019.  Red Lobster gave members of its free app-based loyalty program, My Red Lobster Rewards, a sneak peek starting last Friday.
For more details on this and other Red Lobster specials, see our Red Lobster specials article.  Endless Shrimp replaces Red Lobster's Crabfest special which ran June 30 – September 1, 2019.
*For a limited time. Prices higher in NY Times Square, HI and CAN. PR & Guam excluded. Guests ordering To Go and delivery from RedLobster.com may pick up to four orders of shrimp in any combination of flavors offered. Third party delivery excluded.
Red Lobster Rewards App
To earn points and redeem tasty rewards, place a to-go order or put your name on the waitlist, sign up for Red Lobster's app-based loyalty program, My Red Lobster Rewards. The free app is available for  IOS and ANDROID. To view the complete Red Lobster menu, find a restaurant location or to join the FRESH CATCH NEWS, visit Red Lobster's WEBSITE.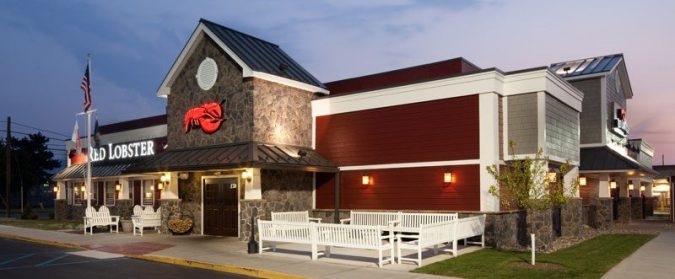 About Red Lobster (from Wikipedia)
Red Lobster was founded in 1968 by entrepreneur Bill Darden and Charley Woodsby. Originally billed as a "Harbor for Seafood Lovers", the original restaurant in Lakeland, Florida was followed by several others throughout the Southeast. General Mills acquired Red Lobster in 1970 as a five-unit restaurant company. The chain expanded rapidly in the 1980s.
Today, there are nearly 700 Red Lobster locations throughout the United States.
Red Lobster Biscuits
You can find Red Lobster's Cheddar Bay biscuit mix at Walmart, Sam's Club and most grocery stores. For questions call Continental Mills at 800-457-7744.