Get Endless Shrimp at Red Lobster for only $17.99 all day Monday – Thursday for a limited time!  Red Lobster has had this deal for a while now, but only on Mondays.  Now you get more chances to stuff yourself with seafood!  Red Lobster posted the news online.  For dine-in orders, pick two of four varieties of shrimp, and when you want more, just ask.  You can get this offer to-go, as well.  For takeout, you can mix and match up to four helpings in any of the four ways they're prepared.
Red Lobster Weekday Specials
Red Lobster's got daily specials every day Monday – Friday, including Endless Shrimp on Mondays for $17.99!  Some deals are available for dine-in only, while others can be had via the takeout or delivey route, as long as you order directly from Redlobster.com.  The weekday deals are as follows:
Ultimate Endless Shrimp Monday – $17.99 for all you can eat shrimp and choice of side.  Shrimp options are Parrot Isle Jumbo Coconut Shrimp, Walt's Favorite Shrimp, Garlic Shrimp Scampi, and Wood-Grilled Shrimp Skewers.  Valid for dine-in, to-go and delivery.  If you get the deal for to-go or delivery, you can get up to four orders of the shrimp entrees.
Two for Tuesday – $41.99 for two Mariner's Feasts, with choice of two sides each.  Valid for dine-in, to-go and delivery.
Steak and Lobster Wednesday – $20.99 for a wild-caught lobster tail, 7 oz sirloin steak and two sides.  Dine-in only.
Throwback Thursday – $12.99 for Walt's Favorite Shrimp, two sides and fountain beverage or iced tea.  Dine-in only.
Fish Fry Friday – $11.99 for hand-battered, wild caught cod, fries, and coleslaw.  Valid for dine-in, to-go and delivery.
Red Lobster posted the weekday deals on their website, and on Twitter.
Red Lobster's Signature Feasts
Red Lobster recently introduced a brand new signature feast to their menu. The Ultimate Feast and Ultimate Surf and Turf have been favorites for a while, and the chain decided to expand on their success with the brand new Mariner's Feast. They will also be bringing back the Sea Farer's Feast and the Harborside Lobster and Shrimp. In addition to these five options, you can also order the Seaside Shrimp Trio, the Admiral's Feast and more.
Reb Lobster's Under $20 Menu
Red Lobster's unveiled a new Under $20 Menu available for a limited time with new dishes like the Baja Shrimp Bowl and old favorites like Parrot Isle Jumbo Coconut Shrimp.  Here's the full set of items available:
Crispy Cod Sandwich
Nashville Hot Chicken Sandwich
Wagyu Bacon Cheeseburger
Baja Shrimp Bowl
Sesame-Soy Salmon Bowl
Kung Pao Noodles with Crispy Shrimp
Hand-Breaded Chicken Tenders
Bacon-Wrapped Sea Scallops
Parrot Isle Jumbo Coconut Shrimp
Grilled Shrimp Skewers
Walt's Fried Shrimp
Fish & Chips
Rainbow Trout Dinner
7 oz. Sirloin
For full details and specific pricing info, visit the Red Lobster Under $20 Menu page here.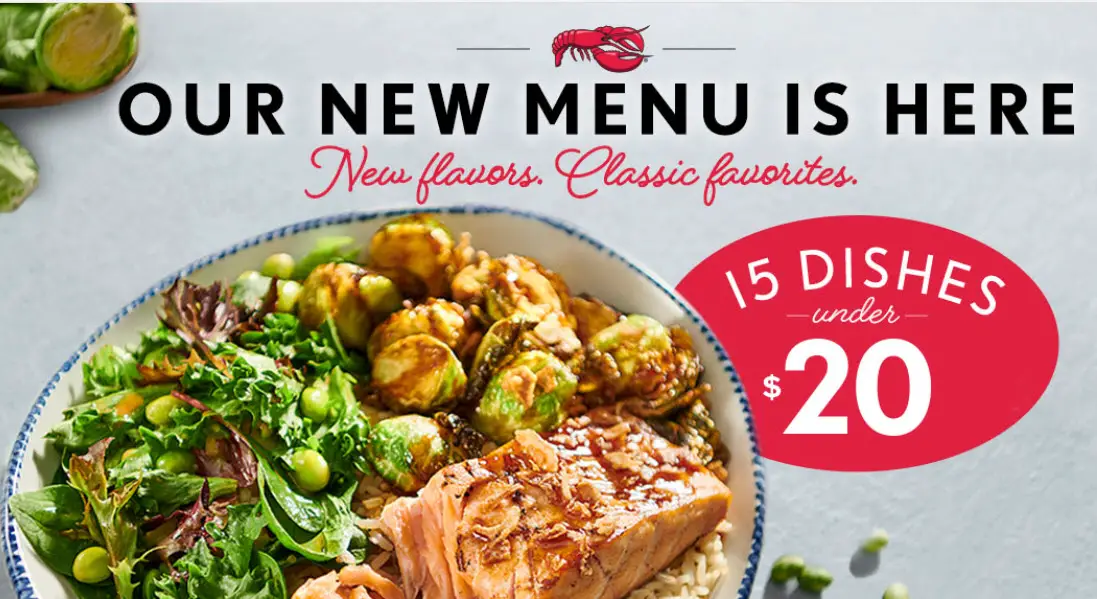 More from EatDrinkDeals
Want to get info on other deals, discounts, coupons and specials from your favorite restaurants?  Click here to see the latest and greatest from EatDrinkDeals!
Red Lobster Email Coupon
Sign up for the Red Lobster email club and receive a coupon for a free appetizer or dessert.  Coupon requires the purchase of two adult entrees.  CLICK HERE to get more details and enroll in the Fresh Catch News.
Rewards App
To earn points and redeem tasty rewards, place a to-go order or put your name on the waitlist, sign up for Red Lobster's app-based loyalty program, My Red Lobster Rewards. The free app is available for  IOS and ANDROID. To view the complete Red Lobster menu, find a restaurant location or to join the FRESH CATCH NEWS, visit Red Lobster's WEBSITE.
Red Lobster Menu
Red Lobster has a wide variety of seafood options available, such as shrimp, crab legs, scallops, fish, and lobster, of course!  If you're not a seafood lover and you're just going along with the group for a meal, don't worry.  There's plenty of options for land lubbers food, too.  Red Lobster serves a variety of steaks, chicken, and pastas to satisfy that crowd.  One of Red Lobster's signature menu items actually comes with every dine-in meal, and most of the to-go ones – the famous Cheddar Bay Biscuits have been a hit with customers for decades.  Click here to view the Red Lobster menu on its website.
Red Lobster Near Me
Red Lobster is one of the largest full service restaurant chains in the country, with over 700 locations.  You can find a Red Lobster location near you at: Red Lobster Near Me
Red Lobster Hours
Red Lobsters are open daily for lunch and dinner.  Typical hours are from 11:30 AM – 11 PM, however due to the pandemic many evening hours have been reduced to close at 8:30 or 9 PM.  To find the hours, address and more details for your Red Lobster, select your location from: Red Lobster Near Me
Red Lobster Delivery
Red Lobster offers delivery directly through its website.  While other third-party delivery companies will deliver Red Lobster too, we recommend going straight through the website, as many offers and discounts aren't available through the other companies.  Usually there is a delivery fee of $4.99, but delivery is free during special promotions. To start a Red Lobster delivery order, click here for the Red Lobster Delivery page.
You can also place a delivery order through the Red Lobster App.
Red Lobster Nutrition
Red Lobster doesn't list nutritional and food allergen information in an easy to find spot on their website.  That's due to the handcrafted nature menu items and the inherent size variations of seafood.  Nutritional content can vary, but click here to view a detailed Red Lobster Nutritional Information chart to give you an idea of what to expect.
More Restaurant Daily Deals
Daily deals for all days of the week can be found here:
For more daily and weekly restaurant specials like these, see:  Restaurant Daily Deals
If you're an AARP member, you can get every day discounts at Denny's, McCormick & Schmick's, Outback and more places.  You can find all the details in our story, AARP Dining Discounts.
Also, many restaurant chains such as Bob Evans, Outback Steakhouse, Zoe's Kitchen and more offer discounts to the active military and veterans.  Here's the EatDrinkDeals roundup, Restaurant Military and Veterans Discounts.