Red Lobster has Family Meals to feed a group of 4 available for takeout or delivery.
It ain't Lobsterfest, but we'll take what we can get.  Get a Family Meal from Red Lobster starting at $26.99 that feeds 4 people for a limited time!  Here are your choices:  Wild-Caught Whitefish (Golden-Fried), Wood-Grilled Sirloin, Garlic Shrimp Scampi, Parrot Isle Jumbo Coconut Shrimp, Walt's Favorite Shrimp, Chicken Breast Strips, Crunchy Popcorn Shrimp, and Linguini Alfredo (with Shrimp, Crab or Cajun Chicken).  Everything except the Linguini comes with two Family Sized Sides – choose from Rice, Broccoli, Baked Potatoes, and Mashed Potatoes.  Plus every Family Meal comes with 8 Cheddar Bay Biscuits!  Click here to see the full Family Meal Deals menu options from the Red Lobster website.  Prices may vary by location, but on the low end are $26.99 for Chicken or Shrimp Linguini Alfredo and $45.99 for the 7 oz Sirloins.
Red Lobster posted the Family Meal Deals on Facebook.
More from EatDrinkDeals
Want to get info on other deals, discounts, coupons and specials from your favorite restaurants?  Click here to see the latest and greatest from EatDrinkDeals!
Red Lobster Email Coupon
Sign up for the Red Lobster email club and receive a coupon for a free appetizer or dessert.  Coupon requires the purchase of two adult entrees.  CLICK HERE to get more details and enroll in the Fresh Catch News.
Rewards App
To earn points and redeem tasty rewards, place a to-go order or put your name on the waitlist, sign up for Red Lobster's app-based loyalty program, My Red Lobster Rewards. The free app is available for  IOS and ANDROID. To view the complete Red Lobster menu, find a restaurant location or to join the FRESH CATCH NEWS, visit Red Lobster's WEBSITE.
Red Lobster Menu
Red Lobster has a wide variety of seafood options available, such as shrimp, crab legs, scallops, fish, and lobster, of course!  If you're not a seafood lover and you're just going along with the group for a meal, don't worry.  There's plenty of options for land lubbers food, too.  Red Lobster serves a variety of steaks, chicken, and pastas to satisfy that crowd.  One of Red Lobster's signature menu items actually comes with every dine-in meal, and most of the to-go ones – the famous Cheddar Bay Biscuits have been a hit with customers for decades.  Click here to view the Red Lobster menu on its website.
Red Lobster Near Me
Red Lobster is one of the largest full service restaurant chains in the country, with over 700 locations.  You can find a Red Lobster location near you at: Red Lobster Near Me
Red Lobster Hours
Red Lobsters are open daily for lunch and dinner.  Typical hours are from 11:30 AM – 11 PM, however due to the pandemic many evening hours have been reduced to close at 8:30 or 9 PM.  To find the hours, address and more details for your Red Lobster, select your location from: Red Lobster Near Me
Red Lobster Delivery
Red Lobster offers delivery directly through its website.  While other third-party delivery companies will deliver Red Lobster too, we recommend going straight through the website, as many offers and discounts aren't available through the other companies.  Usually there is a delivery fee of $4.99, but delivery is free during special promotions. To start a Red Lobster delivery order, click here for the Red Lobster Delivery page.
You can also place a delivery order through the Red Lobster App.
Red Lobster Nutrition
Red Lobster doesn't list nutritional and food allergen information in an easy to find spot on their website.  That's due to the handcrafted nature menu items and the inherent size variations of seafood.  Nutritional content can vary, but click here to view a detailed Red Lobster Nutritional Information chart to give you an idea of what to expect.
About Red Lobster (from Wikipedia)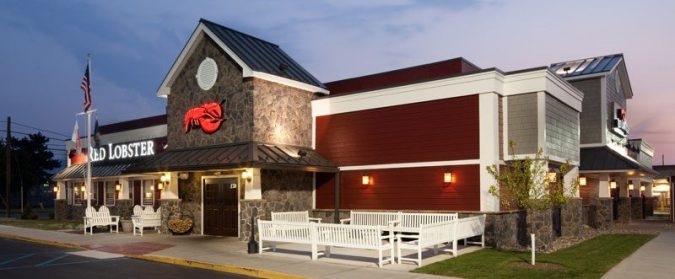 Red Lobster was founded in 1968 by entrepreneur Bill Darden and Charley Woodsby. General Mills acquired Red Lobster in 1970 as a five-unit restaurant company. The chain expanded rapidly in the 1980s.
In 1995, Red Lobster (along with Olive Garden and other sister chains) became part of Darden Restaurants, which was spun off from General Mills as an independent, publicly traded corporation. Today, there are nearly 700 Red Lobster locations throughout the United States.