Lobsterfest is back at Red Lobster for a limited time with some old favorites, plus some newcomers.  Enjoy Lobster & Chips, New England Lobster and Seafood Bake, and more.  Red Lobster announced the return of the fan-favorite on Facebook.
Here's the full menu along with prices at a typical location:
Lobster Lover's Dream for $36.99: A rock lobster tail, a butter-poached Maine lobster tail, plus lobster-and-shrimp linguini Alfredo. Served with choice of sides. We hope you like lobster!
New England Lobster & Seafood Bake (NEW) for $35.99:  Petite Maine lobster tails, Dungeness crab, jumbo shrimp, mussels, smoked sausage, corn and potato wedges all baked in a garlic white wine sauce.
Ultimate Lobsterfest Surf and Turf (NEW) for $35.99:  A combo of Maine lobster and filet medallions on a skewer paired with a smashed potato that's topped with cheese, Maine lobster meat, and a lobster cream sauce. Served with choice of sides.
Lobster & Chips (NEW) for $19.99:  The value option of the lineup is a deep fried petite Maine lobster tail, served with fries and coleslaw.  For those who don't want to go whole hog on the lobster!
Chilled Lobster Claw and Shrimp Cocktail (NEW) for $14.99:  Chilled Maine lobster claws and jumbo shrimp served with cocktail sauce.  A great appetizer to get the party going!
Prices may vary by location; typical prices are shown.  There's a couple of Lobsterfest-themed cocktails available too, if you're so inclined.  For the complete menu and more details see the Red Lobster Specials Page.
Red Lobster Weekday Menu Specials
Red Lobster has a Weekday Win menu with Endless Shrimp and seafood feasts for $15.
Guests who visit their local Red Lobster restaurant Monday through Friday between 11 a.m. and 6 p.m. can take advantage of these Weekday Win Specials:
Red Lobster announced the Weekday Win Dining Deals on their Specials Page.  You can find the complete Early Dining menu at:  Red Lobster Weekday Win.
Red Lobster Happy Hour
Red Lobster has $6 shrimp and pizza appetizers, $4 draft beers, $5 house wines, and $6 premium well drinks on the Red Lobster Happy Hour menu.
The Red Lobster Happy Hour is Monday – Thursday from 3-6 pm at participating locations.  For more details see the Red Lobster Happy Hour Page.  Here are the current (as of October 2019) Red Lobster Happy Hour deals; prices shown are typical prices, prices may vary based on location.
$4 Draft Beers
$6 Premium Well Drinks
Red Lobster Email Coupon
Sign up for the Red Lobster email club and receive a coupon for a free appetizer or dessert.  Coupon requires the purchase of two adult entrees.  CLICK HERE to get more details and enroll in the Fresh Catch News.
Rewards App
To earn points and redeem tasty rewards, place a to-go order or put your name on the waitlist, sign up for Red Lobster's app-based loyalty program, My Red Lobster Rewards. The free app is available for  IOS and ANDROID. To view the complete Red Lobster menu, find a restaurant location or to join the FRESH CATCH NEWS, visit Red Lobster's WEBSITE.
About Red Lobster (from Wikipedia)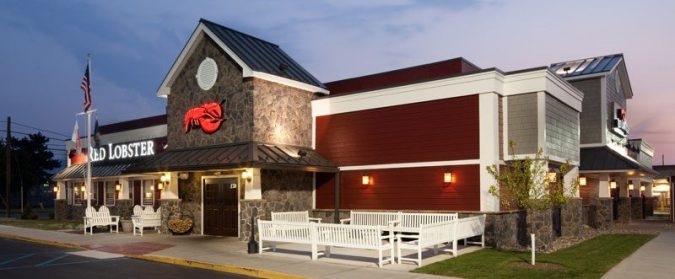 Red Lobster was founded in 1968 by entrepreneur Bill Darden and Charley Woodsby. General Mills acquired Red Lobster in 1970 as a five-unit restaurant company. The chain expanded rapidly in the 1980s.
In 1995, Red Lobster (along with Olive Garden and other sister chains) became part of Darden Restaurants, which was spun off from General Mills as an independent, publicly traded corporation. Today, there are nearly 700 Red Lobster locations throughout the United States.
Red Lobster Menu
To see the Red Lobster menus you need to select your location first at  https://www.redlobster.com/locations/  and then click "View Menu".