Red Lobster's Crabfest celebration is on now through September 1, 2019, with prices starting at $15.99.
Get Crab Imperial for $15.99, a pound of Snow Crab legs for $19.99, and seven other dishes during the special, which is July 1 – September 1, 2019.
Here are the featured dishes for Crabfest with typical prices; prices may be higher in some locations.
Starting NOW, get our NEW! Crab Imperial for just $15.99, and 1lb of Wild-Caught Snow Crab for just $19.99*! Only during #Crabfest

*Choose Dungeness or Bairdi for $5.00 more pic.twitter.com/O1LwWGUpqP

— Red Lobster (@redlobster) August 11, 2019
Ultimate Crabfest Trio – this new entree features three types of crab – premium King, sweet Bairdi and tender Dungeness Crab – all wild-caught and served with your choice of side. $33.99
Crab Lover's Dream – this returning favorite features wild-caught King Crab, Snow Crab, signature Crab Linguini Alfredo and your choice of side. $29.99
Crabfest Surf & Turf – this new entree features rich and creamy Crab-and-Seafood Imperial, paired with a Crab-Parmesan-topped wood-grilled sirloin. Served with mash potatoes and your choice of side. Price varies.
Crab Imperial and Shrimp – this new offering features rich Crab-and-Seafood Imperial baked in scallop shells, paired with garlic-grilled shrimp. Served with rice and your choice of side. $19.99
Crab Imperial – this new entree features creamy Crab-and-Seafood Imperial, baked in scallop shells, topped with toasted panko crumbs, and served with rice and your choice of side. $15.99
Crab Imperial and Crab-Topped Salmon – this new entree includes Crab-and-Seafood Imperial with Atlantic Salmon, topped with creamy Crab-Parmesan sauce. Served with rice and your choice of side. $25.99
Crab Linguini Alfredo – this Crabfest classic features sweet, tender crabmeat and creamy garlic Parmesan sauce, served over linguini. $20.49
Crabfest Mixed Grill – this new entree  features Atlantic Salmon topped with a creamy Crab-Parmesan sauce, garlic-grilled shrimp and sea scallops. Served with rice and your choice of side. $26.99
Wild-Caught Snow Crab Dinner –  Premium, wild-caught tender Snow Crab legs, served with your choice of two sides. $19.99
"This year's Crabfest lineup features six new craveable combinations that allow our guests to explore crab in a variety of ways, from crab legs to crab topped salmon and shrimp, there's something for everyone," said Chef Dustin Hilinski, Executive Chef and Director of Culinary at Red Lobster. "What makes this year even more special is we get to welcome back guests-favorite Bairdi crab to the menu and offer guests a special dish inspired by the Deadliest CatchCaptains – it's truly the celebration of everything crab."
During this event, Red Lobster is offering two new specialty cocktails:
Tito's Strawberry Lemonade – Tito's Handmade vodka mixed with Red Lobster's hand-crafted strawberry lemonade.
Tropical Treasure – Martell VSSD cognac, Malibu coconut rum and pina colada mix, shaken with pineapple and orange juices.
For more details on this and other Red Lobster specials, see the Red Lobster specials page.  Crabfest replaces Red Lobster's Cedar-Plank Seafood special which ran April 22 – June 30, 2019.
Red Lobster App
To earn points and redeem tasty rewards, place a to-go order or put your name on the waitlist, sign up for Red Lobster's app-based loyalty program, My Red Lobster Rewards. The free app is available for  IOS and ANDROID. To view the complete Red Lobster menu, find a restaurant location or to join the FRESH CATCH NEWS, visit Red Lobster's WEBSITE.
Red Lobster announced the new promotion on the Red Lobster Specials Page.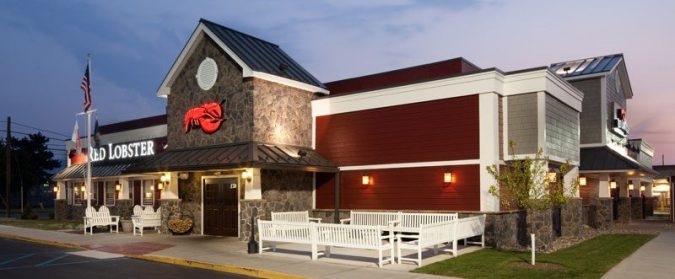 About Red Lobster (from Wikipedia)
Red Lobster was founded in 1968 by entrepreneur Bill Darden and Charley Woodsby. Originally billed as a "Harbor for Seafood Lovers", the original restaurant in Lakeland, Florida was followed by several others throughout the Southeast. General Mills acquired Red Lobster in 1970 as a five-unit restaurant company. The chain expanded rapidly in the 1980s.
Today, there are nearly 700 Red Lobster locations throughout the United States.
Red Lobster Biscuits
You can find Red Lobster's Cheddar Bay biscuit mix at Walmart, Sam's Club and most grocery stores. For questions call Continental Mills at 800-457-7744.